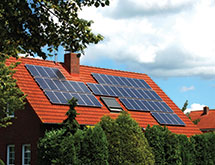 Transforming the retail energy sector is what Crius Energy is all about. The young company has built a strong portfolio of energy brands, and it is now striving to be an innovative energy partner for its customers and markets.
Based out of Stamford, Conn., Crius Energy operates in the retail energy and services sector. The company formed in 2012 when Regional Energy Holdings and Public Power merged. Public Power was founded in 2008, serving electricity and gas customers in the Northeast. Regional Energy Holdings started in 2009, forming a diverse portfolio in the retail energy space.
"The retail energy industry is somewhat unique and fairly young," COO Chaitu Parikh says. "When we merged, we also did a simultaneous IPO." 
Pieces in Place
Prior to the merger, each company worked to execute its strategy. Public Power was a retail energy company operating in seven states. As for Regional Energy Holdings, it owned and operated a network of retail energy companies operating in 11 states under the brand names of Viridian Energy, Cincinnati Bell Energy and FairPoint Energy. 
Viridian Energy launched in 2009, creating a renewable energy offering to customers. Cincinnati Bell Energy formed in 2011 through a strategic marketing relationship between Cincinnati Bell and Regional Energy Holdings, offering wind power and natural gas to residential and commercial customers in Ohio. Building on this telecommunications partner model, Regional Energy Holdings partnered with FairPoint Communications in Maine and New Hampshire to offer wind power to customers through the FairPoint Energy brand.
"That is effectively a white-label strategy where we partner with other businesses in the telecom space," Parikh says. "We operate the retail energy business and have a marketing relationship with the telecom. We are the ultimate provider of energy to the end-user, but the customer receives the bill from local utility. The white-label approach is unique because it can be difficult for companies like us to have high brand recognition. We can leverage the brand recognition of our partner and provide energy choices to their market. We're now seeing more interest in the model from other companies."
When the two companies came together in the summer of 2012 to create Crius, its footprint had grown to serve more than 400,000 customers in 12 northern states and the District of Columbia. Crius became the parent company of Public Power and Regional Energy Holdings, and each company maintained its operating brands.
"We now provide service across 19 states," Parikh says. "Our services vary by state. We provide electric, natural gas and solar services. We do serve commercial and industrial customers, but our focus has been on residential and smaller commercial customers. In total, we have the equivalent of about 600,000 residential customers, and we have been working to expand our commercial and industrial customer base."
Ongoing Growth
The organization has continued to evolve since the merger was finalized. In November 2012, Crius announced the launch of FTR Energy Services, another building block in the telecommunications partnership model. FTR Energy Services came about through a partnership with Frontier Communications, offering electricity and/or natural gas plan options to residential customers in New York, Ohio and Indiana.
"We are still working to bring everything together so we are streamlined," Parikh says. "We also think there will be future growth opportunities through additional partnerships." 
In 2013, Crius signed an exclusive reseller agreement with SolarCity, the leading full-service solar provider in the United States. Through this agreement, Crius began offering residential solar energy products and services through Viridian Energy.
"SolarCity had approached the company before the merger, looking to leverage Viridian to sell solar to customers," Parikh says. "We now have a marketing relationship with them to sell to our customers. We do the work on the front-end, and they do the back-end installation and contracts. We launched that with Viridian in 2013 and have expanded it with FTR."
Crius followed that in April 2014 with the launch of its new standalone solar brand, Citra Solar. The purpose of Citra Solar is to assist homeowners looking for solar providers. Initially, its services are being offered to customers of Frontier Communications.
"We started this brand to provide our own full-service offering," Parikh says. "Under our own brand, we can manage everything from financing to contracting with local solar installation companies, as well as customer care on the back-end." 
Working to Improve
Parikh says Crius faces a number of supply chain challenges. He sees the supply chain as everything involved from the procurement of energy to the billing for energy. Crius operates multiple businesses, and each has its own separate brand and systems.
"The challenge we have is to create one core set of data and operational systems," Parikh says. "We know we need a customer information warehouse and a consolidated view of supply procurement and portfolio management. We've been making improvement to give us a more consolidated view."
Thanks to its unique business model and strong track record, Crius Energy has become one of the largest independent energy suppliers in the country and a market leader in the growing deregulated energy sector. It is leveraging the geographic footprints of its brands and putting its go-to-market strategies to work in its effort to provide strong customer service and distinctive branded experiences to customers.