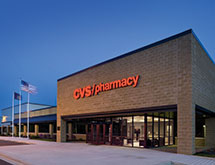 The road from CVS to CVS Caremark has been a carefully planned one. When Senior Vice President of Logistics Ron Link joined CVS 20 years ago, the company had a regional focus with 1,200 drugstore locations in the Northeast. Today, and after the 2007 merger of CVS and Caremark, the company has evolved into an integrated pharmacy company whose retail division has more than 7,600 stores serviced by 18 distribution centers throughout the United States. Grounded in its purpose to help people on their path to better health, CVS Caremark's enterprise channels include  its pharmacy benefits management, mail order and specialty pharmacy division, CVS Caremark Pharmacy Services; CVS/pharmacy retail stores; and its retail medical clinic subsidiary, MinuteClinic. 
"When I joined CVS we were a pure retailer, and now we have evolved into a healthcare company with unique integrated assets combining retail pharmacy, PBM and retail medical clinics," Link says. "It was a strategic path that has led to our becoming a pharmacy innovation company that is reinventing pharmacy to help people on their path to better health." 
Link and the 7,600 supply chain and logistics associates working with him are in the position of making sure CVS Caremark's supply chain can support its strategic direction. At its base, the company employs a warehouse management system (WMS) integrated in all but two of its facilities (those two facilities operate on a more complex automated system.) The WMS allows CVS Caremark to standardize processes and optimize workflow, including managing inbound and outbound freight and storage planning. It also targets inventory quality and accuracy and optimizes its route planning to ensure best utilization of transportation equipment and workforce.
"This tool provides the capability of really managing the business in a far more robust way and granular way," Link says. 
On the Road
It also provided CVS Caremark a foundational structure from which to develop a roadmap to ensure the supply chain is constantly aligned with the company's plans. Whether it is e-commerce, its ever-expanding pharmacy services or traditional retail, Link says the roadmap gives clear direction on where the supply chain needs to go to support company growth. It also gives suppliers an inside view of CVS Caremark's plans, which Link says creates a collaborative process leading to mutual benefit. 
One of the direct results of this roadmap is a new replenishment software that is being deployed now and will continue into 2015 until every CVS location is converted. The software, is a "forecasting replenishment system that is time-based by store, by SKU and driven by point-of-sale info," Link says. "So it enables us to look at store needs multiple weeks in advance, resulting in better forecasts which translate to better in-stock and inventory position."
This new replenishment tool will also help CVS Caremark in its efforts to use analytics as a resource to guide company decisions. Because of the data they capture, the new replenishment tool and others like it not only help CVS Caremark serve customers better today, but also in the future. 
"As a company, we are really moving forward to leverage customer insights and incorporate new analytical tools to drive enhanced value," Link says. "This combination is helping us to create more comprehensive outcomes."
Accurate data allows CVS Caremark to take a step back and look at the overall trends happening within its organization – allowing it to pinpoint challenges and opportunities that it could otherwise miss. Having that information will allow CVS Caremark to conduct extensive network reshaping – rebalancing stores, improving service in stores and devising the most efficient paths in managing everything from capacity to transportation to labor to productivity. Essentially, it puts CVS Caremark in the best position possible to grow into the future.