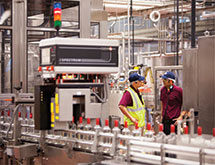 As part of one of the world's leading alcoholic beverage companies, Diageo North America understands the importance of getting its brands to market. Representing some of the most widely recognized alcohol brands in the world, Diageo North America is working to optimize its opportunities for success.
"We produce about 50 million cases in North America and oversee around 90 million cases including product brought in from other parts of the world," Diageo North America Supply President Paul Gallagher says. "That is a sizeable amount of products that represents about 4,000 SKUs in a very complicated regulatory environment."
Global Footprint
Diageo North America is part of Diageo, which is the leading premium drinks business on the planet and boasts a strong collection of brands across the spirits, beer and wine sectors. These brands include Johnnie Walker, Crown Royal, Bulleit, George Dickel, Buchanan's and Bushmills whiskies; Smirnoff, Ciroc and Ketel One vodkas; and Baileys, Captain Morgan, Tanqueray, Guinness and Diageo Chateau & Estate Wines.
Some of the company's brands have long histories, while others are recent developments designed to meet modern consumer tastes. It is the diverse range of brands and geographic reach of the company that allow the organization to get its products in front of so many consumers. 
Altogether, Diageo has a presence in approximately 180 countries and employs more than 28,000 people. It has offices in 80 countries and manufacturing facilities in various locations. 
Diageo's business is organized across five geographic regions: Diageo North America; Diageo Western Europe; Diageo Latin America and Caribbean; Diageo Africa, Eastern Europe and Turkey; and Diageo Asia-Pacific. Diageo North America is the company's largest market by net sales and operating profit. The company believes the North American market is primed for growth because consumers in the region are moving toward premium brands.
"Diageo North America is about 32 percent of the company's sales and 40 percent of our profit," Gallagher says. "We are the No. 1 spirits company in North America. Over the last few years, we have transformed as a business and become driven by dynamics on supply chain."
Because of the growing segmentation of the market, Diageo North America has been looking at how to manage innovation and SKU proliferation, and increase speed to market. "Cash is a big focus for us as we try to limit excess inventory," Gallagher says. "We had to ask ourselves what we could do differently and move from a disjointed network into a sophisticated, agile network."
Some of the biggest changes for the company have been focused on its mindset, focusing more on enabling margins and driving value, and less on absolute cost. Diageo North America has recognized that there are many ways to drive value through a business and bring agility into the supply chain. 
"We are giving our people the tools and ability to be the leaders they need to be," Gallagher says. "That has been liberating and allows people to take strategic risk and have support and guidance. We've also been putting robust processes in place and recognizing people for delivering success."
Three Ps
Improvements to people, processes and plants have been critical parts of the company's effort to be recognized as one of the world's most trusted and respected consumer product companies. 
"Over the last few years, 23 percent of Diageo North America's growth has been delivered through innovation, and about 42 percent of our global innovation has come from North America," Gallagher says. "We've reduced time to market by 26 percent and we are doing more projects now than in the past."
Diageo North America's plants have been optimized. Production lines and processes have been put in place to allow for small- and large-volume product runs. The company can move product to a warehouse or directly from the production line to trucks. 
"We have brought consistency to our network, and we have the capability and versatility to adjust volumes based on customer demand," Gallagher says. "We measure plant performance in terms of overall equipment effectiveness, and we have improved safety and quality. We've also reduced cost, ensured compliance, and we are finding areas where we can be more efficient and find innovation."
One example of the company's ability to swiftly execute on its strategy is its Orphan Barrel offerings. From whiskey found stored in a Kentucky distillery, the company decided to launch a line of new products that had been aging in barrels for many years. Earlier this year, it launched the Old Blowhard and Barterhouse bourbon products. 
"From ideation to launch for sale, it took about eight weeks," Gallagher says. "That speaks volumes about how we can make things happen quickly." 
Diageo North America understands that change is a constant. The company knows that it must continue to be able to cope with change. It does this by being business leaders first and supply chain experts second.  
"There are always challenges coming down the track and that is why we build flexibility into our operations," Gallagher says. "We measure our performance based on enhancing margin, enabling growth and engaging people. We are optimizing the opportunities that drive the most value for the business so we can be the best consumer product company in the world."