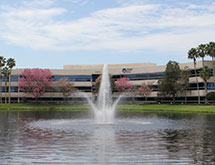 When sending packages, people want the comfort of knowing the item will be securely sealed and protected before it reaches its destination. St. Laurent, Quebec-based Intertape Polymer Group (IPG) plays a role in that process by providing packaging products and systems to a wide range of markets, including retail, e-commerce, construction and automotive.
Senior Vice President of Global Sourcing and Supply Chain Joseph Tocci says IPG started operations in 1981 as a manufacturer of carton sealing tape. Over the years, it expanded its lines to include multiple types of tape, shrink and stretch films, carton-sealing equipment, and printing on both pressure-sensitive as well as water-activated tapes.
Today, IPG stands as one of the largest tape manufacturers in the United States, Vice President of Marketing and Corporate Communications James Apap Bologna says. "The tapes produced by IPG seal more boxes than any other tape company in the U.S.A.," he says, noting that the company employs 1,800 people in its 10 facilities and offices in North America.
IPG enjoyed $780 million in sales last year, with a large percentage coming from its pressure-sensitive tape, which is used on production sites for products that range from apparel packaging to potato chip cartons. "IPG has the broadest portfolio of tapes and films used in industry, together with tape application machinery to match that scale," Apap Bologna says.
A Whole New World
Supply chain evolution is a constant subject of keen interest, as e-commerce has changed the way IPG and others purchase goods, Apap Bologna says. "Like it or not, the convenience of identifying your specific needs, and paying a slight surcharge for delivery is too alluring for the time crunched, co-employed households of the 21st century," he says. "So, the supply chain intellect that is servicing the more than $260 billion of goods that traverse the continent needs to be geared to satiate the perpetually growing needs of this community."
As IPG traces the path of a single order, materials leave factories that deliver through traditional distribution to bricks and mortar stores, along with materials that are bound for fulfillment sites, Apap Bologna says. "These fulfillment sites are employed to take the vast amount of electronic orders, break packs and repackage materials into smaller parcels that travel to the customer's requested destination," he says. 
IPG has been able to provide a unique offering with its pressure-sensitive and water-activated tapes for the repackaging stage, Apap Bologna says. In the past decade, he explains, producers of corrugate thought well to use recycled content, which allowed them to not only use a new raw material, but also enjoy stronger profits.
However, "In doing so, they had to increase the starch content of the fluted corrugate to keep those fibers together," he explains. "Traditional pressure-sensitive tape did not really like to stick to starch."
This allowed IPG to find "a whole new world of opportunity in front of it," Apap Bologna says. "[It was an] opportunity for which we were uniquely positioned to provide not only the best way to seal a box with water-activated tape, but the patented capability to automate and streamline this surging industry of service and supply chain evolution."
IPG's water-activated tapes, Apap Bologna explains, "are reinforced with interlocking fibers and use some of the most sophisticated gum adhesives available in the market to form a weld to the box that is impossible to remove."
IPG's Research & Development team also developed a proprietary Corru-Grip™ adhesive formulation for its pressure-sensitive hot melt carton sealing line designed specifically for optimal closure of highly recycled corrugate, including 100 percent recycled box. This Corru-Grip adhesive formulation can successfully seal boxes in wider ranges of temperature. 
This level of tamper-evidence provides shippers and carriers who leave packages on the doorsteps of on-line shoppers with an added level of security from concealed shortages. IPG also can print on both the pressure-sensitive and water-activated tapes, which allows for branding and cost-savings initiatives, including saving the cost of printing on the box. 
Eyes on the Prize
IPG has plans for internal investment, including a new location in Blythewood, S.C. "That's going to be a state-of-the-art tape facility," Tocci says. "We have our eyes set on turning this into a $1 billion company."
The company also wants to take the role of a consultant to its clients and help them solve problems, Bologna adds. "We have a genuine solution message to provide," he says. "We see upsides for IPG in the years to come."