Mircom Group of Companies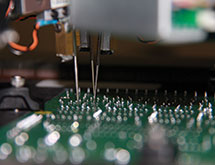 Some firms only manufacture set products that are widely needed across multiple markets, but Mircom Group of Companies takes a different approach, Director of Operations Michael Della Fortuna says. "We strive to apply technology and a customer service focus that results in products that address both wide market requirements and specific customer needs," he states.
 "If our clients need the product, we'll go ahead and do the development on it," he says, adding that Mircom Group is often faster than its competitors. "We push that envelope in design and how things are done."
 Based in Vaughan, Ontario, Canada, Mircom Group designs and manufactures fire detection and alarm, communications and security, mass notification, nurse call, building automation and smart technologies. With roots that are traced back to the 1960s, CEO Tony Falbo founded the company in 1991 after successfully building a market-leading life safety systems company in the 1980s.  
Today, his sons have taken over the reins in this family-oriented professionally run company, as Tony says he "has built a solid foundation and it's up to the next generation to significantly ramp it up."  
 "There are a multitude of marketing channels and market verticals that we service, and each time we apply new technologies to our products, we open up another segment," says Mark Falbo, Mircom Group's president.  
 Mircom Group has grown to be one of the largest privately held, life safety systems companies in North America, Della Fortuna says. "We design, engineer, manufacture, assemble, install and service products in North America and service wider markets in South America, Asia, the Middle East and Africa," he says.
 "We have a varied customer base," Della Fortuna states, adding that "we service complex multi-building institutions, including government facilities, military bases, airports and aviation hubs, and off-shore oil platforms to residential complexes, hospitals and care facilities; if a client has an asset that needs protection, we have a product installed somewhere in the world in the same or similar environment." 
 By being vertically integrated and having all its processes emanating from one head office location, "We are able to meet market demands in record time," he says, adding that its private ownership allows decisions to be made quickly. "We truly have the interest of the market and client at heart."
The Right Balance
Mircom Group keeps its supply chain efficient by continually addressing line balancing, which is "one of the challenges of being vertically integrated," Della Fortuna says. "We actually have to strive for just-in-time for a rather large number of process steps.
 "We have been looking at all our manufacturing steps and have been moving operations between departments, so as to balance the entire process," he says. 
 Mircom Group is open to breaking with tradition, Della Fortuna asserts. "We've experimented heavily," he says. "There isn't a progressive idea that we won't try."
 These ideas include the implementation of shop floor tracking systems and live monitors. "We've mixed high-tech tracking with heijunka boxes to track individual cell performance," Della Fortuna says. "In addition, we have taken a very focused view of our inventory and [have] conducted much analysis on raw material, work in process and finished goods. We are now working with our material suppliers to move the inventory to the most cost-effective state that still supports our turn times and requirements."
 Mircom Group receives information at a faster rate with this state-of-the-art technology. "Our labor tracking and production traffic system enables us to know exactly when products move from one station to another, the variance on time, the impact on schedule and all this information helps us manage the overall process more efficiently with less opportunities for surprises," he says.
Ready to Grow
A veteran of the Royal Canadian Air Force, Della Fortuna worked in various industries before joining Mircom Group, including aviation, automotive, heavy industrial, utilities and commercial goods. "[I] joined Mircom because it's a mix of high-tech, value-add products that are produced in country in a vertically integrated organization," he says, "Mircom is continually learning and growing, finding new ways of applying technology to all they do."
 He adds that he appreciates the company's willingness to evolve. "We used to have flow-based assembly lines on the floor, [but] now we have work cells," he says. "We've gone from manual monitoring and time sheets to automated systems."
 Although the company has many longtime employees who were familiar with the older practices, "They're very open to change and trying something different, which has enabled us to accomplish a lot in the last four years," he says. "The changes that happen upstairs in R&D have transplanted well to production and operations and have made us look at different ways we do things."
 Della Fortuna predicts strong continued growth for Mircom Group. Since he joined the company, growth "really hasn't stopped," he says. "If there's a market we can serve, we try it." 
 This, in addition to Vice President of Engineering and R&D Jason Fablo's drive to continually develop new innovative products, has driven the company to enter some previously untapped markets, he explains. 
"The owners are very open, we don't shy away from trying anything, Della Fortuna says. "The fact of the matter is that we are a technology company applying focus to our markets and the opportunities are endless."