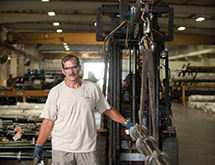 Overhead Door Corp. is in the midst of a total business process and system transformation that will establish a unified and consistent way for it to operate throughout the company's five divisions. 
The Lewisville, Texas- based company was founded by C. G. Johnson in 1921 after he invented the upward-lifting garage door. Johnson traveled across the United States with a small prototype of the door mounted on the back of his Model T and promoted his new innovation at county fairs and in a number of small towns. 
"He was ahead of his time by using marketing and sales tactics such as customer coupons and sales outlet bulletins to communicate the news about this innovative product and create a call-to-action for consumers," the company says. He established a network of distributors and soon his invention of the overhead door gained widespread popularity.
After people began to recognize the upward-lifting garage door, Johnson then invented the electric garage door opener in 1926. "His inventions created the foundation for C.G. Johnson's well-respected enterprise that would become known as the Overhead Door Corp.," the company says. 
For more than 90 years, the Overhead Door brand has stood for product quality and expertise, as well as professional service. 
Sanwa Holdings Corp. purchased Overhead Door in 1996. The Tokyo-based company was founded in 1956 as a shutter manufacturer, but later pioneered the engineering, production, marketing and distribution of steel building materials in Japan. Today, Sanwa Holdings is the No. 1 manufacturer of construction products in the Pacific Rim and the combined entity is among the world's leading suppliers of building products with an established and growing presence in 50 countries across five continents. 
"Overhead Door and Sanwa Holdings are committed to offering products and services that contribute to the prosperity of society by providing safety, security and convenience," the company says. 
Today, Overhead Door is one of the most recognized and respected brands in the garage door industry. With a nationwide network of more than 450 authorized distributors, the company is recognized as a leading single-source manufacturer of integrated door and operator systems for commercial, industrial and residential application.
Overhead Door plans to continue to lead the way with reliable solutions and unmatched professional installation, service and support.
Total Solutions
The company is comprised of five divisions: Access Solutions Division (ASD), Genie, Horton Automatics, TODCO and Creative Door Services. 
ASD manufactures upward-lifting doors and access solutions under Overhead Door and Wayne-Dalton brand names for residential, commercial and industrial applications. Genie develops, manufactures and distributes electronically controlled access technologies for all three markets. 
Horton Automatics provides automatic pedestrian entrances and access control solutions for healthcare, retail, transit and other commercial applications and TODCO specializes in upward-lifting and swing doors for commercial trucks and trailers. 
Creative Door Services is based in Alberta, Canada and provides installation, maintenance and services for residential, commercial and industrial markets. 
"We have a nationwide multi-channel distribution network and our key strength is that we can build any type of door," Director of Sales and Operations Planning Balaji Babu says. "Our manufacturing is performed across the country, so we can get our customers a door in the fastest time possible." Overhead Door operates 13 plants across the United States and two in Mexico, with several interplant transactions that synchronize the delivery to a specific region of the country. 
Overhead Door offers seven residential door collections. The Modern Aluminum Collection is a contemporary style made with glass and aluminum. Its Signature Carriage Collection combines the classic, swing-open appearance and detailing of carriage house wood for its door offerings.
The Impression Collection includes garage doors that are artfully molded with a wood-grain fiberglass surface that conceals the durable steel construction. Overhead Door's Courtyard Collection offers insulated steel doors that provide a custom wood appearance that are combined with the durability of steel in 18 classic carriage house designs. 
Thermacore®  is Overhead Door's insulated steel doors that feature a patented steel-polyurethane-steel sandwich construction. Durafirm offers rugged, thick vinyl skin doors that provide a break from wood door maintenance and steel door dent and rust concerns. The Traditional Steel Door Collection offers just that, popular steel doors that provide the durability and performance expected from the Overhead Door system.
National Account Services
The National Accounts division at Overhead Door provides a number of services. The service team is a  branch of the division that offers a dispatch team available 24 hours a day and seven days per week to meet any emergency service need. The service team provides maintenance and repairs for most doors and also provides planned maintenance and repairs.
Key Accounts, which is a division of Overhead Door's National Accounts, provides overhead and garage door system sales and installation services for commercial applications nationwide. The service is offered to national companies and contractors that are actively involved in new construction or remodeling. "We manufacture the material, we ship the material, we are responsible for the installation of the material and we honor the warranty," the company notes.
The branch also offers nationwide door sales and installation services for commercial and industrial products of Horton Automatics, which comes with the same reputable sales and installation services as Overhead Door.
Large Projects
Because not every building is the same shape and size, Overhead Door has garage doors that will fit any space. "Whether you are an architect, contractor or builder, you do not have to feel limited in the construction of a new facility," the company states. 
Overhead Door's project management team is dedicated to new construction projects. The team provides dock equipment, garage door sales, installation and services for large scale projects across the United States.
The company's project management team provided and installed doors and counter shutters for the Miami Marlins' baseball stadium in 2012. The new stadium was the first retractable roof structure in the world to earn LEED Gold Certification from the U.S. Green Building Council. 
"We were pleased to be part of this amazing project," the company says. 
Project Everest
Even with all the achievements under Overhead Door's belt, the company is still making improvements for a more efficient and modern operating system. Each of the company's five division were acquired over time and consolidated under the Overhead Door umbrella, but each remains separate in terms of its business processing systems. 
"This is a big constraint because each came with different legacy systems," Babu explains. "When we tried to execute synergies and consolidate the systems, we ran into roadblocks and we came up with Project Everest. It's quite an aggressive plan." 
Project Everest is a significant business process transformation that has been designed and developed to implement common processes and technologies to support the future of Overhead Door. The detailed design for the project began in 2012 and the company plans to have it fully implemented in all locations by 2016. 
Overhead Door partnered with Oracle, based in Redwood Shores, Calif., for its enterprise resource planning (ERP) software. "The fully integrated ERP solution has tremendous capabilities upstream and downstream," Chief Information Officer Larry Freed says. "The fundamental components will allow the business to operate on one uniform system with a set of standards and disciplines, a consistent set of data management, and with the tools and capabilities to enhance the process all the way from the customer's order through the supply chain." 
Programming Efficiencies
Overhead Door's five divisions operate as individual silos on disparate systems that have no effective demand management and inventory management process. Project Everest is expected to change the company's operating system moving forward, so all its divisions are connected and greater efficiency is achieved. 
"We are going from zero to 60 with Project Everest," Babu says. "We will be able to track inventory on a specific period-to-period basis and know exactly what our inventory is – we don't know that today. We have approximate inventory numbers, but Project Everest will allow for systematic inventory counts item by item." 
With more accurate inventory visibility, Overhead Door will be able to plan for its inventory needs in the future. The company will be able to predict demand and plan for the risks, which will allow it to keep an appropriate amount of inventory available, Babu explains. 
"We are probably paying a lot more right now and holding a lot of inventory, maybe not in our facility, but at the supplier," Babu says. "All this can be solved by having a more efficient integrated system."
Because the new system will allow Overhead Door to plan for the future, the company expects to develop a more intimate relationship with its customers through its salespeople, truck drivers and installation experts. "The industry is over capacity and through customer service and intimacy is where we see our ability to win in this industry," Vice President of Global Supply Chain Phil Laster says. "We need to gain greater visibility across the organization and look out into the future better to predict our customers' needs and desires. We want to make it easy for customers to do business with us, so we are employing the best, most powerful capabilities to make that become a reality."
Project Everest has also shown Overhead Door the importance of having one centralized corporate global supply chain group to oversee the operations of each of the company's divisions. 
"Every division was left to its own devices," Laster says. "I was asked to move into this role and build a corporate center of excellence around supply chain by getting the systems and processes in place and adding some direction for the local level to optimize business." 
Continuous Education
Overhead Door is using the "big bang approach," as Babu calls it, because the entire system consisting of more than 100 modules and applications will go live at one time, as opposed to launching one function at a time. 
Each location will have its own date to go live. "We have proved that the technology works and that's 20 to 25 percent of the equation," Freed says. "The other 70 to 75 percent is people and education." 
Project Everest is a foreign system to Overhead Door employees and ongoing training is a necessity. The company created a process transformation team with the leaders of each department to discuss how the system will change, why certain procedures are important and to identify key metrics, Laster explains. 
"After creating this team, the locations were much more engaged because they understood the new processes and what their responsibilities were," he adds. "We have a much better solution to roll out to our next locations." 
The length of training can vary depending on the people involved. "Super-users" participate in six to eight education sessions over a period of three weeks that focus on specific module training and dive deeper into the processes.
"Culturally, this has been a big adjustment for us," Laster admits. "When you have so many people who in the past were a disconnected business location and bring them all together in an integrated system, it's a lot of change." 
Change is happening both upstream and downstream because of Project Everest. All levels of employees at Overhead Door are being made aware of the commitment needed to successfully implement Project Everest – executives included. 
The major motivator in this project is that people can see the impact almost immediately once a location is up and running. "Right now, we are focused on building the infrastructure, the processes and getting people educated," Babu says. "We are doing a lot of different things at the same time."