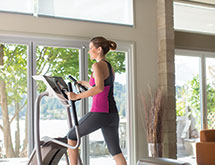 The concepts of continuous improvement and forward motion are vital to Precor in more ways than one. The company's products help people who want to improve their health and stay in shape keep moving, and Precor's ownership and management regularly invest in new equipment and practices that maintain the momentum of its supply chain and manufacturing operations.
"We are a manufacturing-based company actively involved in research and development that introduces new products every year," says John Fogerty, director of global sourcing and supply chain management for the Woodinville, Wash.-based company. "We offer the best consumer experience possible by following our core values, which include wanting people to celebrate being fit and staying healthy by enjoying the use of our products."
Precor's ability to design and build premium fitness equipment that makes workouts feel smooth and natural has propelled it to its place as one of the largest manufacturers of its kind in the world. The company manufactures cardio and strength-training equipment for both the home fitness and commercial markets in factories around the world, including in Woodinville and Greensboro, N.C. 
The U.S.-based factories also function as distribution centers, with the Woodinville facility serving the cardio market and the Greensboro location manufacturing and distributing strength fitness equipment. The company also shares international distribution centers and capabilities with its parent company, Finland-based Amer Sports. With a portfolio of well-known brands including Wilson, Salomon, Suunto and Atomic, Amer Sports is  the world's largest sporting goods company, Fogerty notes.
Best Practices
Six Sigma and lean manufacturing methodologies have long been at the center of Precor's manufacturing and supply chain operations. "Some of the principles we employ are recognized by our peers as being the best practices in the industry, and other companies have come to learn from Precor," Fogerty says.
Precor's embrace of lean dates back more than a decade to its previous ownership and well before the 2008/2009 recession, when many companies began to look to lean as a way to make their operations more efficient. "Lean wasn't done here as a panic measure, it was done as a best practice," he adds. "We've made sure that we can run our factory in a lean fashion in terms of our personnel, layout and ability to collaborate with vendors."
Several of the company's practices specifically target the elimination of waste. Precor does not warehouse the raw materials it uses to make its products, instead using steel and other items as soon as they enter the production facility. The company maintains a total finished product inventory of roughly $15 million, and rotates its stock roughly every 60 days. Production-related waste is also severely reduced, as the company recycles excess materials as part of its effort to achieve zero landfill-bound waste by the end of 2015, Fogerty says.
Two equipment investments will further enhance the company's manufacturing capabilities. The company in recent years purchased a laser cutting machine and will soon add a $2.5 million milling machine to its operations. "Once the milling machine is in place, we will be able to in-source a lot of materials that we are outsourcing now, which will enable us to significantly reduce our costs by bringing manufacturing of some subassemblies and parts in-house," he adds.
Open Doors
Precor's suppliers play an important role in its lean operations. The company has identified 24 core suppliers that it works most closely with and who assist it in every step of its manufacturing and marketing processes, including value-engineering and new product development. "They can walk the production floor whenever they want and offer suggestions," he adds. "We have an open-door philosophy with vendors which resulted in great savings." 
Vendors have offered the company input and suggestions on ways to improve its operations including using LED screens on its production floor to save energy costs. "You won't get that sort of input if you have an adversarial approach," Fogerty says. In addition to operational input, vendors also help the company save money by allowing for market rate fluctuations of up to 8 percent in contracts and offering rebates.
The company communicates with vendors in-person during facility visits and supplier summit meetings as well as electronically. Precor uses the Agile software platform to plan its production needs with vendors, who adjust their supplies to the company based on those plans. Ongoing vendor-related projects include a pilot program for customer service spare parts where a select group of three to four vendors provides replacement parts already packed, which allows the company to ship them to consumers faster and without needing to repack them in the warehouse, Fogerty notes. Precor also works with third-party logistics providers to manage its inventory and ship products to its supplier network and commercial client base.
Precor also applies an open-door policy to its employees, who are empowered to offer suggestions and make decisions that positivity impact its operations. "We have a very dynamic, good place to work because we have good people here from the top to the bottom, who we train very well and give the support they need," Fogerty says. "It's a joy to come to work here every day."