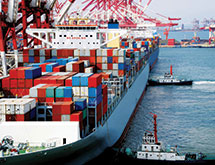 Q Data USA is focused on helping clients to achieve not only their short-term goals, but to ensure that they reach beyond their long-term expectations. A member of The Business Maturity Group (TBMG), Q Data's expertise is with SAP's set of new breed modules in the supply chain space. Q Data leverages its Supply Chain Extended Solutions, or ES+, to take clients' operations to a new level of visibility. 
"We look to provide added value to clients in the supply chain space, and in particular the SAP space," says Kevin Wilson, Q Data's ES+ practice lead. "If clients have SAP, we can implement these supply chain extended modules to cover parts of their business that hadn't been adequately explored before."
Wilson says his company strives to design valued-added solutions that make significant impacts on clients' organizations. The extended supply chain solutions work in concert with the clients' processes to increase agility in the management of their flow of goods and/or services. This additional dexterity helps the client react quickly to dynamic global conditions and make decisions more expeditiously, preparing them to aggressively compete in an ever-changing economic environment.
ES+, or Supply Chain Extended Solutions, is Q Data's initiative in the supply chain area. This initiative is an effort to enable companies to adopt standard, out-of-the-box solutions and to leverage the power of cross system process integration. Cross system process integration (i.e., systems sharing data among themselves seamlessly) is only available when one vendor is providing the end-to-end solution.
Since SAP has more than 40 years of digital experience managing supply chain business processes, there is significant groundwork to be quickly accessed by combining their solutions. Companies can leverage the advantages of adopting a single end-to-end supply chain solution by implementing SAP's standard modules with an ES+ methodology because integration far outweighs the singular benefits of stringing together best-of-breed solutions. Wilson adheres to the premise that "integration is better than interfacing."
Solutions that the ES+ initiative covers include: SAP ECC, SAP eWM, SAP TM, SAP EM, SAP GTS, SAP SNC, SAP AII/OER and SAP GBT. ECC, or Enterprise Core Component, is strong in sales and billing, while eWM, or Extended Warehouse Management, handles complexities needed to manage warehouse processes effectively. TM, or Transportation Management, allows for planning and optimization of deliveries from origin to destination in the right amount, to the right customer, at the right time and in the right condition.
SAP EM, or Event Management, provides visibility to business processes, uncovering exceptions and/or opportunities when planned events are evaluated against actual execution. GTS, or Global Trade Services, handles all the regulatory requirements needed for foreign trade orders. SNC, or Supplier Network Collaboration, provides a portal into the procurement process for suppliers. If the suppliers do not have EDI, SNC allows them to log in and be part of an efficient PTP process. 
AII/OER, or Auto-ID Infrastructure and Object Event Repository, is the basis for Serialized Track and Trace where AII allows for the capture of serialized information and merges it with business data. OER provides the track and trace details for those serialized items. Finally, GBT, or Global Batch Traceability, allows viewing of batch genealogy to provide a fast way to trace the impact, or distribution record, of a known issue for a particular batch.
"These modules allow you to specify what you want to have happen, determine what is actually happening, then compare your plans to reality, allowing you to resolve bottlenecks and smooth out issues in the supply chain," SAP consultant Elizabeth Vail explains.
Moving Parts
With the emphasis SAP is placing on its new TM module, designed to seamlessly integrate with its EM module, companies can capture more in-depth information about their shipments, allowing them to make better decisions. These decisions will have a positive effect on their long-term future, permitting them to grow more maturely and efficiently than they had envisioned.
"If a client is going to implement these solutions, they need to understand the supply chain in their industry, the solution components they have been given and how they help with the supply chain process," Wilson says. "It takes knowledge and experience to understand how individual supply chain elements relate to one another and how a good implementation with sound integration can make the supply chain process more fluid."
Lack of visibility and exchange through many hands are two of the reasons the transport of goods are one area of supply chain logistics most susceptible to bottlenecks. Communications between the vendor, the customer and the carrier must be efficient so timely payment will exchange hands. Companies in the business of shipping goods were some of the first to use the technologies of the telegraph, the telephone, the fax, or wireless communications to send messages back and forth, relating the status of goods and shipments.
As technology became more sophisticated, the processes behind how these messages were communicated became more automated. These messages became known as events. A set of expected planned events were entered into the system prior to the departure of the shipment. The planned events were compared to the actual events that occurred while the shipment was in route. If there were significant deviations between the two events, an alert would be triggered to notify appropriate personnel to take corrective action.
In any time/motion study of ongoing processes, the comparison of a planned event versus an actual event is the basis of the analysis. What was expected? What actually occurred? If there is a significant difference, what can be done to correct the actual event to align it closer with the plan? What can be done about the constraint? First, the differences must be identified. The best way of capturing this information is through the management of these events.
Not only will SAP EM track shipments in the transportation environment, the historical data collected will provide valuable insight into the areas of high cost or high-risk transport situations. Measures can be taken to avoid routes where the product would never reach its destination. After all, a shipment that never arrives is the most expensive one sent.
Wilson said his company has harnessed the power of SAP EM to identify many weaknesses in the supply chain. The company has implemented the module to track order-to-cash processing, monitor production of time and temperature sensitive material, improve visibility of procure-to-pay, follow the path of returnable containers and improve route deliveries. 
During product manufacturing, where the process demands accurate time and/or temperature metrics, these variables are difficult to capture and quantify at each stage of production. By utilizing SAP EM to record all relevant variables at each defined point, the entire production of a material can be reviewed to the level of a serialized product. If a recall occurs, the serialized product can be easily identified, located by the manufacturer and removed from access by the general population, no matter where in the supply chain the product resides. SAP EM is a real-time, analytic tool that provides the client a window into workings of their supply chain.
"It is critical to acquire your customers' requirements and transfer that information into the system together with good, accurate master data," Wilson says. "Based on accurate data being fed in, the transportation management module can deliver an effective transportation plan."
Another area where monitoring events can increase visibility is in a typical Order-to-Cash scenario. This highly adaptable module provides a customer service representative the ability to view all of the statuses of a sales order, whether in finance, sales, production, warehouse or transportation. Currently there is no other application in SAP that provides this kind of clarity within the document flow. The same kind of visibility is also available for a typical Procure-to-Pay process. "With SAP EM in place, any end-to-end business process can be monitored and evaluated for exceptions," Wilson says. 
Originally developed as part of the railcar management tracking solution SAP Supply Chain Event Management, today SAP EM monitors the execution of the shipping scenario for any mode of transportation. This tool works seamlessly within SAP's new TM module, whose main purpose is planning the shipments. SAP EM can be used to track the location of returnable containers as well as assign
Effective Measures
Optimized solutions help Q Data's clients manage their logistics networks holistically across various modes of transport. The solutions help account for internal and external fleets and resources, as well as international and domestic operations. They minimize the risk factors throughout the supply chain while reducing operational costs by providing a better understanding of transportation costs. 
"We can help our clients because we can use our knowledge and expertise to fill gaps through a process change," Wilson says. "We can show them what their processes are like now and how we see an implementation through integration working in the future. Our focus is on leveraging the right tool for the job." ­­­