Royal Caribbean Cruises Itd.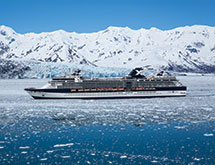 Royal Caribbean Cruises Ltd. is building four new ships that are guaranteed to impress by working with new suppliers that provide advanced technology to take passengers to new heights – literally.
The Miami-based company was founded in 1968 and was incorporated in 1985. Royal Caribbean is a global cruise vacation company that owns Royal Caribbean International, Celebrity Cruises, Pullmantur, Azamara Club Cruises, Croisieres de France, and TUI Cruises through a 50 percent joint venture. 
The company has a total of 41 ships, four more are in production and it services 490 destinations across several continents. 
While on board its ships, Royal Caribbean guests are entertained with shows and nightlife, a casino, youth programs, rock climbing and surfing 200 feet above the waves. Shore excursions are also available and each ship offers casual and fine-dining options. 
Building the Experience
Royal Caribbean's supply chain team performs traditional procurement and logistics duties, such as fuel, hotel, food and beverage, IT, marine components and new builds, Vice President of Supply Chain Michael Jones says. "We are building four new ships right now and we procure everything that makes the brands unique," he explains. "Simply put, anything that is loose is something we would order and the shipyard does the rest."  
The non-traditional work for the Royal Caribbean supply chain team involves overseeing the company's shore-side facilities for guest travel services and corporate travel. "In total we influence a little more than $2.5 billion worth of spending," Jones adds. 
An itinerary for each cruise ship is typically established 18 months in advance, which facilitates the planning process. "I came here in 2009 during the major economic downturn and one of the things that really gave us an advantage is that we are very predictable," Jones adds. "Regardless of economic conditions, we still have to supply the ships, which produce a steady demand, helping our suppliers maintain demand during the downturn. This predictability factor facilitates lower pricing while enabling us to offer more product varieties."
Suppliers of Royal Caribbean have synchronized delivery schedules in turn around ports to ensure everything is on board for departure within a four- to six-hour window on each of its more than 40 ships. This process was developed with the support of the Porsche consulting group. 
Process changes were required when Royal Caribbean International introduced the world's two largest and most innovative cruise ships in the world – Oasis of the Seas and Allure of the Seas – and there was concern about the loading process exceeding the available time schedules in the port. Delayed departures can drive unexpected costs associated with higher fuel consumption and lost onboard revenue.
The Royal Caribbean supply chain consists of a core group of employees in Miami with satellite staffs in Europe, China and Australia. The company relies on a global product sourcing strategy supplemented by locally sourced perishable goods, such as dairy and produce.
Successful Global Supply
Royal Caribbean's supply chain team chooses the products it wants to use based off the ship's itinerary demands and works with a variety of suppliers to fulfill those needs. 
The supply chain calculates the total landed cost of an item based on where it is sourced and where it will be consumed. Satellite teams are challenged to find quality items locally that will beat the landed cost of the global item. This helps the company lower costs by saving on logistics costs. 
Suppliers are introduced to Royal Caribbean through a self-nomination process using the company's supply chain portal on its website. Self-nomination allows suppliers to perform their own financial background check, which alerts Royal Caribbean that they are interested in doing business. 
More traditional entry points for suppliers is coming in through its commodity managers or introductions at tradeshows, such as Sea Trade or the Marine Hotel Association. The company's commodity managers are based in Miami, Europe and Asia, and build relationships with various suppliers to bring to the supply chain. 
"We also hold supplier conferences to talk with suppliers about how to compete, how the logistics process works and our expectations in general," Jones says.  "We are always open to new ideas and encourage our suppliers to partner with us to innovate better solutions."
New Heights
While North America, Europe and Asia continue to support industry growth, China is clearly the largest current opportunity. Operating out of China has been one of the company's biggest challenges. The diverse demographics in the region and geopolitical issues impacting itinerary planning require response times with shorter lead times. 
"Accelerating reactions to the changing requirements of the ships in this region have us rethinking our entire supply chain process," Jones says. "We first have to understand the strategic direction of each brand we support and then we have to come up with a solution that meets their cost, quality and delivery expectations."
Royal Caribbean is updating and expanding its cruise ships for the future. The company has invested $1 billion to revitalize 23 of its ships and is building three new Quantum-class cruise ships and a third Oasis-class ship. 
"We make sure our ships are always wowing customers," Jones adds. "To do that, we have to go out there and see what's possible by forming partnerships with vendors we have never worked with before." 
One of the company's newest supplier relationships brings the RipCord by iFly – a skydiving simulator that lets guests experience the thrill and exhilaration of flying – on board the new Quantum-class ships. The machine keeps participants afloat in a safe, controlled environment and this technology will not be found on any other cruise ship, Jones says. 
The Quantum-class ship will also feature the North Star, which is a jewel-shaped capsule that gently ascends more than 300 feet above seal level to provide breathtaking views of the ocean, ship and destinations that will be visited. 
The most recent green initiative of the Royal Caribbean supply chain team involves the reuse and recycling of the pallets used to stock each cruise ship. 
The challenge is to come up with a global standard regarding material content and size. Royal Caribbean is working with companies regarding the global collection, reuse and disposition of its pallets. This should significantly reduce the amount of pallet waste going into landfills while reducing the overall logistics costs associated with buying new pallets and paying for the disposition of them.