The Scotts Miracle-Gro Co.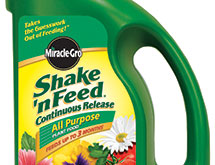 As the largest supplier of lawn care products on Earth, Scotts Miracle-Gro knows a thing or two about covering a lot of ground, and the company's supply chain operations are no exception. As Vice President of Global Supply Chain Tom Kuharcik explains, the company's reach covers North America and western Europe, with more than 40 facilities and 18 distribution centers moving more than 12,000 orders a week, adding up to more than 10 billion pounds of product each year.
Not only does Scotts Miracle-Gro move a tremendous amount of products to customers around the world, but it does so with products that are highly seasonal. The company's core products include lawn fertilizer, growing media and mulch, plant foods and liquid controls, all produced under some of the most recognized brand names in the industry, such as Scotts, Ortho, Miracle-Gro and RoundUp. 
Kuharcik says the company does most of its business in a 10- to 14-week window, making what Scotts Miracle-Gro accomplishes even more impressive. "The season comes on quickly, and leaves much the same way, and if a store shelf is empty during this timeframe and the weather is nice, it's likely a lost sale.
"It's our ability to deliver huge volumes of lawn and garden products in a highly volatile season in a way that no other company in our category can that differentiates Scotts," Kuharcik says. "With continuous improvement through leveraging our world-class operations platform, there's every reason to believe that Scotts Miracle-Gro will continue to stand head and shoulders above the rest of the pack."
Perhaps the biggest advantage Scotts Miracle-Gro has from a supply chain perspective is the scope and scale of its operations. The company has a network of distribution centers and manufacturing facilities that cover the country, often enabling same-day truckload deliveries direct-to-store or customers' distribution centers.
"It's really our distribution and manufacturing footprint, along with our people, that differentiate us from our competitors," Kuharcik says. "Our industry-leading brands demand great service and support, and that's what all of our supply chain associates are committed to delivering."
Keeping track of everything moving throughout this complex network of plants and distribution centers requires a lot of brainpower, and Scotts Miracle-Gro uses state-of-the-art enterprise resource planning systems to keep things flowing. Scotts utilizes electronic data interchange and supply chain management software with all of its accounts, which the company leverages to drive efficient, on-time deliveries. "In general, the company delivers on time, in full above 95 percent, which considering the volatility of the season is truly remarkable," Kuharcik says. "And none of this could be possible without great people, making it all happen."
Scotts Miracle-Gro knows times are tough right now, and that retailers and consumers alike are all working to keep their heads above water. "Driving value and eliminating waste are more critical today than ever," Kuharcik says. To this end, continuous improvement is a major focus for the company, and it is taking some significant steps to make investments to strengthen its position. The company continues to invest in infrastructure, systems and processes to continue to improve margin rates by crushing cost and evaluating the supply chain.
For example, the company has made significant investments in expanding its footprint and vertically integrating to better support its mulch and soils businesses and make sure it produces its products closer to where consumers buy them. Additionally, because many of Scotts Miracle-Gro's products are sensitive to energy and commodity costs, the company has developed tools to manage and reduce risks.
"Planned improvements to our ERP systems will help ensure that the right product is at the right place at the right time and at the right cost," Kuharcik says. "That's really what supply chain is all about." Whether customers operate on a distribution center model or a direct-to-store model, all its retail partners are concentrating on margins, and through the use of ERP systems, collaborative planning and forecasting make it easier for both Scotts and its retail partners to predict how much inventory they need to carry and when the season will end.
Improvements such as these will only continue to increase in importance as retailers invest in their own capabilities, and e-commerce continues to expand. "The company prides itself on being flexible and responsive to the ever-changing retail environment," Kuharcik says. "Even though the company has already built an impressive network of manufacturing plants and distribution centers, there will always be room for improvement, and Scotts Miracle-Gro wants to continue to be at the forefront of these changes and improvements.
"We are going to continue to leverage all of our assets through our world-class operations initiative, because it is critical to have a uniform set of metrics to operate against such that all of our associates around the globe have a strong understanding of what a good job looks like," Kuharcik says. "It's the quality and performance of these associates that will enable our supply chain to perform and deliver on a sustainable basis in a constantly changing environment. Our people and our brands are our most valuable assets, and it's these great assets and the heritage of the company that provide Scotts Miracle-Gro with a winning formulation."