Trillium Health Care Products Inc.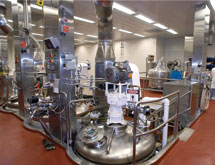 For the past five years, Trillium Health Care Products Inc. has put its money where its mouth is. The company set a vision to be the leading North American contract manufacturer of pharmaceuticals and personal care products, and with four of the 10 largest pharmaceuticals companies in the world on its client list, Trillium is well on the way to realizing that vision.
Its personal care manufacturing operation, the St. Bernard Soap Co., is based in an FDA Drug and Cosmetic Certified facility in Cincinnati. Acquired by Trillium in 2003 from Procter & Gamble, the company is now the largest contract soap manufacturer in the world. Trillium's pharmaceuticals business well precedes its personal care operation. In the 1990s, the company began manufacturing over-the-counter and prescription pharmaceuticals from its Brockville, Ontario facility. With capabilities in liquid, solid and semi-solid products, the company's Health Canada and FDA-approved facility manufactures pain and inflammation, gastrointestinal, cold and flu, allergy, dermatology, oral care and nutrition solutions to its customers' specifications.
With such a wide range of capabilities, Jay Webb, vice president and general manager, explains that Trillium's goal is to be a total solution for its customers' needs. "We view as one of our strengths the fact that we can provide one-stop shopping," Webb explains. "We have a lot of customers that come to us [for] who we will manufacture everything from cough syrup to nasal spray to hemorrhoid suppositories to bulk tablets. They can come to one contractor to have all of those products completed for them versus going to multiple sites."
On the liquids side, the company has upgraded one of its filling lines to include dose capping, laser coding and a new cartoner. It has also added a new liquid filling line with those same capabilities. Webb says these improvements allow the company to manufacturer virtually any liquid configuration and have doubled its capacity in carton liquids such as cough syrup and allergy liquids. For its semi-solids division, Trillium is following the purchase of a new tube filler two years ago with a new tube filler that will be operational by the end of this year. For solid dose, the company is investing in upgrading tablet fillers and in manufacturing.
Webb explains the equipment investments set up Trillium to gain new business while still meeting its current customers' needs. "We've been investing heavily over the last five years to increase our capabilities, add capabilities and improve our sites from a compliance standpoint," he says. "Some of it has been driven by new business. Just knowing the types of opportunities we are seeing come our way, we want to make sure we are staying ahead with new capacity for current and new customers."
Multitasking Manufacturer
Trillium's one-stop shop abilities extend beyond the exhaustive range of products it is able to manufacture. They also apply to the way in which it manufactures. As a full-service, turnkey business, Trillium handles the manufacturing from beginning to end, including tech transfer, supply chain management, manufacturing and packaging. It also employs a full-service lab of 68 people who test 98 percent of all products leaving through Trillium's doors.
Trillium's turnkey services allow it to provide clients consistent control of highly sensitive products, which many customers are requesting on a more frequent basis. Webb says that while many customers from "big pharma still have their own plants, there is a growing number of customers that are virtual and don't have manufacturing capabilities and are limited from a technical standpoint. They really depend on us to handle everything from them and want to know they can place a purchase order and get the quality product they require."
Webb explains that the most important aspect of this business is trust. Trillium may handle the manufacturing process, but it is essentially a behind-the-scenes player. Trillium's customers are the ones whose names appear on the bottles. While they reap the rewards when products do well, they also suffer consequences when something goes wrong, which makes it crucial to deal with reliable contract manufacturers. 
"If they are going to turn over world-famous brand names to somebody's business other than themselves, then they have to trust that the product will be a quality product meeting their exact specifications," Webb says. Clients need to be confident "that they will get it consistently when they want it so they don't have issues when consumers go looking for the product."
Internal Investments
Its recent efforts to increase its capacity and capabilities should go a long way to support that trust between Trillium and its customers, but the company has made other significant investments to further build its relationships and credibility. For instance, attaining FDA or Health Canada certification for its facilities is one thing, but maintaining it is quite different. Compliance is an evolutionary factor and with each new rule, Trillium has to make sure its facilities and new capabilities are on board 100 percent. "Our quality systems are definitely one of our strengths," Webb says. "We have successfully hosted three government regulatory agency audits and more than a dozen customer quality audits in the past year alone."
The company also knows that in order to be a quality manufacturer it must first deal with quality suppliers itself. The company is putting its current 300-supplier base beneath the microscope. The company procures more than 1,400 different materials from this global supply chain and is analyzing every aspect, from which suppliers they are ordering from to how they can become more efficient in their ordering process.
"One of our priorities this year is to improve the efficiency of our supply chain," Webb says. "So we've asked ourselves, 'What can we do to reduce inventory and improve our supply chain while maintaining strong customer service?''' We have kicked this off as an internal project and are using consultants to help us assess our system. We want to work with the best in class in each industry we work with to be as efficient as possible from when we receive an order to when it is shipped to the customer."