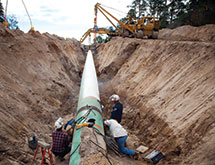 With TransCanada planning several new projects and expecting sustained growth over the next several years, a supply chain overhaul just makes sense.
"The reason for this is not in response to the growth of our business in the last five years," explains Gary Salsman, director of strategic sourcing. "It is planning forward for the future into the next five to seven years. We have now designed our supply chain to be more sustainable for our capital growth."
Previously, TransCanada's supply chain was largely organized by individual teams for specific projects or operational areas. This was effective for each project, but less so across the entire organization. 
Now, TransCanada operates its supply chain with project-based teams, operations teams, a support services group and the newly created strategic sourcing division. 
Prior to last year, there was only a projects and operations department within supply chain. The support services and strategic sourcing team now operate company-wide rather than focusing on only certain projects. The supply chain support services group provides support activities for the whole company such as supplier qualification, customs, logistics, freight and materials management, as well.
TransCanada also implemented a new SAP system that went live this year, as well. The intent of the new system was to ensure that the company had the proper tools in order to deliver on  business objectives. Up until SAP, TransCanada had used various tools to support the business, but with SAP the entire company will be working from the same platform. This makes for a much more integrated approach across the various business units.
TransCanada´s supply chain team is also honing its supplier qualification program used to ensure suppliers are qualified prior to working for the company. The focus is on making the process more efficient and integrating a supplier relationship management component. The challenge is to ensure TransCanada has the right suppliers and framework-type agreements so it's ready for purchases when the time comes. 
"We are now using strategic sourcing to leverage our spend across projects and operations to provide more value for the whole company instead of focusing on specific activities," Salsman explains.
Supply chain managers have been working with suppliers and contractors to ensure there is consistency in rates, terms and risk across all TransCanada activities. The strategic sourcing team was created in late 2013. Planning for future projects is one of its primary objectives, by ensuring TransCanada has an adequate amount of qualified suppliers and contractors to execute its capital spending plans. 
Category Management Purchasing
TransCanada uses the principles of Category Management for many of its strategic spend areas. A number of factors are used to determine if a category is strategic or not. Is it something TransCanada buys a lot of? What can be its competitive advantages? Is it a scarce commodity? Is there a large volume of spend?
Just as a grocer must manage an entire category of goods, such as juices, to its benefit instead of only one juice account, so TransCanada utilizes category management principles for purchasing. 
For example, transmission line pipe is a major purchase item for TransCanada. As such, the company is very strategic for this category. It follows the marketplace carefully, as line pipe is a global commodity. The supply chain team then considers several key factors before making purchases. Are there opportunities to bundle several purchases together to leverage potential savings? When is the optimum time to purchase based on commodity pricing and delivery windows? Are there logistics issues to consider?
In this process, Salsman has found a few things are of importance. First, it is beneficial to have open communication with its key suppliers. For the most strategic categories it is also helpful to have long term agreements in place with suppliers. Quick wins are also not to be underrated. "We need to understand very quickly what's happening in the marketplace and respond in kind to deliver on our objectives," he explains.
Also, having a single supply chain focused on all activities across the company prevents the organization from competing against itself. 
 Projects in the Pipeline 
TransCanada is a top organization in the natural gas pipelines, oil pipeline and energy generation businesses. 
The company's asset value currently exceeds $53 billion, and it has $36 billion in new projects planned for the next seven years. These include the $12 billion Energy East Pipeline project to transport crude oil across Canada, two major natural gas pipelines from northeast British Columbia to the West Coast, and the expansion of its the Keystone Pipeline System in Canada and the United States.
Needless to say, such strong growth must be planned carefully for success. As TransCanada works in a regulated environment, it does not take any plans for granted but also must be prepared for approval with suppliers on "stand-by." One of these projects in particular, the Keystone XL project, has become something of a political hot button, which has led to several delays in the government decision-making process. The existing Keystone Pipeline has delivered more than 600 million barrels from Alberta to refinery markets in the United States Midwest since it began operation in July 2010, the company says.
"Pipelines were not always controversial but have become something of a lightning rod," Salsman explains. "So we are developing relationships with the community so we are seen as a partner. This includes our efforts through contracting and supply to help us get our social license." 
As such, the company works to educate the public as well as regulators of the benefits of their projects – and the supply chain team assists in this regard. Education efforts don't just include writing letters to the U.S. Congress – which TransCanada does – but it also involves helping the communities it works in.
TransCanada is especially interested in partnering with aboriginal contractors and communities. It is often installing pipelines in remote areas of Canada and First Nation peoples there are an invaluable resource. "Some of these projects are in remote locations, so we rely on the locals," Salsman says. "We are focused on engaging aboriginal suppliers. It's an opportunity for them and we appreciate the chance to utilize their skills to help us." 
Also, it is important for TransCanada can explain exactly how many jobs the projects will create and how much money will be spent in which regions, in conjunction with local contractors. "These are things the community is interested in knowing," Salsman says. 
The Keystone XL project, for example, would create 9,000 construction jobs and support 42,100 jobs, the company says. To date, TransCanada has entered into contracts for Keystone XL with more than 50 suppliers across the U.S. and invested more than $2 billion to purchase materials and related services for items ranging from the steel pipe and thousands of valves and fittings, to transformers and large electric motors for pumping stations and cabling and electrical equipment to connect its vast pipeline monitoring systems.