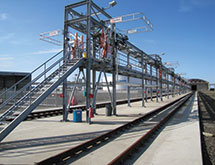 Westway Group has been in business for more than 60 years, and its dedication to service has allowed it to become a leading provider of bulk liquid storage and related value-added services. In the past couple years, the company has seen significant growth, which is injecting fresh energy into the operation and driving a focus to ever-increasing levels of quality and service. 
"In the market, we've really seen a big demand for our services," explains Gary Lewis, senior vice president and chief commercial officer. "We are well thought of by our customers, resulting in strong repeat and referral business. Additionally, we have new owners who are willing to fund the growth."
In fact, Westway is responding to the market demands in some major ways. The company has 15 facilities in North America. Its core business, Lewis says, is to develop tank farms and build tanks accommodating everything from food-grade products to specialty chemicals. Westway is dedicated to creating customized solutions for customers, including services such as blending, filtering, steaming and koshering. It also can build tanks to specific sizes and create customized piping. 
Major Expansion Under Way
Right now, Westway is responding to the needs of the market by "expanding our already great operations," Lewis says. In Houston, the company has two terminals, and it is enhancing Terminal 1 by adding more than 12 million gallons of tank storage capacity with 12 new carbon steel tanks; vessel loading/unloading, truck loading/unloading and rail loading/unloading capabilities; nitrogen blanketing, air sparging, filtering and blending capabilities. Lewis notes these additions will make the terminal suitable for handling specialty chemicals, acids, vegetable oils, base oils, biodiesel, methyl esters, fertilizers and caustics. 
"At this facility, we will be adding 27 million gallons of storage over the next few years," Lewis says. "Some of the space has already been spoken for, and the demand is really strong."
In Philadelphia, Westway is adding 11 million gallons of capacity with eight one-million-gallon carbon steel tanks, two one-million-gallon stainless steel tanks, and two 500,000-gallon carbon steel tanks. This facility offers heating, insulation and nitrogen blanketing options, as well as multimodal logistics for seagoing vessels, barges, trucks and railcars. 
"We tore down a number of our older tanks and are building new tanks with modern features," Lewis says. "We will have four tanks online by mid-2014, but we're really excited about both projects, in Philadelphia and Houston."
Safety is No. 1
This expansion is a major leap for Westway, but Lewis explains it is just an example of how much the company is dedicated to supporting its customers. "Take lube oil, for example. There are many different grades, and customers may need a place to keep specific quantities until their customers need it. Customers can come to us with large or smaller lots, where we have the ability to keep their product heated if that's what they need, and we can load it into trucks, railcars or ships and barges from most of our facilities."
All of this is critical to maintaining strong relationships with customers and building their trust, but Lewis stresses that Westway's first priority is always safety.  
"Health, safety, environment and quality are really a huge part of our culture," Lewis says. "Our customers expect safety and quality – it is not something they reward us for – it's just cost-of-entry into this business, and we couldn't operate if that wasn't a major part of our operation. 
"Nothing is done here without safety and environmental awareness being a part of it."
As a Responsible Care member in the chemicals industry, service and safety will remain  Westway's core values as the company moves forward, he says. The company is anticipating more growth, and in addition to its current expansion at some of its facilities, Westway also would like to add new services in the future to further help its clients. 
"We want to add some new services, and we're looking at a number of different acquisitions," Lewis says. "We will maintain our core business of bulk liquid storage, but we're also looking at some related businesses that make sense. Primarily, we want to remain a great company for our employees, owners and customers because we really value them all."