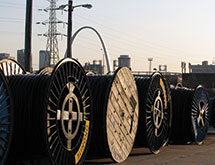 When utility company Ameren launched a program to transform its supply chain into a world-class sourcing organization 10 years ago, the company had a vision of what the end-goal would look like:  an optimized program that reduces cost starting from sourcing on the front-end to payment on the back-end. Ameren's supply chain leaders say the organization is nearly there, but it's been a journey that's taken many steps in the process. 
Ameren is the parent company of Ameren Illinois, Ameren Missouri and Ameren Transmission. Between the two states, Ameren employs 8,500 personnel and serves 2.4 million electric customers and more than 900,000 natural gas customers across a 64,000-square-mile area. In Missouri, where the company began, it is the largest electric power provider and its supply chain operates three major warehouses in the state, as well as smaller warehouses at some of its generation facilities. 
Ameren Illinois is the result of three acquisitions and mergers that occurred over the last several years. It is now the third-largest natural gas distributer in Illinois, and the company has consolidated its Illinois warehouses to optimize its supply chain and other operations. 
"Over the last several years we have gone through the appropriate accounting, ownership, regulatory changes and legal approvals to fully integrate the three legacy companies and allow us to aggregate," explains Mark Brandt, senior director of supply services. "We already had a major distribution hub in Decatur [Ill.] and we acquired the property next to it. This allowed us to close down five other warehouses and centralize in Decatur." 
In both states, Ameren's supply chain team has made strides to optimize its supply base and, by extension, its inventory. Since kicking off this initiative in 2004, Ameren has reduced its supply base from 35,000 to 8,500 by launching a robust sourcing process and focusing on key drivers such as inventory optimization – which means having the right products in the warehouses – and forecasting – which means having the right amount of inventory. With the "what" and "how much" of its inventory refined, the group is now focused on category and supplier relationship management. Dennis Weisenborn, vice president of safety and supply services, says that members of its supply base are now considered strategic business partners. 
Strengthening Relationships 
"Now that we have the supply base optimized, the question is how do we collectively become better?" Weisenborn says. "In the 2010 through 2012 timeframe, we really focused on inventory optimization. Now we are moving into the higher-end processes and value-added initiatives, such as category management and supplier relationships." 
One of the ways Ameren has strengthened its supplier relationships is moving from a first-cost model to an overall or total-cost model that considers more than just upfront investment when choosing a supplier. 
"We do something that's unique to the utility industry in terms of sourcing," Weisenborn says. "For many years we focused largely on cost of goods and services, and while that is still important, we now use a matrix approach, meaning we weigh such things as safety, quality, on-time delivery, and diversity plans, along with the cost we pay as one of those attributes."
Within this model, Ameren is now looking at the total cost of doing business with a particular supplier or contractor. Although cost accounts for a significant percent of that model, other influencers – such as safety, quality and the ability to respond and perform during a storm event when power lines need to be quickly restored – play a larger part in Ameren's decisions than before. 
For those business partners Ameren has deemed as providing the best value for its needs, the company is working to increase that value even more. Brandt explains that the supply chain team is analyzing the performance of key suppliers and contractors. "If we're talking about a contractor, for example, we will look at their safety performance, availability of resources, quality of work and how we extend that to drive value for Ameren beyond the initial cost of the contractors," Brandt says. "We can look at their performance on a specific project and start to take into account what they do well and what they don't do as well and try to help them improve their performance in those areas where they need to improve." 
The supply chain group is also hoping to gain knowledge from its business partners and come up with solutions that improve safety, quality and lower costs through innovative ideas they can bring to Ameren. "Our supply base sees things we don't see," Brandt explains. "They do business with many companies across the country and the world, so we look to them for innovative ideas."  
Building the Future
As Ameren works side by side with business partners to drive value in the supply chain, the company also takes a long look into improving its in-house operations. Companywide, Ameren is actively working on continuous improvement (CI) projects. Within the supply chain, CI has translated into investments such as handheld technology to streamline ordering and replenishing of materials. The company has also organized its storerooms and warehouses so field workers can more efficiently find materials and tools they need for off-location projects. 
Another part of its continuous improvement efforts includes employee training. Brandt says that in the next decade many of Ameren's coworkers will retire from the company and that includes Weisenborn and himself. So the company is actively pinpointing, training and mentoring Ameren's future leaders. 
"We place a high value on our coworkers, and we believe they are up for any challenge," Brandt explains. "Sometimes those challenges can be complex, so we're fortunate to have smart, hardworking, dedicated personnel who are committed to figuring out solutions to those the key challenges the company is facing."