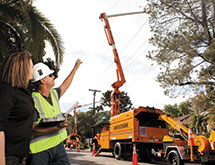 Have you ever noticed big orange trucks with a funny-looking name – Asplundh – working on the trees in your neighborhood? Well, they are not just working in your neighborhood.
Founded in 1928, family owned and operated Asplundh Tree Expert Co. prunes and removes trees; clears and maintains rights-of-way; manages vegetation with herbicides for utilities, railroads, pipelines, municipalities and departments of transportation; and provides emergency storm restoration services. It offers those services in the United States, Canada, Australia and New Zealand.
"Approximately 70 percent of our business is vegetation management," Chief Procurement Officer Kenneth Chan estimates. Additionally, the company and its subsidiaries perform other utility infrastructure services. "We do underground and overhead utility construction and maintenance," Chan says. "We also build and maintain street lighting and traffic signalization systems. Our crews are contracted to read meters and install some of the smart meters that utilities have been pushing for the last several years." Asplundh also performs preventive maintenance work for utilities, such as finding electrical faults that may cause an overload. 
The company is organized into many different management regions in its four countries. Asplundh crews can be found working in dense urban areas or remote, rugged terrain – anywhere that rights-of-way need to be maintained. 
Because of the nature of utility maintenance work, the workers and equipment are often moving week-to-week within a customer's service territory. "That creates a challenge in terms of distribution of equipment and tools," Chan says. "It's more dynamic. The delivery locations are constantly changing." 
Although Asplundh owns the vast majority of its equipment, there are exceptions. "We do have some leasing, and the reason for that from a supply chain perspective is the ebb and flow of utility contracts," Chan explains. "Sometimes you have a job that could only last three months, and it may not make sense to own the equipment. However, if you have a contract for the next three to five years, it may be more economical and more efficient to own the equipment. So it really varies."
Contract Types
Asplundh serves hundreds of utility, municipal, pipeline and railroad customers, and as a result, it works under many different types of contracts. "They can be lump-sum, unit, performance-based, time-and-equipment or some variation of those," Chan notes. "The contracts vary by customer, geographical area and also the type of work we're doing."
 Utility companies outsource the majority of their vegetation management and a portion of their line maintenance to contractors such as Asplundh instead of maintaining their own in-house personnel and a large fleet of equipment. 
Chan emphasizes that regular vegetation maintenance is key to surviving natural disasters by comparing it to oil changes on a vehicle. "If you skip an oil change, you can probably get by for 8,000 or 10,000 miles, but at some point, you have trouble with the engine," he points out. "The same thing applies to line clearance. The tree grows every year, and if you don't prune or remove it, the risk of it falling into a power line during a storm grows exponentially and the right-of-way becomes more expensive to maintain." 
When Disaster Strikes
When a natural disaster strikes, Asplundh always knows where its crews and trucks are thanks to its GPS-based automatic vehicle management system (AVMS). "The first thing it does is give you a dot on the map that tells you the real-time location of the vehicle," Chan explains. "So when we are facing a natural disaster, we use that technology to help mobilize our crews. We share that information with our customers so they know where our trucks are in a storm situation. It helps us effectively manage our equipment and our people." 
During major weather events, Asplundh operates a storm center at its headquarters in Willow Grove, Pa., where crew locations can be tracked in real-time and logistical support can be coordinated. "That differentiates us from a lot of other contractors," Chan points out. "Anyone can have a chain saw and truck to trim a tree, but a lot of our competitors do not have real-time vehicle locating technology. Providing that visibility of where crews are is extremely critical in a storm emergency situation so people can get the power back safely and efficiently." 
If a utility needs 100 crews in a location to handle a natural disaster and not enough Asplundh crews are nearby, Asplundh approaches other utilities for permission to move their crews to the storm-stricken area. These crews are well-equipped and have adequate safety training to work around energized lines.
"Safety is a core value in our company," Chan stresses. "Our people go through very stringent safety training. We maintain a high standard for our people and equipment, so when the time comes, we can react quickly and safely to help a customer solve their problems while still achieving Asplundh's vision of 'Safety First … No One Gets Hurt!®'"
In addition to safety, utilities need to restore power quickly in a storm situation, so speed and efficiency are critical. For example, when Hurricane Sandy struck the East Coast in 2012, Asplundh sprung into action. "We deployed thousands of people in a matter of days," Chan recalls. "They worked throughout the Northeast for weeks. We deployed people and all the specialized tools, protective gear and trucks they would need, delivering high-quality service on very short notice. This is where we really shine and differentiate ourselves from our competition – having the ability to react really fast is a competitive advantage that not many companies can do."
Asplundh's competitors come in all sizes. "We do have a lot of competitors, but most of them do not have access to the resources we can provide to a customer on a moment's notice," Chan maintains. "In terms of equipment, trained personnel and safety record, we are the leader in the utility vegetation management industry."
Safety and Fuel Savings
Asplundh's use of AVMS offers additional benefits besides knowing where all the company's vehicles are located. "When you track vehicle movement using AVMS, you can calculate the speed of the vehicle and also how the driver drives the vehicle," Chan says. "We use that data to improve our safety performance, to make sure that people are driving their vehicles safely and not getting themselves or other people hurt."
AVMS also can help Asplundh save money on fuel by highlighting fuel-efficient driving practices. 
"In addition, our people use their WEX fuel cards [formerly Wright Express] to fuel up their trucks, and then WEX provides data and analytics that help us to manage the program," Chan says. Use of the fuel card also helps pinpoint and prevent its fraudulent use by monitoring when and where it is used. "The WEX fuel card has been a pretty successful program for us to control our cost in fuel consumption," Chan declares.
New Systems
Chan attributes Asplundh's success to its emphasis not only on safety but also productivity, diversity spend and environmental awareness. Asplundh is introducing electronic invoicing and payroll to reduce paper usage and also purchasing more fuel-efficient trucks. 
Asplundh is improving its RFP process from sourcing through contract to payment. "In the past, our supply chain model has been more of a fulfillment model," Chan says. "Since I came onboard, we are trying to strategize our supply base for us to be successful. Who are the key suppliers that we need to have a strategic partnership with, and how can we structure the relationship so we can collaborate with them and bring more value for our customer?"
For example, Asplundh has narrowed its chain saw suppliers to one company – Husqvarna. "We have a very good partnership, and they provide a high-quality, reliable product," Chan maintains. This partnership also encourages the supplier to hold inventory for Asplundh in various regions so chain saws can be obtained in a day or two instead of requiring a week for shipping cross-country. Husqvarna also provides greater technical support to reduce Asplundh's downtime.
Asplundh is now purchasing chain saws from Husqvarna that offer X-Torq technology with 15 to 20 percent less fuel consumption and 80 percent lower carbon emissions. Some chain saw models with Trio-Brake technology also stop if they are not being held in an ergonomic position.
 The company is also testing business intelligence software that can map out its usage of various suppliers' products and communicate effectively with Asplundh's employees. "We use web conferencing – so we can reach out to a lot of our people all at once – and they can listen to what we want to communicate with them from a supply chain perspective," Chan says.
More Construction
For the future, Chan sees more growth in the construction side of the business – which the company has been performing for more than 50 years – and additional acquisitions if necessary to promote that. "We have been growing organically and by acquisition over the years," Chan points out. "This company is run by third-generation family members, so when they see an opportunity to serve the utility customer better, they have no problem investing to grow the business."
Chan emphasizes that Asplundh – where he has been employed for the last one-and-a-half years – is a world-class-managed company. "I was a management consultant and worked for many companies, and Asplundh is one of the best-managed companies that I worked for," he says. "This company is very customer-focused. Given our diversity and all the different customers, there is a wide range of requirements for people, tools and equipment. The company continually strives to satisfy customers' requirements in a very quick, safe and efficient manner."