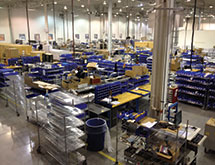 Keeping one of the leading manufacturers of high-speed mailing equipment running smoothly requires solid supply chain management. Bell and Howell, maker of high-speed sorting and mail inserting equipment, relies heavily upon its network of suppliers.  Under the leadership of Patty Holt, C.P.M., vice president of supply chain, Bell and Howell maintains a steady, even hand in guiding the task of procuring the 70,000 parts used every day across their North American manufacturing and service field operations.
When parts availability means crucial uptime for equipment, there is no compromising on availability and turnaround time. "Our customers need us to deliver what they need, when they need it. Consistency of delivery is vital to keeping the trust they put in us. We understand that when a system is down, it costs our customers money," Holt notes.
As a supplier to direct mail, insurers, utilities and other sectors, Holt and her team have built a solid, flexible and efficient supply chain to meet the ever growing demands from customers. The latest endeavor involves a new parts ordering web site where customers can order parts online, define their shipping requirements and easily check out with a credit card or a purchase order. "It's all about servicing the customer. If we can make getting parts easier and faster for them, then we'll do it," Holt notes. 
Holt brings a considerable amount of expertise to the company's supply chain operations, having spent more than 30 years in the trenches helping various companies manage their supply chains in different capacities. 
"My team truly partners with our colleagues within Bell and Howell and with our suppliers to find creative solutions. So much of what we do is communicating expectations and requirements. You need a solid relationship with all business partners to provide just the right solution." 
Partnerships Pay Off
"The key to preventing supply chain problems is ensuring that you have partnered with the right vendors," says Holt. Because Bell and Howell is a low-volume, high-mix equipment supplier, it can't rely on producing equipment in high quantities to drive efficiency in its supply chain. "We have to partner with vendors that can either provide the right components or outsource those components in a way that provides the highest possible value for us and our customers," notes Holt. "Our competitors have deep pockets. We have to find those true partners who can bring the value-add and help draw the costs out," Holt says. 
For example, she says, the company recently partnered with a vendor that worked with Bell and Howell engineers to create a more cost-effective solution. "They saved us nearly 20 percent in costs on that equipment, which makes a tremendous difference to our bottom line," she notes. "Choosing the right supplier means selecting relationships that are mutually beneficial," Holt says, "otherwise they cannot last. We have to be sure that it is as good a fit for them as it is for us," she says. 
Another key to success for Bell and Howell is standardization, and Holt says this requires the company to involve its supply chain team early in the new equipment development process. By using as many of the same components as it can in each product line, Bell and Howell can avoid delays when it comes to sourcing those components. 
Reinventing the Business
As mail volumes continue to slowly erode in the face of alternative communication channels, Bell and Howell has undergone something of a reinvention over the last few years. "We're using our experience with mailing as a catalyst for growing sectors, such as parcel shipping. As more and more goods are purchased via the Internet and shipped via post, FedEx or other shipper, we have adapted our intellectual property and our product offerings to take advantage of this shift," she says. 
Holt says the company is looking for partners who already are established in the e-commerce sector to help it develop a more robust line of equipment for parcel handling.
No matter what the future holds for Bell and Howell, Holt says the foundation of its success in its supply chain operations will remain the same. By continuing to forge long-lasting, mutually beneficial relationships with suppliers, Bell and Howell should continue to be a trusted source for its customers.