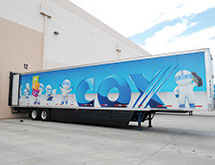 The flow of product and supplies for Cox Communications – which supplies broadband, cable television, telephone and home security services for residential and business customers in 18 states – is in several directions: from equipment manufacturer to Cox, from Cox to customer, and then back to Cox when equipment is returned or exchanged.
Centralizing this flow to reduce inventory, improve efficiency and provide services effectively has been the continuing project of Cox and George Richter, senior vice president of supply chain management, for the past five years.
"It's one of those things where you say it's never complete," Richter concedes. "We have put all the pieces in place so we can be very efficient in having one supply chain for Cox. Our objective is to link our suppliers with all the requirements of our stakeholders and end-customers."
The third-largest U.S. cable TV company, Cox Communications serves approximately 6 million residences and businesses, which requires an extensive and efficient supply chain. In 2013, that supply chain's transformation initiative was recognized by the APICS Award of Excellence in Innovation. Cox's most recent supply chain transformation was made in March and directed the field supply chain organization of 250 employees to report directly to Richter's organization in Atlanta instead of their local markets.
"It really allowed us to connect the entire supply chain," Richter explains. "We started at the outside, and we've been slowly working our way in. We started our transformation by engaging some of our most critical strategic suppliers. The best example would be Cisco, a major supplier of infrastructure as well as set-top boxes, support and engineering services. We started with Cisco to aggregate all the forecast and demand information that we had as a company, instead of every market individually engaging with Cisco. They were going to have an easier time supporting us in terms of their supply chain."
Physical Infrastructure
The next stage was to work with physical infrastructure partners such as Communications Test and Design Inc. (CTDI), a third-party logistics, testing, refurbishing and repair supplier. "We put four of what we call primary distribution centers (PDCs) in place," Richter says. "CTDI really manages those PDCs on our behalf. Inside them, we have testing, clean-and-screen and repair capabilities, which is a big element of the supply chain in any cable operation."
Testing of consumer equipment now is parametric-based for higher quality and uses specially designed test fixtures. Having these facilities in the PDC reduces turnaround time substantially. Software called Connection Home Asset Tracker is used to determine the location of every piece of equipment, such as set-top boxes, which are bar-coded.
 Cox's PDCs are located within four of the company's six regions: Hampton Road, Va.; Baton Rouge, La.; Wichita, Kan; and Phoenix, Ariz. The company's dedicated fleet of 15 trucks and 20 trailers transport equipment from the PDCs to the area fulfillment centers (AFCs) that Cox manages in its local markets.
"The AFC will also manage and distribute things like set-top boxes," Richter notes. "They keep our technicians stocked with the appropriate materials so our technicians can service our customers. They also support our retail locations." Cox has more than 130 of those. The company also drop-ships equipment directly to customers.
The Head End
The next step in the supply chain transformation was working with the company's local warehouses and outside contractors, which are the last mile of the supply chain. Some of those contractors build equipment facilities for new service and others provide support and customer service along with Cox employees. Some of the facilities Cox needs are at what the company calls the "head end" of the cable system, of which there are approximately 50.
 The head end pushes the digital communication signals through the company's "plant," which is all the equipment and cable required to send the signals out. They travel along the company's national hybrid fiber and coaxial cable network that runs underground and on telephone poles to ultimately reach residential and business customers' locations.
"If there's a new area that we're expanding into, such as a new housing development, we will build new plant into that development," Richter says. "So as houses go up, we are able to offer them telephone, high-speed Internet, video, and in many markets, home security services. We do a tremendous amount of maintenance on our plant – repairing, upgrading and keeping it in top shape – so we can continue to offer better service to our customers and better speeds."
Cox's supply chain organization also is responsible for sourcing products and materials. "We have our 10-step sourcing process and a very structured, strategic sourcing group in place as part of our supply chain transformation," he points out. "That's made a big difference in our ability to get much more cost-competitive with our suppliers."
 Cox's use of PDCs has reduced its inventory demands and costs. "Instead of having safety stock in 18 individual markets, we now have centralized safety stock in four PDCs," Richter says. The company's demand forecasts enable its vendors to respond when Cox needs their products and materials.
"That forecast gives our suppliers the opportunity to position their supply chain and pipeline in a way that allows them to deliver against our requirements on time," Richter says. "With that forecast, we're not just telling them what we need in the next 10 to 30 days. We give them our requirements three to six months out, so they can position the materials they will need to support us. On-time delivery has improved, as well as cost savings and working capital."
For the future, Richter sees new consumer equipment being developed at faster rates as 1-gigabyte service and Internet Protocol equipment is offered. "There's a lot more complexity in these new products, and they're coming out faster and changing faster," he notes. "So we have to be much more efficient and nimble than we were in the past to be able to manage those changes."