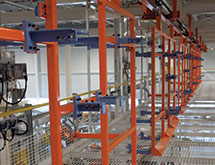 Dearborn Mid-West Co. is differentiating itself in the automotive industry by providing cutting-edge engineering with its latest 3-D design technology. "We design in the same software as the car companies so we can match exactly, but the whole conveyor system is now designed in 3-D," Vice President of Automotive/Industrial Division C.J. Bagierek says. 
Dearborn Mid-West provides self-performed turnkey material-handling solutions to customers in the automotive, industrial, bulk handling, postal and construction industries. Starting out as two separate fabrication shops in 1947, the company has evolved into operating full-service locations in Michigan and Kansas. "About 70 percent of the business is based in Michigan and 30 percent is in Kansas," Bagierek adds. 
The company's automotive division is located in Taylor, Mich., and it operates 23,400 square feet of office space and 155,000 square feet of shop space. Inside the shop, Dearborn Mid-West designs, fabricates and assembles conveyor systems. Its conveyor systems include overhead, inverted power and free, skillet, automated electrified monorail, floor, specialty transfer, automatic guided cart and light-duty. "We are very service-oriented and want to provide better service than our competition," Bagierek says. "We strive to be the best company through our engineering."
Design Advancements
OEMs in the automotive industry use Catia or NX graphic design software to create product models before production starts. Dearborn Mid-West implemented the same technology 14 years ago to receive the images from its customers and ensure its conveyor carriers matched their needs. Technology and software today allows this to be applied to the entire conveyor system. To improve its design and visualize the factory space better, the company invested in new 3-D technology last year that will accompany the graphics software. 
Factory Design Suite by Autodesk helps design the most efficient manufacturing layout by creating a 3-D digital factory model. The program uses digital prototyping to evaluate multiple "what-if" factory layout scenarios to determine the best solution before equipment is installed. Dearborn Mid-West uses a laser scanner to produce a 3-D image of the OEM's building and identify any interferences or obstructions that would lead to overruns and additional costs to the company and its clients. 
"We can't test ahead of time during the installation phase, so the 3-D technology saves time and changes from happening in the field," Bagierek explains. "Prior to the software, you would use extensive field checking with opportunities for omissions and errors, creating field requirements for rework and modifications after fabrication is delivered."
The system helps Dearborn Mid-West deliver faster turnarounds required because of tighter schedule demands from its clients. "They have very little downtime and don't have time for mistakes," Bagierek says. "We are doing jobs that last four to six moths now that used to take 12 to 18 months. It's quicker because our customers are demanding it and we have developed the tools to meet their demands."
Dearborn Mid-West's clients are also requesting additional controls and information systems with the conveyors to prevent additional downtime. "They are pushing for conveyor contractors to include factory information systems that identify stoppages and conveyor controls that will autocorrect those types of things," Bagierek adds. "Because of those requests, the control systems we are integrating have become more sophisticated." 
Future Implementation
The new technology will bring Dearborn Mid-West into the future, but its most significant struggle moving forward is providing continuously improving products with diminishing project schedules. "With the auto companies projecting sales of [more than] 16 million vehicles, the demands on resources are higher than in previous years," Bagierek says.
To combat this issue, the company offers mentoring programs for its skilled trades partners and is hopeful more qualified individuals will return to the industry because it has seen an increase in universities promoting manufacturing and engineering programs, Bagierek explains. 
Dearborn Mid-West is also building larger modules and developing the product to bolt together instead of having to cut and weld pieces. "It takes more time and the skill set to cut and weld than it does to assemble modules with nuts and bolts," Bagierek says. 
Despite its concerns regarding resources, the company's exceptional service and advanced technology have kept it busy securing various new projects. Dearborn Mid-West is building the paint conveyor system for Toyota's first U.S. built Lexus product and is expected to complete installation by the end of the year.  
The company is also using its 3-D technology to build 292 skillet modules for three General Motors facilities that will also be delivered by the end of the year.