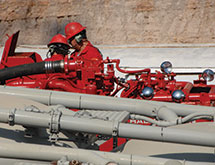 Based out of corporate headquarters in Houston and Dubai, Halliburton has been in operation for nearly a century. Founded in 1919, it is now one of the world's largest providers of products and services to the global energy industry. With more than 80,000 employees and working in more than 80 countries, Halliburton serves the upstream oil and natural gas industry all the way from locating hydrocarbons to optimizing production through the life of the field.
Today, the company offers one of the deepest portfolios of products, services and integrated solutions for oil and gas exploration, development and production. Its business is structured to include 13 product service lines (PSLs), which oversee the company's strategy, technology development, process development, people development and capital allocation. To ensure future success, Halliburton has worked to strengthen its position in the Eastern and Western Hemispheres with several major operating regions, and by adding to its manufacturing capacity, moving closer to key markets, and helping to reduce the costs of moving materials, products, tools and people.
Given the global reach of Halliburton and the often-remote locations of oil and gas projects, the company is faced with complex logistical challenges. Infrastructure and communications can be problematic, so Halliburton has worked to devise solutions to challenges that are inherent aspects of the global nature of the industry. For Halliburton to turn logistics into a competitive advantage, it has created long-term strategies and improved standards of operation within its logistics organization. 
"The oil and gas business is always highly interesting," Halliburton's Global Logistics Vice President John Vogt says. "New areas, new mobilizations and changes are commonplace. So our ability to solve problems is of utmost importance. Agility, the capability to be flexible and correctly focused, allows us to add value way beyond a mere cost reduction; a supply chain, and in particular logistics, is about the creation or enabling of revenue production. If we can deliver goods to the most remote or difficult places with reliability and economically, ahead of competitors, we secure our reputation as the company to trust with work and hence revenue."  
Ongoing Effort
Halliburton has been on a multiple year journey to improve logistics. In recent years, the number of countries where Halliburton has an active presence has grown. In addition, the market in North America has grown fast since early 2009. To help handle its growth, Halliburton created a strategic network of cross-docks in four centers: Houston, Singapore, Rotterdam and Dubai. 
These cross-docks allow the company to move its goods quickly with reliability, visibility and economic advantages. This strategic network enables movement from suppliers and manufacturing centers to end customers.
"Our role in logistics is to deliver goods to our customers," Vogt says. "We have a guiding principle that goods have no value unless they are available to our customers. We take that seriously. That is why we run our own network of cross-docks in four carefully chosen locations, which allow us to manage our movement efficiently and effectively. That also allows us to choose service providers who are the strongest in the lane between these facilities and not be dependent on one party to do the whole process." 
The cross-docks are driven by Halliburton's own software. This enables the company to consolidate and deconsolidate around the network, and to have the correct and compliant documentation for each leg of the journey. 
Information flow is also critically important for Halliburton. That is why the company developed its trademarked I-SeRVE software, which is a suite of programs that includes EDI interfaces with manufacturing and service providers, as well as manual updates. "The culmination of the information from these sources is shown in our visibility system," Vogt says. "This gives visibility to every order and its status as well as pertinent milestones in the movement." 
Technology is influencing supply chain at Halliburton in many ways. Due to the speed and scope of its product movements, Halliburton is dependent on technology. The company cannot cope with its complex logistics via paper, nor can it provide documentation for customs with all the checks and balances required with manual processes. 
"In logistics, with its suite of management software that includes its own electronic bidding for special moves, we are dependent on technology to manage our business," Vogt says. "Our well delivery in the U.S. is done using rail, trucking and automated payment systems. Information from these systems is supplied regularly to our management team for review to help drive continuous improvement. It is also a great maxim that if you cannot measure a process, you cannot manage it, and that requires systems and data." 
These technologies help bring together logistics, procurement, category management, manufacturing and material management into an integrated supply chain team that supports the company's operations.
Relationships with suppliers and carriers are also important for Halliburton. The company sees logistics service providers as long-term strategic partners. It develops systems in concert with suppliers to ensure electronic integration. It chooses the best service provider for the move. In more complex moves, it could have multiple service providers all working together to make sure the right goods are delivered on time to the right location. 
While Halliburton has chosen to own and operate its own cross-docks, systems and data networks, it outsources the moves between cross-docks to service providers. These service providers are chosen for each leg of a move to offer the greatest speed, reliability and information flow. Halliburton believes that controlling the flow and choosing the appropriate service provider gives the company the greatest value. 
Continuing Growth
It is no surprise that Halliburton's approach to supply chain has evolved in the past few years. The size and scope of its operations have become more complicated, and its supply chain today is a multifaceted capability from manufacturing and category management to logistics and materials. The skills and support that supply chain provides the organization have grown along with the company.
"I am sure this will continue to grow and add further value to the company," Vogt says.
Thanks to a great deal of effort, Halliburton can offer solutions to customers that are supported by a robust supply chain capability. Strong processes and legal compliance, along with a high degree of innovation, help Halliburton ensure that goods arrive when and where customers require them. 
"Commitment to be the highest level of professionalism is a major factor for us," Vogt says. "In logistics, you must have fun or the complexity and scope will cause you more than sleepless nights. You also have to have vision, because the world is becoming more and more complex and demanding, and changing at an ever increasing pace."