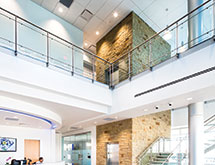 HID Global has always been on the forefront of technology in its field. The company provides the industry's most extensive portfolio of readers, cards, controllers and software to create, manage and use secure identities. HID Global's open platform supports multiple credential technologies and offers the greatest degree of flexibility and choice in secure access control. 
The company's worldwide presence supports more than 100 countries and its skills in engineering and manufacturing made it an industry leader, but its supply chain operations were in need of a boost in scalability. Although the company has continued to grow, both organically and through acquisition, supply chain operations was feeling the impact of not keeping pace. For the past two years, HID Global has been focused on upgrading its supply chain. 
"Spreadsheets are great if you have 10 customers, but when you have the global reach we have, you cannot continue to work on spreadsheets," explains Karon Evanoff, vice president of  the company's global supply chain. 
A New Day
HID Global brought in Evanoff two years ago, as part of its continued focus to modernize its supply chain. Prior to her arrival, HID Global invested in a global ERP  upgrade and was making plans to consolidate its U.S. facilities into its Austin, Texas, headquarters. The company moved into its new LEED Platinum building last year. The move provides the foundation for a centralized distribution hub and manufacturing center in North America. It allows HID Global to consolidate the material purchases made by its many divisions and leverage its buying power to increase efficiency. The company also partnered with SiliconExpert Technologies to get up-to-date information on component parts. Evanoff says the tool enables HID Global to check for alternate components, get updates on changes and look at environmental issues associated with components.  
"We found that they were buying a lot of the same materials at different times within an order cycle," Evanoff says. "Each site would buy from the same supplier at minimum order quantities for individual regional consumption. We weren't maximizing the global use of the material." 
HID Global diligently worked on developing a sales and operations planning process, allowing it to better forecast the business and resulting in a more accurate consolidated supply chain operation. 
"We work with the sales team to educate them on the importance of forecasting. We have developed statistical modeling capability to alleviate the burden placed on sales forecasting at the SKU level. We've stressed  the importance of their inputs and how those inputs contribute to improved service levels," Evanoff says. "We highlight the importance of forward communication. For example, if there is an upcoming promotion, we need to know so we can plug it into the forecast and ensure the product will be in stock. If we're not communicating, the customer won't be satisfied."  
Evanoff explains that behind-the-scenes operations such as sales and operations planning affect the company's brand reputation. That's why HID Global has made strides to improve another back-house operation: supplier relationships. 
Redefining Relationships
"We are looking at this holistically," Evanoff says. "In the past, we had limited resources in category management and strategic sourcing. We have been building up that part of supply chain."
In a recent meeting, HID Global met with a strategic supplier that provides a crucial technology used in many of HID Global's products. HID Global's supply chain explained to this particular supplier that it was one of the top-three suppliers within HID, making this supplier a key strategic partner. Once the supplier had hard data to confirm a secure business relationship, HID Global was able to negotiate and devise ways to reduce the supplier's cost. 
It is taking a similar approach with its contract manufacturers. HID Global launched a new scorecard system and meets with manufacturers to see how both sides are measuring up and discuss ways to improve the relationship.
"People at the company are starting to see supply chain as a differentiator," Evanoff explains. "The key is figuring out your strategy as a company and then allowing supply chain to become a differentiator in helping achieve the strategy."