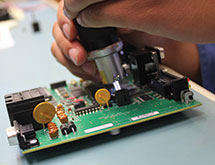 Serving companies in the military, aerospace, medical and industrial sectors, IEC Electronics Corp. understands its products must be "absolutely, positively perfect and on-time," according to its tagline. But this is no marketing gimmick; IEC is dedicated to delivering only the best electronic manufacturing services because it knows what's on the line for its customers.
"The markets we deal in are high reliability, mission-critical or life-threatening," Director of Supply Chain Tiger Biletnikoff explains. "We can't afford to have anything other than the highest level of quality. Our tagline is how we run our business, day in and day out. There is no other way to run our business successfully."
IEC is a leading provider of electronic manufacturing services to advanced technology companies, and specializes in the custom manufacture of high-reliability, complex printed circuit boards, full system integration, custom cable/wire harnesses and precision metal products. The company is known for its capabilities such as an on-site ISO 17025 testing services laboratory, real-time automated data surveillance, component tracking systems, clean room manufacturing, and its new product incubation centers, which are comprised of custom-configured, rapid prototyping equipment and design engineering support.
IEC's Newark and Albuquerque facilities have been awarded the first IPC-J-STD-001/IPC-A-610 Qualified Manufacturers Listing (QML) under IPC's Validation Services Program. In addition, IEC Electronics' testing laboratory, Dynamic Research and Testing Laboratories (DRTL) in Albuquerque, has been certified as an IPC-approved validation services test laboratory.
Battling Obsolescence
IEC has the capabilities in place to ensure the highest level of quality, but delivering its goods on time is just as important to its success and the success of its clients. Biletnikoff explains it requires an entire organizational effort to get products to customers on time. IEC serves industries that need high- mix,  low-volume orders, and each order is extremely time-sensitive.
"When sales talks with our customers, that starts our clock," he says. "Each cross-functional team understands our deliverables, and they all maintain robust communication with the supply chain. We're investing in a new ERP system to further improve supply chain and operations data. We are very proactive and work daily to improve our analytics for improved productivity. The biggest challenge we face is component obsolescence."
Working in advanced technology industries, obsolescence is a constant problem for IEC. Not only must IEC manage technological obsolescence, but it also must maintain on-time deliveries. "We also have to know how to use data to understand our markets, as well as what we need for the next order, a year from now, five years from now and so on," Biletnikoff says.
To this end, IEC is investing in interconnectivity, internally and externally. It wants to have the best technology to collect, control and manage data, and then act on the data. Biletnikoff explains the company's biggest supply chain issue is managing risk, so it's working to create a real-time knowledge base to deliver predictive analytics.
"We want to drive continuity, clarity and anticipation," he says. "We are constantly working on how to make our business better, how to exceed customers' expectations, and how to answer questions from our customers before they even know to ask. We are always helping our customers manage the risk they have around their supply chain."
One of IEC's biggest assets is its Dynamic Research and Testing Laboratories (DRTL), which provides physical, electrical and environmental testing. Mark Northrup, vice president of advanced technical operations and strategy, explains DRTL is a very unique asset in IEC's industry, and helps it to mitigate against counterfeit parts and protect its customers.
"We deal with a lot of legacy programs that are very challenged with mission-critical applications," Northrup says. "DRTL helps us deal with these issues and ensures on-time delivery, and we do it all in a transparent fashion. We make sure customers understand the risks involved, and we are known for trust and integrity.
A Key Role
Biletnikoff notes that working with suppliers is a big part of how IEC delivers for customers. "Our suppliers have been dealing with us for a long time, and they understand our customers and us as a customer," he says. "We are open with them about how to improve the business between us. Everybody is on a first-name basis with each other, and they really go the extra mile for us. They play a key role in the regulatory and compliance mandates."
It is also improving its PLM system and tools for data mining and management. Northrup says that PLM is a "process" of managing the lifecycle of the product from design, NPI, manufacturing, service through disposal.
IEC's investment strategy is focused on information technology. The company is implementing a completely new ERP system that allows it to get to data much faster than before and manage the business more effectively, Biletnikoff says. When it comes to equipment, IEC focuses on advantages that will make it more efficient so it can optimize its resources at every step of the manufacturing process. "The level of obsolescence in components is a tremendous obstacle for us and our customers that we need to overcome," he says. "We constantly invest so we can manage obsolescence and the risks associated with it."