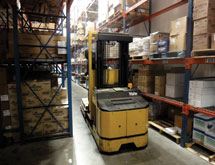 In its 22 years of business, All American Foods has grown from operating out of a residential garage with a small refrigerator and freezer to reaching nearly full capacity on a 100,000-square-foot facility.
The Rhode Island-based broadline food distributor offers a wide spectrum of products, including beef, poultry, frozen and fresh seafood, pork/lamb/veal, processed meats, produce, grocery, frozen goods and dairy. Non-food items such as grocery bags, plastic plates, paper towels, cups and foil are also offered, owner and President Leon Panteleos says.
All American's seafood products feature tunas, salmon, scallops, crabs, chowders, clams, lobster, swordfish, shrimp and breaded fish portions.
Independently owned restaurants and caterers make up most of All American's customer base; smaller grocery stores, food service providers, and schools and universities are also served. The company is Rhode Island's largest independently owned broadline distributor. Its delivery fleet of 25 trucks also serves parts of Massachusetts and Connecticut, Pant­eleos adds.
Seven Points of Service
All American Foods has seven key points of customer service Panteleos feels helps it stand out amongst its competitors. These are:
The ability to offload rail cars
Custom cutting seafood products
Allowing additions to existing orders up to 2 a.m. for same-day shipping
The option of free storage for up to 45 days for customers who wish to take advantage of special promotions or sales but cannot store products in-house
No minimum shipping on current routes
A live inventory system that allows customers to know instantly if products are in stock; and

A qualified sales staff that deals directly with customers. "If you're a customer, you're talking directly to sales people," Panteleos says. "We don't have customer service reps."

The 2 a.m. order addition extension, implemented earlier this year, is receiving an overwhelmingly positive customer response. The service, like many of All American's initiatives, came about as a result of listening to and considering the needs of customers, Panteleos adds.

"Our focus is on how we can take the pain away from the customer and make their job easier," he says.

"I think our seven points of service make us stand out," Panteleos adds.

Panteleos says he is seeing sales grow so far this year as compared to 2009. "I think we've definitely seen the worst of the recession," he adds. "There's definitely an uptick with the addition of the new services we're providing. Individual customers are buying more product, and we're getting busier."

All American Foods has long-standing relationships with many of its customers. Many clients have been doing business with the company for more than 15 years, Panteleos says.

"I think this business is strictly about relationships,"he adds.

Rapid Expansion

All American Foods is looking to expand and move facilities within the next few years, as Panteleos says it is at 80 percent capacity on its current facility. The company has the ability to expand to 300,000 square feet.

The company is familiar with expansion, as it has grown progressively since it was established in 1988 as All American Meats & Seafood Inc. Panteleos formed the company after buying Medeiros Meats, a small distributor of meat and deli products. At the time of purchase, the company was running out of a residential garage with a 10-by-10-foot refrigerator and a 6-by-6-foot freezer.

After relocations to larger facilities in 1993 and 1996, All American settled into its current location in North Kingstown, R.I. in 1999. At the time of purchase, the facility was 50,000 square feet, and its size doubled following a 2004 expansion. A major freezer addition came in 2006.

"All American Foods has grown from our humble beginnings to become Rhode Island's largest independently owned broadline distributor," the company says. "We are dedicated to adapting to our clients needs and always keeping an eye to the future."