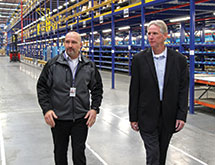 Many companies focus on their own success, but Ingram Micro is in the business of helping others succeed, Senior Vice President of Operations and President of Global Logistics Robert Gifford says. Based in Santa Ana, Calif., the company provides technology and supply chain services to clients around the world. 
Founded in 1979, Ingram Micro customizes and delivers applications for industry verticals, business-to-business customers and commercial needs. It also supports its global operations through a large sales and distribution network in North America, Europe, the Middle East, Africa, Latin America and the Asia-Pacific region. 
Thanks to its hard work, "Ingram Micro has been the No. 1 high-tech distributor for years and years," Gifford says, adding that it is a Fortune 500 company.
Its customers include all of the top high-tech companies and many smaller players, he adds. "It's a great way for an emerging technology to access the marketplace," Gifford states. "We're covering multiple verticals."
Retail is also a strong sector for Ingram Micro. "Three out of the top-five retailers are part of our infrastructure," he says, noting that the company also serves dotcom retailers. "We can offer the exact same services that [others in] the marketplace can, sometimes better."
The Next Natural Step
In June, Ingram Micro launched a new brand identity to better represent its evolution over the past 35 years. "This is more than a logo change; we view this brand refresh as an investment in our future," CEO Alain Monié said in a statement.
"Ingram Micro has made bold new moves with recent acquisitions, establishing global business units and developing a more global and customer-centric mindset with an agile, insightful and dependable culture," he continued. "Refreshing and repositioning the Ingram Micro brand is a next natural step in our company's growth and success."
That included implementing a new logo with a stronger emphasis on "Ingram." It fits the way the company is often referred to by its partners, with the "g" transparent and tilted, symbolizing its agility and transparency to customers. "Our new brand identity and strategy is a reflection of a bold new Ingram Micro," Monié added.
True Performance
A longtime veteran of supply chain management, Gifford joined Ingram Micro four years ago, after working for Ecolab and Hewlett-Packard. Today, he oversees Ingram Micro's supply chain operations and its third-party logistics (3PL) business.
During his tenure, the company has moved from an internal to an external supply chain culture. "Our strategy is to become the 3PL of choice for companies who are trying to thrive in the e-commerce and omni-channel world," he says. "We've done things like investing in onboarding technologies that allow people to transition seamlessly."
If a North America-based client wants Ingram Micro to manage its supply chain in Australia, "That's easy," he says. "The same infrastructure is globally available."  
Shipwire, a Palo Alto, Calif.-based company, which Ingram Micro acquired in 2013, is a global fulfillment service company that served more than 1,000 emerging brands and web retailers specializing in fast and easy on-boarding and fulfillment. 
By using Shipwire, Ingram Micro's clients can log on, connect to Ingram, and once the inventory is positioned in its warehouses, the company will be ready to perform the logistics services the client needs, Gifford says. "This all starts as soon as you can position your product in our warehouses," he says.
Afterward, Ingram Micro will take the orders and ship them to its clients' customers. Today, "We're taking [Shipwire's] technology and expanding it to make the onboarding capability much easier and seamless," he says. 
Gifford predicts continued growth for Ingram Micro. "I see us offering clients [more ways] to truly serve this new world that we're all living in, where people sit on the couch, grab their iPad, access the marketplace, [order something] and it'll be on their doorstep the next day," he says. "I see a lot of exciting times ahead."