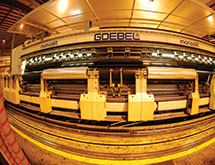 The diversity and quality of the solutions-driven plastics products manufactured by Inteplast Group make it an exceptional partner for clients' supply chains.  Inteplast Group offers an astounding array of films, wraps and packaging, developed with advanced technology to protect goods while in storage or transport or on the retail shelf – virtually anywhere in its customers' supply chains. The company's products, state-of-the-art facilities and commitment to delivering value and exceptional service, make Inteplast a trusted supplier. 
"Our cross-market product line enables us to provide customers with a single source for most everything they need in regard to hand and machine wraps, film and packaging," says Scott Stevens, senior director of product and business development, for the company's AmTopp films division. "Six Sigma, value creation and continuous improvement are strong components in our company culture. We are always working on new products and services such as more flexible shipping options to accommodate our customers."
Established in 1991, Inteplast Group offers a truly integrated product line. In fact, the company's name is derived from the words integrated and plastics.  Inteplast is headquartered in New Jersey, with facilities in the United States and Canada. The company's largest facility is its world-class, 575-acre, ISO 9001:2008 certified manufacturing site in Lolita, Texas, which is home to its three primary divisions. 
Inteplast excels through the strengths of its three divisions – AmTopp, Integrated Bagging Systems (IBS) and World-Pak – as well as a growing number of manufacturing, warehouse and distribution facilities and member companies strategically located across the United States. Together, they demonstrate the capabilities of American manufacturing by producing a synergistic product line that includes biaxially oriented polypropylene (BOPP), stretch, and XF cross-laminated films; industrial films and packaging; bags of all types, from box liners and pallet covers to merchandise bags; and a wide range of PVC building materials, and fluted, foam and corrugated plastic boards.  
With such a comprehensive product offering, regardless of where customers' goods are in the supply chain, Inteplast is providing them with protection. 
Controlling Costs
Inteplast's AmTopp division, Lolita, Texas, is backed by decades of plastic manufacturing experience. Its products include BOPP films, often used for packaging applications; and the X-Treme™ and LoadStar™ brands of hand and machine stretch wrap, which are sold in large industrial size rolls and are used to wrap bulk merchandise and pallets. 
Product distributors and resellers are major customers.  Dedicated to offering the most efficiently manufactured products at the lowest cost, AmTopp uses quality raw materials and state-of-the-art equipment to ensure precision, according to Stevens. 
The bottom line is key, and Stevens explains that Inteplast understands its customers' cost structures, regardless of the market segment they represent. This and AmTopp's value-added films, he notes, contribute to the company's leadership position in the industry.
"We are offering more down-gauged films that provide higher load integrity and stability at a lower unit cost," Stevens says. "These products are attractive to customers who are looking to cuts costs because they use less film, with the advantage of better stability than traditional films. These products use less raw material as well, and contribute to sustainability."
Prestretched film is the largest and fastest-growing segment in the stretch film industry, Stevens says, and AmTopp is continuously working to ensure it meets customers' needs – many of which are warehouse grocers. "Grocers like prestretched film because it is a light-weight roll, and with the weight disparity, it is more efficient and easier for workers to use," he says. "It is damage resistant as well.  If you wrap a pallet with prestretched film, you get very good load stability. It is cost effective for grocers and other end users."
AmTopp's dedication to quality has made X-Treme™ and LoadStar™ leading brands in the industry, known for their good load containment, Stevens says. "It's most important that our customers' products get from point A to point B successfully," he explains. "That is what our products are known for."
AmTopp's machine films are designed to operate in high-speed, automated systems. The company offers high-performance machine wrap, X-Treme™ machine wrap and lower-gauge, highly engineered LoadStar™ machine wrap to accommodate all applications. Hand wrap is for manual functions, he explains. It is designed for easy application and strength, and is available as conventional hand wrap, stiff hand wrap and the highly engineered, high-performance LoadStar™ series.
"We provide a high-quality film supply while controlling costs, and that is vital in our industry," Stevens says. "We are in continuous improvement mode every day, and we are always looking at our production, process conditions and formulations to see where we can improve costs. If you're not in continuous improvement mode, you're falling behind."
World-Class TQM
The company's IBS division is home to Inteplast Industrial Films, a business unit that focuses on polyethylene-based industrial films and related products for converter, industrial and specialty applications. It consists of the films produced by IBS division and member companies that include P&O Packaging, Dalton, Ga., Niaflex, Orlando, Fla., and others. Dale Brockman, president of P&O Packaging, was recently appointed to lead the unit. 
 "We compete in a highly competitive landscape," Brockman says. "We are never standing still and reinvent our products on an on-going basis to seize market opportunities and deliver value to our customers."
Inteplast Industrial Films offers one of the broadest lines of products and services in the poly film marketplace, including light and heavy gauge films, stretch hood films, protective films, high performance tensile strength converter films, non-transferrable slip films; formulation, testing and manufacture of engineered films; and packaging products. 
"Our flexible packaging products range from printed roll stock to bags, and supply numerous retail markets, including the food, pet, furniture, horticultural and building supply industries," says John Roth, who serves as senior manager, industrial packaging, Inteplast, and general manager for Niaflex. 
"Lawn and garden, ice, bakery, HVAC, shavings, insulation, cotton and produce are just some of the types of roll stock and bags we manufacture," he says, adding that food processors are a key customer base. "We manufacture a variety of film and bags that are used by customers for manual and automated packaging processes for meat, poultry, dairy, seafood and bakery goods."
Reliability, service and quality are paramount in maintaining and building the company's impressive customer base. "Inteplast Industrial Films has a world-class TQM system," Roth says. "We track every occurrence for everything we manufacture. At any given time we can access every piece of information about a customer project – from front-order entry to the finished product. Our systems and processes are powerful tools that drive exceptional results.
"Our associates are dedicated and customer-focused," he adds.  "That drives our quality and the on-time performance our customers have come to rely on."
Customer Collaboration
Inteplast's P&O Packaging produces highly engineered coextruded and monolayer blown plastic films and exemplifies the organization's high standards. P&O often develops innovative, custom products in collaboration with customers. "We believe quality begins with developing products that achieve fitness-in-use in collaboration with our customers," Dale Brockman says. 
"We focus on key quality product attributes and design through our ISO quality certified process for consistency of product pound-for-pound, which is what we refer to as workmanship," he adds. "A number of variables such as tensile and impact strength, thickness, coefficient of friction and more are considered in our ISO design process." 
The process certainly works, as just a few of P&O Packaging's products include:
+Film with anti-condensation properties to cover corrugated packages of produce;
+Film to protect appliances in transit with minimal packaging;
+Industrial size rolls of protective slip film for the carpet industry. (Slip anti-friction agent makes the rolls easy to move.) 
+Black-and-white clear film to protect stainless steel and appliances;
+Heavy duty film for bagged products such as grout and mulch; and 
+Protective film for lumber and related products.
P&O's stretch hood film, known for its five-sided protection properties, is in high demand.  P&O sells rolls of its side-gusseted tubing, which is then mounted on a stretch hood machine and unwound, with the film cut to length and welded on top of a pallet. The film is stretched over the pallet with stretching fingers on all four corners, and then is utilized to secure the load of product to the pallet, resulting in excellent package integrity. 
"The five-sided protection provides weather resistance and enhanced package integrity," Brockman says. "In applications such as the shipment of appliances, stretch hood film is replacing traditional corrugated packaging, resulting in significantly less material going to the landfill. Stretch hood film packaging is easier to remove than other types of more cumbersome packaging. We have been told by a major manufacturer of home appliances that this product has resulted in reduced labor for applications such as the installation of a dishwasher, refrigerator or washer and dryer."
Strength and Value
Inteplast's World-Pak division contributes to the company's strength with a diverse line of  innovative and varied products, including corrugated plastic sheets, solid and expanded PVC sheets, and its patented IntePlus® cross-laminated film and bags.  IntePlus® is so puncture- and tear-resistant that it is used in construction applications as well as packaging. IntePlus® is an incredibly strong, co-extruded film used in numerous applications and can be converted by sealing, gluing, laminating, printing, coating, die-cutting and sewing for a range of industrial and consumer items. IntePlus® is widely used for heavy duty lumber wrap, furniture packaging and metal components.
In addition to roll stock, IntePlus® offers an entire line of industrial shipping sacks and protective tubes for form fill machines. The film's heat sealability ensures the bags will form, fill and seal perfectly. IntePlus® is strong enough to substantially reduce gauge requirements compared to regular LDPE film, resulting in less material per bag, less roll change and storage and more savings for the customer.
The values and qualities offered by IntePlus® are in many ways similar to Inteplast – unique, innovative, strong and versatile. Whatever your packaging material needs are, rely on Inteplast for value-driven solutions that are wrapped and ready to go.