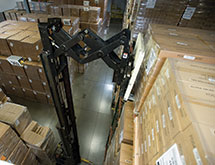 For the management, production and logistics experts at Madden, the sky is the limit.
Madden was founded by Joe Madden in 1957 as a printing company, President Sean Madden explains. Brothers Joe and John Madden transformed their printing into more than a commodity service with their unique and innovative ways to approach customers. "They spent a lot of time simplifying complex processes with lots of elements such as multipage books, binders, manuals and typesetting columns," Sean Madden says. "They built solutions to integrate these processes and eliminate redundant steps. They applied these techniques for a variety of production needs, especially for high-output pages for training manuals."
By 1980, Madden was earning $4 million to $6 million annually with about 100 customers. It was during this time that it changed its focus to provide solutions to sales forces and brand managers. In 1985, Madden first integrated with Kraft Foods by printing labels for salad dressing and jellies. Soon after, the company began managing the point of sale (POS) marketing process for clients like Quaker Oats, Sears and Montgomery Ward. Madden was good at helping repair fragmented sales teams and bridging the gap between marketing and sales by providing unique solutions for its clients.
Madden acts as a single point of accountability for its clients. All of the processes involved in bringing retail marketing campaigns to life are managed by Madden. The company prides itself on the five pillars that make up its suite of services: account management, sales information technology, studio services, print production and logistics and distribution.  
Madden clients include Altria, MillerCoors, Rémy Cointreau, Mike's Hard Lemonade, American Vintage Beverage, Pabst Brewing Co., Gambrinus and Deschutes Brewery.  Madden excels at optimizing complex retail promotional processes, the company says.
"Madden's team includes dedicated specialists in customer service, management, sourcing, production, manufacturing and distribution," says Bill Hendriksen, vice president of operations. "Our facilities are comprised of four sites totaling approximately 650,000 square feet, all located within a few miles of Chicago's O'Hare International Airport. Our goal with clients is to build strong long-term relationships founded on knowledge of the business and the development, production and management of programs. The 'Madden Method' is predicated on a truly collaborative partnership, with a restless curiosity to constantly challenge the status quo."
Hendriksen says Madden emphasizes total integration with customers for clear communication throughout the supply chain. "That's the dedication we have," he explains. "We are always looking for better, quicker and more cost-competitive solutions for our clients."  
Centralized Efficiencies
For example, Madden worked with its carrier partners to institute a pool distribution program which consolidates multiple promotional programs together resulting in more favorable shipment profiles.
"We optimize line haul mileage before routing less-than-truckload shipments (LTL) through one of seven regional carrier hubs," Hendriksen says. "This disciplined process has proven to save customers between 30 to 50 percent in yearly freight expenditures even when dealing with compressed timelines." 
"Additionally, anytime you are able to maintain client shipment autonomy and aggregate multiple client shipments under a single LTL bill of lading you can reduce the total cost of delivery by another 12 to 30 percent," he explains.
Madden's distribution practice involves consolidating multiple items across a given program into color-coded, wrapped pallets. This process was created in order to streamline POS material shipment receiving. In turn, this process saves the customer money on freight charges. 
Supply Chain Supervisor Robert Lea creates supply chain partnerships with clients. "It is not a win/lose relationship," Lea says. "We partner with suppliers to create overall transfer value for clients and work with them on processes to reduce costs and make things more efficient and timely."
Among its benefits, "the supply chain discipline brings clarity to the process," Sean Madden says. "It settles the dust and noise that gets in the way of decision-making. The elimination of this noise creates open windows and everything becomes much more flexible." 
Madden clients usually have dozens of brands under their portfolio, especially in the case of MillerCoors and Altria. While most brands have similar timelines and promotional start-dates in the marketplace, there are still variables that often plague budgets and deadlines if they are not managed properly. With Madden, clients can see true synchronization across all promotional marketing activities, especially with print production. "By going to print at the same time, we are able to leverage spend from multiple brands across an organization," Madden says.
This effective planning has sparked Madden's success in logistics, system warehousing, account management, print production and studio services. "It is a collaborative relationship," Hendriksen says, "Not a lot of organizations have the resources, size and global reach to understand everything in the marketplace. We work with our clients and supply base to make improvements."
The Madden Method
Madden describes itself as a solutions provider, not just a service provider. The "Madden Method" is meant to make a difference in every retail promotion program the company manages. The company's ongoing goal of increasing sales and lowering costs has fostered successful relationships for a range of Fortune 500 clients.
Madden's expert capabilities include:
The Madden Method begins with ideas and even goes beyond campaign implementation – the company has a hand in everything from planning, developing and producing campaign materials. This is followed by distribution to retail, sales representatives and distribution centers. The method is a proprietary approach, combining a single point-of-contact, complete accountability and flawless execution, the company says. 
Essentially, the process is built on a foundation of collaboration, integration and consolidation. From development and production through fulfillment, Madden puts the power of its logistics expertise to work. 
With its focus on management, production and logistics for retail promotions, "we focus on deliverables from start to finish and examine the process from all perspectives, delivering the greatest efficiencies for even the most complex programs," the company says. "By leveraging decades of retail-specific experience, we replace the traditional silo approach with a proven process that benefits all participants."
Production and distribution of multifaceted POS promotions is a complex business and the world of retail marketing is becoming increasingly competitive. Companies are now, more than ever, concerned about the efficacy of their marketing campaigns, and Madden helps them realize the results they need.