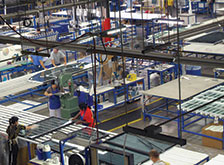 PGT Industries is in a constant state of progress as it continues to lead the industry in product innovation and strategic business moves. Its most recent endeavors include the acquisition of a local impact-resistant window and door competitor and an ever-evolving product line. 
The North Venice, Fla.-based company was founded in 1980 and pioneered the impact-resistant window and door industry in the United States. Today, it is the nation's leading manufacturer and supplier of residential impact-resistant windows and doors. It entered a difinitive agreement with CGI Windows & Doors Holdings.  
PGT employs about 1,700 at its manufacturing, glass laminating and tempering plants that are located adjacent to one another, forming a company campus in North Venice. Its products are ideal for the residential, commercial, high-rise and institutional markets.  
"What sets us apart is that we live our core values and our value proposition every day," Director of Strategic Planning Brad Voss says. "Our value proposition to our customer is to deliver quality products on time and provide excellent customer service. Our five core values are integrity, family, community, customer focus and quality, and we live those." 
Developing Efficiencies
PGT Industries is always developing new products to meet the needs of its customers, who demand the latest in energy-efficient and high-performance impact-resistant windows and doors. "Part of our culture is improving our product continuously," Voss says. "We are introducing a new product line next year that's going to be an upgrade to some existing products and will be more efficient for our customer and ourselves."
The company's supply chain will become more efficient because of the product line changes, Voss says. Its new products, which remain proprietary, will require fewer SKUs and fewer parts for tooling, but will call for an increased number of color palettes and finish options. "We have a lot of redundancies between products and the SKU reductions will help us manage space and inventory in general," he notes.
Its suppliers play a huge role in PGT Industries' ability to deliver on its value proposition, Voss notes. "We work hard to maintain a strong relationship with our suppliers," he adds. "We pay on time and we provide nice consistent volume. In return, we expect exceptional quality and customer service, innovative solutions and technologies, along with a competitive price. We don't ask our suppliers to do anything we wouldn't do for our own customers." 
To increase its supply chain efficiency, PGT is nearing the final stages of rolling out Friedman Corp.'s Frontier ERP (enterprise resource planning) Solution to fully integrate its order fulfillment and production cycles. PGT strives to continuously improve the tools it uses to manage the flow of production from the glass fabrication plant to the assembly line. "Our secret sauce is how we synchronize custom glass fabrication and other custom materials that have to come together at the right time and sequence for assembly," Voss adds. "We don't build anything to stock."
The ERP system will help plan the integration of the different pieces needed to manufacture the company's impact-resistant windows and doors. A major piece of the puzzle for PGT was getting custom glass for its windows and doors; not being able to find a supplier that could meet the challenge, the company took matters into its own hands. "We have our own glass fabrication plant, which is unusual in our industry," Voss explains. "We went operational in 2000 because we couldn't get glass delivered complete and on time to support our value proposition. Glass fabrication is now a big part of what we do." 
In the future, PGT will continue to grow and make significant product introductions to the industry. "Our supply chain team thrives on the challenges a growing business offers," Voss says. "We work cross-functionally within our company and with our suppliers to find better and more innovative ways to handle the growth. We want to engineer efficiency into our products and the supply chain. You can't do this without everyone pulling on the rope in the same direction."