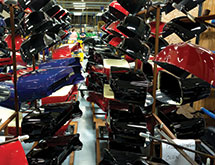 For 60 years, Polaris Industries Inc. has carved out its own identity within a highly competitive marketplace by focusing on one thing. "The amount of innovation we drive into our products each year is by far the biggest thing that sets us apart from our competitors," says Suresh Krishna, vice president of global operations and integration for the Medina, Minn.-based manufacturer. 
Innovation has been the driving force behind Polaris since the company was established in a machine shop in Roseau, Minn., in 1954. After initially manufacturing farm machines and equipment, the company's founders in 1955 built the earliest model of the vehicle for which it would become most famous: the snowmobile. The first commercially available snowmobile produced by the company followed in 1957. In the decades that followed, Polaris continued to refine and expand on its snowmobile line while introducing new products including the first all-terrain vehicle (ATV) manufactured in the United States.
Some of the company's other milestones include manufacturing the first motorcycle with a six-speed overdrive transmission, producing the first side-by-side two-seat ATV capable of riding on trails and the first snowmobile on the market with a progressive-rate rear suspension. 
Polaris continues to introduce exciting new products and features to its line of snowmobiles, ORVs, motorcycles and small electric vehicles each year. The company's brands include RZR, Polaris RANGER and Sportsman for ATVs; GEM for electric vehicles; and the Victory and Indian motorcycle brands. Polaris' latest product – the Slingshot three-wheeled motorcycle – was introduced earlier this year. 
"When other companies were cutting back during the recession, we kept innovating and creating more categories and segmentation," Krishna says, noting the company reduced its speed to market from 35 months to 22 months in the past five years. "We've added more features, greater functionality and introduced more brands."
Although Polaris' engineering department is at the center of its product development and efforts, its supply chain operations also play a critical role in driving innovation. A significant portion of the company's parts is purchased from suppliers. "For us to be successful, we've needed deeper and closer collaboration with our suppliers," Krishna says. "We have gotten them involved earlier in our new product development process."
Major suppliers have temporary offices located in Polaris' main engineering center, which gives them direct access to the company's design and technical teams. Polaris also communicates closely with vendors through online supplier portals, through which vendors can access production schedules, design and new product development information. "These portals are the primary means of communication with our supply base," Krishna says.  
Demand Planning
Polaris' supply chain team collaborates closely with the company's operations, manufacturing and sales teams on demand-planning processes. Forecasting is typically done for a 12-month period. Once demand is established, a production wheel is used across the company's manufacturing operations to set schedules and production frequency. The production cycles established on the wheel directly address sales trends, Krishna says.
Dealers plan their stock based on a stocking profile and the production wheel mirrors this profile. This ensures dealers have adequate stock to meet customer demand. "We expect dealers to stock our product portfolio in certain profiles," Krishna says. "In the past, dealers may not have stocked certain models, but now we're making sure dealer stocking helps mimic the production wheel."
This approach is at the core of the enterprise-wide lean approach that Polaris has adopted to improve customer lead time and expand margins. The company's lean approach, which includes demand planning and establishing a production wheel, has helped it  reduce lead-times from 110 days to 15 days in the motorcycle business. "There was a time when we only took orders and shipped products to dealers twice a year," he adds. "Now, we're capable of processing orders daily and shipping them in 15 days."
Before this change, dealers would often have to barter with other dealers to meet specific customer requests such as product color if they didn't already have that product in stock. "Providing greater ordering flexibility to our customers has helped us gain significant market share across our businesses," Krishna says.
International Expansion
Polaris' North American manufacturing operations include facilities in Roseau, Minn.; Osceola, Wis.; Spirit Lake and Milford, Iowa; and Monterrey, Mexico.  Polaris also operates 10 distribution centers in North America serving more than 1,700 dealers on the continent. Third-party logistics providers manage shipping to and from distribution centers, Krishna notes. 
Polaris' manufacturing and distribution operations have grown significantly in the past five years as a result of international expansion. "In 2009, we had only three factories across the entire company, all based in the Midwestern United States, and now we have 12 facilities on three different continents," Krishna says, noting that the company has operations in  Mexico, China, France, India and Poland. 
Locating factories overseas allows the company to reduce importing/exporting costs of both raw materials and finished products. "By and large, we prefer to make products close to the customers we serve," Krishna adds. 
Polaris also strives to source many of the materials bound for its factories from local sources. "We have offices in most of the major  regions we source products from," Krishna says. "Hiring local talent that has a knowledge of the local supply base and speaks the regional language is very important to us. We maintain a distributed sourcing organization that gives us local market knowledge and touch points to our supply base."  
Each factory specializes in a particular product or component. For example, the Minnesota facility produces Polaris' snowmobile lines, the Iowa facility specializes in motorcycles, and facilities in Mexico and Wisconsin produce engines. Although factories mainly serve specific needs, Polaris prides itself on flexibility within its manufacturing operations. 
"We have the ability and the infrastructure to run any product on any assembly line, no matter how diverse," Krishna notes.
An Engaged Workforce
Krishna attributes much of the success of the company's supply chain operations to its staff. "I'm most proud of our people and the passion they bring to our business every single day," he says. "We  have almost 6,000 people working in the operations and supply chain organization and it's amazing the things our people can do in terms of improvements each day."
Many of the company's lean manufacturing and continuous improvement initiatives are the result of suggestions and kaizan efforts from employees at the all levels of the organization. "The amount of employee engagement I've seen here is amazing compared to the other places where I've worked," Krishna notes.
The company's recent progress in lean transformation of its factories is a great example of this employee engagement, which is called the "Polaris Spirit." Since 2010, the company has been on a journey to transform its operations. 
"We use a methodology called 'try-storming,' where our kaizan team works on improving an area of the factory. This is undertaken by a cross functional team comprised of  people on the shop floor. In a short one-week period, these teams deliver significant improvements to labor productivity, inventory, and space utilization," Krishna says. "Over the last four years, we have had more than 1,000 such kaizan events and these have helped drive margin expansion while supporting increased production volume."
Another example of employee engagement is Polaris' achieving world class safety levels. "Just three years ago, we had a mediocre record in safety, and an OSHA recordable rate of 4.08," Krishna adds. "We then mobilized the employees across all sites, shared with them examples of best practices from other companies and got them to actively participate in preventing workplace accidents. In a matter of just 3 years, our company is at world-class levels of 0.6. 
"When we set a goal and point the Polaris folks in that direction, they can take any hill on the way to the goal; such is the 'Polaris Spirit.'"
Polaris offers professional development programs for recent college graduates in six different business functions including operations and Supply chain. 
These two-year rotation programs give new employees "the opportunities they need to realize both personal and professional success," the company says.
The development programs include a variety of assignments that give new staff an introduction to the company and help them determine where their skills and interests best align with those of the company. The development programs also include mentoring by seasoned employees. 
Polaris also offers summer internships and co-op opportunities in operations and supply chain for undergrad students.  "Over the past 4 years we have more than doubled our intake for summer interns," Krishna says. Each intern also gets a mentor, who is different than their manager. This allows the intern to have a support system while working at Polaris. 
The summer internships also provide an opportunity to identify candidates to come back into the operations and supply chain rotation program, according to the company.   
Together,  the mentorship and intern programs "build the bench for supporting the rapid growth of the company," Krishna adds.