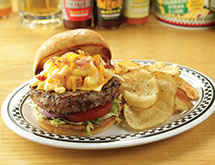 For 40 years, Quaker Steak & Lube® has been one of the most popular casual-dining destinations in the Northeast, and its rapid expansion over the last several years into new markets is a clear indicator of the chain's quality. Another indicator is the chain's trophy case, which contains numerous awards for its famous wings and continues to grow year after year. It's clear that the chain's popularity is thanks in large part to the consistent quality of its menu, because guests know that when they eat at Quaker Steak & Lube®, they're going to get a great meal. 
Knowing what to expect also has a huge impact on the company's supply chain operations, which are more important than ever as Quaker Steak & Lube® expands into new territories such as Texas, Illinois and Colorado. Senior Director of Purchasing and Beverage Management Kate Malaniak says the greatest advantages the company has in terms of its supply chain operations are the longevity and consistency of its relationships with its vendors and suppliers. Even though the market for proteins has been especially rocky of late, knowing where it stands with each and every one of its partners has been extremely valuable to Quaker Steak & Lube®. 
The company also benefits from Malaniak's experience and in-depth knowledge of its operations. "Because I've been here 30 years and grown up and developed my management style while working at The Lube®, I've performed almost every job here," she explains. She adds that coming up through the ranks of the company gave her an appreciation of the hard work everyone there does and solidified her belief in being honest and straightforward. "I don't ask them to do things that I wouldn't have done myself, and people realize that when they work with me."
Long-Term Relationships
The honest and straightforward approach Malaniak takes with Quaker Steak & Lube's® suppliers has gone a long way toward creating numerous long-term partnerships. "I think that probably our greatest advantage is that we have long-term relationships with most of our suppliers," she says. "It's not like starting at ground zero when you're negotiating. They pretty much know what to expect."
Because Quaker Steak & Lube® has those long-standing relationships with vendors, the expectations on each side are known and laid out ahead of time, which makes it much easier for the company to work with those vendors on new menu items. Malaniak says that because its vendors have been working with the company for such a long time, they understand exactly what it needs. "The suppliers have to understand our business and not only our business, but who our customer is," she says. 
Keeping Up
This kind of connection between Quaker Steak & Lube® and its suppliers has been extremely important in recent years because the prices of certain proteins have forced the company to emphasize different areas of its menu. Last year, for example, the price of chicken wings was much higher than in the past. This made it necessary for Quaker Steak & Lube to shift gears and put greater emphasis on menu items such as its steaks, ribs and burgers. 
The price of wings was a major concern for Quaker Steak & Lube® last year, but this year Malaniak says those prices have returned to normal while the prices of all other proteins have increased, along with the prices of non-food products such as cardboard. Malaniak says even though the price of commodities may not be predictable, the fact that the company's relationships with suppliers are makes it easier to weather the storms.
The overall competitiveness of the restaurant industry is another challenge that Quaker Steak & Lube® has had to contend with in recent years, and Malaniak says having the stability it does in its supply chain has been a key advantage in that regard. The emergence of the fast-casual segment of the industry has been especially tough on casual-dining chains. "I think that there are so many more options than just going to a casual-dining restaurant, and the economy has guided people to go in other directions," she says. 
Digging In
Despite the challenges facing the entire restaurant industry, Quaker Steak & Lube® is thriving and growing. The company opened several new locations in 2013, including its first-ever restaurant in South Dakota. Malaniak says the company has aggressive growth plans for the near future, and its well-oiled supply chain operations are the key to making them a reality. 
"We're digging in and going to commit to making sure that our service levels and food quality are competitive and the best they can be without changing what our brand really is," she says.