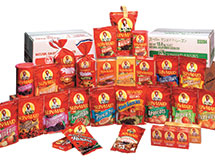 The largest raisin and dried fruit processor on the planet, Sun-Maid is a brand that has continued to grow for more than a century. The dominant player in its industry in North America, as well as parts of Europe and Asia, it is a cooperative that is owned by hundreds of grower families in central California. As the company pursues another century of growth, improvements to supply chain operations are one of the company's chief focal points.  
"We are maintaining what we have built and looking to improve," Vice President of Supply Chain John Slinkard says. "Our on-time delivery rate is 97 percent or better each month, and our fill rates are above 99 percent historically. That doesn't happen because of luck. It happens because we have the right people, the right partners and we work hard at it."
Off the Vine
Based in Kingsburg, Calif., most of Sun-Maid's grower base is located within 75 miles of its plant. The members of the cooperative are responsible for growing the product. They deliver it to Sun-Maid, which distributes the product around the world.
"Raisins are the vast majority of what we sell, and we offer a full complement of other dried fruits," Slinkard says. "We're seeing growth opportunities with both. Half of our volume goes to the ingredient market, the other half to the retail market. Two-thirds is domestic and one-third is export." 
The company works with 17 third-party warehouses in North America. Generally, Sun-Maid tries to establish loyal partnerships with warehouse and transportation partners. "Some have been with us for many years, but some are newer," Slinkard says. "We are aggressive about pricing, and we do test the waters. But we are in it for the long term and try to work closely with our partners."
During the economic downturn, Sun-Maid fared well. People still have to eat, and its products are not considered luxury items. The drive for healthy ingredient and snacking options helped Sun-Maid through the period. 
In addition, its products have not been severely impacted by any climatic issues in recent years. Late freezes after the vine has budded haven't happened in more than 30 years, and growers have taken steps to make any heavy rains less of an issue during drying season.
"It used to be that grapes were dried exclusively on trays on the ground," Slinkard says. "Now there is a lot of dry-on-the-vine production, where the fruit dries in the vineyard and is mechanically harvested."
The growers are responsible for delivering product to the plant. The fruit comes to the plant in the fall in wooden bins that hold about 2,000 pounds. Some of the larger growers have their own trucks, while others contract with transport partners. 
"Once we receive the product, we store and stack it, holding it until we need to use and process the fruit," Slinkard says. "Raisins can last indefinitely in that state. Once we use the product, we process the fruit and add some moisture back through water and steam baths. At that point, they still have a long shelf life of 18 months to two years. We do extensive testing to ensure quality, whether it goes out under our brand name to retail or to a manufacturer that needs ingredients." 
Special Tools
Overseeing all of this activity for Sun-Maid is a robust demand management system that utilizes several pieces of software. The company analyses retail sales data and the needs of ingredient customers. This data is used to help drive its production activities. 
"The demand management system is key because it helps us schedule production around our needs," Slinkard says. "On the retail side, product goes from the plant to the warehouse to the customer. Sales are processed here and that information is transmitted to the regional warehouse. We arrange most of the transportation. Some of our warehouses have their own fleets, and in other cases we use preferred carriers. We tend to work with warehouses that have their own trucking capacity because it helps with freight cost."
From a logistics perspective, Sun-Maid's goal is to take a strategic approach to choosing partners. 
"The economy is getting better and demand is growing," Slinkard says. "But capacity is missing because many carriers had scaled back during the downturn and haven't ramped up fast. 
"When we sign up with a warehouse or carrier, we are looking out for 20 years," he adds. We don't have the size to do everything ourselves. But our products are distributed everywhere, so we depend on our partners."
To foster strong, lasting ties to its partners, Sun-Maid strives to be easy to work with, and it pays on time. But it also asks questions and keeps its options open, which helps the company operate a lean and efficient supply chain.
In the future, Sun-Maid's goal is to continue to bring its products and the iconic "Sun-Maid Girl" to customers in all corners of the globe. It attends many international food shows to increase its presence in the retail and ingredients markets, and its works closely with distributors and brokers to help it establish and grow its presence in many geographic locations. 
Its efforts are certainly bearing fruit. Slinkard says dried fruit wasn't a traditionally common item in places like China, but now that is changing. More consumers are recognizing the benefits of dried fruit, such as nutrition, shelf life, taste and versatility. The company is seeing competition from other dried fruit producers, but Sun-Maid feels its efforts to grow the brand and promote its products will succeed. 
"It can be slow going at times," Slinkard says. "It took years to build the markets in Europe and Asia, but those are now some of our best markets. We think we'll be successful elsewhere by delivering what we promise and building lasting brand recognition."