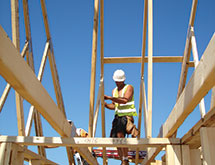 Each of the 13 building material supply companies that make up US LBM Holdings LLC are given a great deal of flexibility when it comes to serving customers.  These companies operate their own fleet and distribution centers while partnering with select suppliers based on customer brand preferences.
"We think allowing this flexibility drives creativity and innovation. It also gives us the opportunity to share best practices that work at one company and can be adopted by others," EVP Supply Chain Randy Aardema says.
Formed in 2009 by LT Gibson with the acquisition of three professional builder supply companies, US LBM Holdings has become the fastest growing building material distribution company in the United States.  The company currently consists of 13 business divisions with more than 70 locations serving 11 states in the Midwest, Northeast, Southeast, Mid-Atlantic, and Western United States.  US LBM is actively adding acquisitions and new green field locations for current divisions. 
According to Aardema, each of the 13 business divisions retains their traditional name, and management teams are encouraged to continue their entrepreneurial spirit while serving customers. "Our professional builder clients expect exactly the right materials delivered at exactly the right time to the jobsite," he says. "Achieving this requires a lean and efficient extended supply chain."
US LBM functions as a decentralized 'virtual corporation' with Gibson based in Ohio, Aardema in Michigan, and other executives located in Illinois, Wisconsin, New Jersey, and Massachusetts. "If we need a meeting, we'll pick one of our locations and meet there, and it becomes our corporate office for the day," Aardema says.  "Otherwise, we are out among the operating companies sharing ideas, observing best practices and providing feedback on performance results. This allows us to get things done very quickly."   
Although US LBM's business divisions operate individually, all of them are unified in a single mission.  "They can decide the priorities, but we insist they look for opportunities for improvement within their company," Aardema says.
Efficiency First
"Over the past year, we've spearheaded a number of lean initiatives throughout many of the locations, including regular Kaizen events and improvement projects," Aardema says.  "We're taking lean practices developed in other industries and applying them to construction. Through elimination of waste, we're making our entire supply chain more efficient.  We also want to help our customers become more efficient in the way they build homes."
US LBM's approach to "lean" involves considering a customer's jobsite and determining the materials needed, when they are needed and the most efficient methods to get them there. "Builders do not want a lot of stock on the jobsite at one time. We work closely with our customers to optimize the number of deliveries to the jobsite and have developed tools to let them know what's coming." 
US LBM has implemented various technology solutions to optimize delivery logistics. "We utilize Epicor's Catalyst business system to manage ERP and Descartes' Route Planner software to optimize our equipment utilization. MobileLink and Garmin Commercial GPS devices track the customer's delivery status; while our homegrown Pick Planner software helps our yards build loads in the right priorities as per delivery schedule." Aardema says. "Our very talented logistics team, led by Senthil Arumugam, used information from these technologies to develop our mobile app, which puts all the necessary delivery information directly in the hands of customers. It's a real breakthrough." 
US LBM's belief in lean management practices strongly influence the way it selects supplier partners. Aardema and other staff members frequently visit vendor locations to see how they implement lean in their own practices. "Our supply chain is only as strong as our vendor partners, and it is very important we select and assist suppliers in eliminating waste throughout the entire supply chain," he notes.
Lean Enhancements
Two developments allowed US LBM to greatly enhance its operations when it comes to continuous improvement. The first is the extensive use of data to provide comparative metrics and performance feedback across all locations and business processes. The second is the addition of Director of Training and Development, Wendy Whiteash, who is actively fostering lean training for US LBM associates.
According to Aardema, "We're measuring everything. Metrics are not used to punitively criticize underperformers, but rather to provide feedback on how the processes are performing.  We've consistently found that when process owners see how they are doing compared to others, the competitive juices get flowing and people want to improve."   
In November 2013, the company partnered with the Wisconsin School of Business Center for Professional and Executive Development to provide Lean Six Sigma training. Thus far, 60 Yellow Belts and 32 Green Belts have been trained.  "This training has been a gigantic benefit for us," Aardema says.  "This program, developed by the university, is perfectly suited for us.  It provides the problem solving tools needed for our rapid pace of change."
US LBM's focus on lean methodologies has enabled it to significantly grow during its first five years in business and according to Aardema, "Our focus on driving waste from our supply chain will enhance customer value, and help us continue our growth."