AMD (Advanced Micro Devices)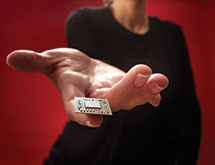 Processor designer and integrator AMD (Advanced Micro Devices) of Sunnyvale, Calif., thrived over the past two decades as the personal computer market boomed. Today, it is leveraging its design expertise and industry-leading IP to branch out and expand into the dense server, embedded and semi-custom markets, as well as other fields.
"Over the last couple years, we've undergone a transformation both in the way we approach product design and in the areas in which we focus as a way to better meet the needs of our expanding base of customers," says Alex Brown, corporate vice president of global supply chain management. "By the end of 2015, we expect our traditional PC business to comprise approximately 50 percent of revenue as we diversify our product mix to other targeted growth markets such as embedded, semi-custom and dense server."
CEO Rory Read, who previously led significant growth at Lenovo, took the helm at AMD three years ago to lead the company's transformation and broadened market focus. 
As a part of its focus on semi-custom processor design, AMD technology is inside all three of today's leading video game consoles – the Microsoft Xbox One, Sony PlayStation 4 and Nintendo Wii U. And in the professional graphics category, last year, Apple announced that its redesigned Mac Pro features dual AMD graphics cards, improving both the visual and general computing performance of the system.
"AMD designs and integrates technology that powers millions of intelligent devices, including personal computers, tablets, game consoles and cloud servers that define the new era of surround computing," the company says. "AMD solutions enable people everywhere to realize the full potential of their favorite devices and applications to push the boundaries of what is possible."
Historic Achievements
AMD was incorporated in 1969 in Silicon Valley by a group of former Fairchild Semiconductor International executives. AMD went public in 1972 and was listed on the New York Stock Exchange in 1979. It was first listed on the Fortune 500 in 1985. In 2006, it acquired ATI Technologies for $5.6 billion and added graphics processing units, chipsets and video capture card expertise to the organization. In 2011 AMD launched the world's first processor to combine a CPU and GPU on a single die – known as the APU (accelerated processing unit). And, in 2012 it became the first company to announce plans to design 64-bit ARM® technology-based processors in addition to its x86-processors for multiple markets, starting with cloud and data center servers.
AMD's main products include microprocessors, embedded processors, graphics processors and motherboard chipsets for servers, embedded systems applications, workstations and personal computers.
Supply Chain Success
AMD hones its supply chain to ensure it always is maximizing efficiencies, managing costs and, ultimately, meeting its customer commitments. "For us, the supply chain is integrated," Brown says. "When it comes to managing outsourced partners, the key is our focus on integration."
AMD's supply chain integration begins with sales and operations planning to ensure business units are aligned so sales expectations match manufacturing plans. This planning then flows into the supply base. A segmentation process ensures top suppliers receive the most focus on critical aspects of the supply chain directly impacting AMD's commitments. "We use a strategic, robust and well-honed business review on a quarterly basis," Brown explains. "This review helps suppliers understand AMD's requirements and improve their overall manufacturing." 
Brown conducts much of this business face-to-face. In September, for example, he visited top tier suppliers in Japan, Taiwan, China, Malaysia and Singapore on a four-week trip, which he makes two to three times per year. 
The meetings help maintain good relationships with top management to quickly resolve any outstanding issues, he says. "At AMD, we believe when our customers win, we win, and our supplier relations are firmly rooted in this approach," Brown explains. AMD uses a standardized process to set expectations, measure and report on them, and define future interactions and improvements. 
AMD also hosts its annual Supplier Day to recognize top-performing suppliers and help incentivize those that need to improve. Sales forecasts and long range plans also help all parties understand expected production levels. 
"As a part of our transformation strategy, we have focused heavily on becoming more efficient and consistent as an organization in order to ensure we deliver on our commitments to our customers," Brown says.
Green Supply Chain
AMD green initiatives have driven many elements of corporate recycling and reuse programs in its global supply chain such as: pallet reuse, recycling and reuse of processor tray holders and wafer shipping containers reuse. Since 2013, AMD has incorporated more than 180 tons of recycled content in its retail product packing materials and has reduced packing materials by more than 11 million kilograms. This helps AMD's efforts to conserve energy and reuse materials while encouraging its manufacturing partners to do the same.
Brown also sits on the senior advisory council of the Electronic Industry Citizenship Coalition (EICC). One thing it has been emphasizing is avoiding the use of conflict minerals from the Democratic Republic of Congo. 
Purchasing tin, tantalum, tungsten or gold from entities in the Democratic Republic of Congo could inadvertently fund groups tied to human rights abuses in that country. The 2010 Dodd-Frank Wall Street Reform and Consumer Protection Act requires companies to understand their supply chains and report conflict mineral usage. In the first year of reporting, most companies reported that they could not determine whether they used minerals tied to conflict. As time goes on, however, AMD expects this option will no longer be allowed and companies will have to declare whether their supply chains are free of conflict minerals and define the steps they will take.
"AMD has an unwavering commitment to do what is right for the public and environment," Brown says. "If there is no demand for the minerals that come from conflict mines, it will help improve the situation. So we continue to work diligently with our suppliers and with our partners in the industry to shift toward sourcing only non-conflict materials."