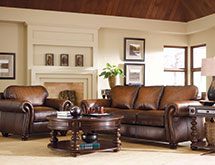 Established in 1889, Bernhardt Furniture Co. has been in business for 125 years. This makes the company among the country's largest family owned furniture operations and a leading diversified global furniture manufacturer. And the only thing old about Bernhardt Furniture is its age. The company continually wins awards for product design excellence and it sets standards in environmental sustainability, having earned the American Home Furnishings Alliance's environmental excellence award for corporate performance. With this reputation and 125 years of tradition in quality, it's important that the supply chain keeps up. 
Bernhardt Furniture sources finished goods and raw materials from China, Southeast Asia and Europe, and it's a 50/50 split between the outsourcing the company does and its own manufacturing, Director of Transportation and Logistics Barry Bailey explains. The company operates several divisions, but all of its customers are served by Bernhardt Transportation, which is its internal third-party logistics service that ships via air, water, rail or truck. 
"Our transportation supply chain is actually quite broad," Bailey says. "We tailor-make a supply chain program for each of the company's divisions. We may focus on the transportation, but we know their business as well as they know it."
The company's various divisions focus on the residential, upholstery, case goods, office furniture and hospitality furniture markets. The transportation division serves all of the divisions with a private fleet. Bernhardt Furniture is based in Lenoir, N.C., and operates eight manufacturing facilities. It has five overseas offices, as well as a 75,000-square-foot showroom in High Point, N.C.
"For example, with our contract division – which produces high-end office furniture – everything is built and shipped out of Lenoir," Bailey says. "That division uses the case goods plant, an upholstery plant and a third plant that handles special orders. We sell these goods all over the world. 
"We move most of the product on our own private fleet," he adds. "We do our own decking and product wrapping, because quality is paramount. We contract with specialized furniture carriers to help us with the rest of the product, and it can be shipped via air, ocean, rail or truck. Most of our transportation partners will deliver for all of our divisions."
A Caring Environment
Although Bernhardt Furniture is unique in that Bernhardt Transportation has a specific supply chain plan for each of the company's product divisions, the company still faces many of the same issues that the rest of the transportation industry is dealing with. For example, cost is a huge factor, as always. 
"There is no component in the transportation world that is going down in costs," Bailey explains. "The price of fuel is rising, the Department of Transportation's rules are more expensive for us, equipment costs are rising and insurance rates are going up. Dealing with all of that is a major focus for us."
At the same time, he notes, Bernhardt is focused on the transit time of its products, in terms of how long its drivers are on the road. The new DOT rules play into this because there are stricter regulations about maximum drive time. Bailey explains that Bernhardt's transportation partners help the company address both of these issues.
"Partnering and the relationships we have with partners helps us deal with costs and transit times," he says. "Our partners and employees are a huge part of the success we have at Bernhardt. That is really the key – nothing is ever more important than the people. My dad was in transportation and he always said 'You've gotta love 'em into it.' The Bernhardt family is the same – they understand the importance of their people. I was raised in this business with my father, and he always loved on his people. We have 73 employees here, and that is the same environment we are trying to create."
Bernhardt Transportation's fleet consists of 25 trucks, all of which are owned by Bernhardt Furniture. All of the drivers are employees of the company, and the fleet can turn out 30 to 35 loads each week.
"We have been blessed with great people, and we take care of them," Bailey says. "The new DOT rules say drivers can drive 11 hours in a 14-hour period, so we run some relays and neither driver runs out of time before the job gets done. They also leave early so they have time to rest on the way. These challenges are nothing that we can't overcome."
He notes that Bernhardt works with the American Home Furnishings Alliance to help it adapt to any  market changes or challenges. "They have a lot of smart people working together to develop better practices and best practices," he says. "We also ask people in the trenches for ideas because they are the ones out there fighting everyday."
Making it Happen
Going forward, Bernhardt Transportation plans to continue to serve Bernhardt Furniture with the same level of quality the company is known for in its range of furniture markets. To ensure this happens, Bailey explains that the company will continue to give its employees the tools they need to succeed. 
"The people really make this business work," he says. "They are overachievers and they are all about solutions. We always say, 'Just give me someone who cares,' and our people care about the job they're doing and the customers. Like my dad said, you have to love them into it and make it a great place to work.
"At the end of the day, it's all about the people," he continues. "I tell people that if they don't believe that, they can come here in the middle of the night and see how productive we are. I believe that if we continue to love on them and let them roll, they will continue to make it happen."