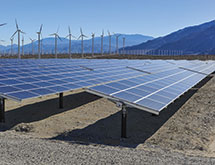 Canadian Solar is more than just a manufacturer of photovoltaic (PV) systems. The company has developed into a one-stop shop, handling the entire installation process. Back in 2009, when most major PV companies were investing heavily into silicon material, Canadian Solar says it made a very different strategic decision to focus on the downstream total solution business.
"We formed a global PV project business unit developing PV projects worldwide," the company says. "Our team of experts specialize in project development, evaluations, system designs, engineering, managing and project coordination, and organizing financing parties in the deployment of photovoltaic project systems, ranging from few hundred kilowatts for commercial systems up to utility-scale projects with megawatts capacity."
Founded in Ontario in 2001, Canadian Solar Inc. is one of the world's largest and foremost solar power companies. As a leading vertically integrated provider of solar modules, it specializes in solar products and solar power plants with operations in North America, South America, Europe, Africa, the Middle East, Australia and Asia. Canadian Solar has delivered premium-quality solar modules to customers around the world. 
It may be headquartered in Canada, but Canadian Solar's global operations reach into 20 countries spanning six continents. Its current major markets include Canada, the United States, Japan, China, Germany and India. It has more than eight wholly owned manufacturing subsidiaries across China and Canada with 3GW of solar module production capacity. Canadian Solar boasts a customer base of more than 1,000 spread across 90 countries, providing them with solar energy solutions for the past 13 years. It caters to customers both big and small, from the modest 5W off-grid home systems to the award-winning 166MW utility-scale power plant in Germany it helped build in 2012. It offers the following services to its global customer base:
+ Operations and maintenance monitoring
"Our unwavering adherence to quality, reliability and value in the past 13 years has won us customers around the globe," the company says. 
Canadian Solar's business partners have also added to its success. For instance, the company works with Logistics Plus, a worldwide provider of global logistics, freight management and business solutions. Logistics Plus has partnered with Canadian Solar for about three years and has become an extension of its supply chain and logistics team by managing the delivery of the Canadian Solar's solar modules to job sites.
Finding Sunlight 
Canadian Solar recently supplied 3.1 MW of CS6X-300P modules to a solar photovoltaic project in Tipitapa, Nicaragua. The PV plant, called Planta Solar Zona Franca Astro Nicaragua, will power 26 companies and supply approximately 30 percent of total energy consumption for the Zona Franca Astro Nicaragua industrial park. At its completion, this plant will become the largest private solar farm among industrial parks in Central America, as well as the largest private grid-connected solar array in Nicaragua.