Canon Solutions America Inc.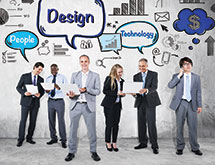 Canon Solutions America Inc. follows a single philosophy, expressed in one Japanese word: "Kyosei." The word, which means "living and working together for the common good," expresses the operation's mission and values, and encompasses the way it treats its employees and customers alike. A wholly owned subsidiary of Canon U.S.A., Inc., Canon Solutions America completely exemplifies the Kyosei concept in every way it conducts its business. 
"We believe the world is a better place if you keep a balance between income, trade and the environment," explains Valerie Belli, vice president of Canon Solutions America's Business Service Division. 
"We're not about selling you more products – we're about creating solutions that help clients achieve more while spending less in their operations. We believe our clients want a smart design that considers cost, productivity, and the environment.  It's what we call the Triple Bottom Line.
"Every company we meet with is concerned with cost.  It's simply expected that the new solution will lower overall costs.  But many companies are not thinking about how the new solution will impact their end-users, or how we might improve their Sustainability scores.  Believe it or not, we can improve all three with the right solution.  That's what exciting to us.  We get really excited about helping our customers See Impossible, and then making it happen."
The Business Services Division of Canon Solutions America specializes in designing, installing and managing output solutions on a large scale for customers. The Business Services Division analyzes the software, hardware and personnel on hand in each of its clients' locations, and creates a unique design based on each customer's needs.
It also helps clients optimize or update their existing systems, even working with equipment from other manufacturers. 
"We get that clients have made significant investments in their existing infrastructure.  So our design always considers their current workflows and technology investments. We need to be flexible, improve upon where they are today, and consider what their goals are for the future.  We never present them with an 'all or nothing' choice" Belli says.
The Business Services Division of Canon Solutions America includes an Operations group, which provides on-going client support; a Compliance group, which audits contracts and inspects client sites to ensure Canon Solutions America is in compliance with the contracts; and a Business Process group, which tracks the performance all of the hardware and software assets it installs. 
Global Reach
The size and global reach of Canon Solutions America give it the ability to roll out and monitor systems on a worldwide scale.
"Our typical customer profile is organizations that are complicated and multifaceted, including groups who own multiple entities or are spread throughout the country or world," Belli explains. "What we are able to do is create a standard system, roll it out nationwide or worldwide and monitor the health of all the technology on that system."
"It's very hard for companies to manage their business systems globally, so they're looking for a company that will do that for them. Competition is so great and the economy is so fragile, that our clients insist on having vendor-managed systems that will ease their support burden."
Canon's clients also look to this system to make their operations more efficient. For Arizona State University, Canon Solutions America implemented a program meant to reduce the number of devices used by the renowned institution. Prior to enlisting the Business Services Division of Canon Solutions America, the university used 6,000 devices and made more than 100 million printing impressions per year.  Canon delivered a campus-wide assessment showing the University how much it was printing and how many devices it already had in place.
Knowing that the university has a goal to be carbon-neutral by 2025 and fully sustainable by 2035, Canon Solutions America began a campaign relating paper use to the consumption of bottled water. Whenever a user pressed the print button, they saw a picture of a water bottle, along with a prompt asking if they really needed to print the page. "We got our end-users to really re-think what a document is," Belli explains. 
The company's optimization plan also made it easier for students and faculty to go paperless by incorporating scanning technology into the system. As a result of its work, the university more than halved its printing impressions, reducing its annual impressions to 45 million. "I'm proud to work for a major company that allows us to be committed to executing a superior plan for our client," Belli says.