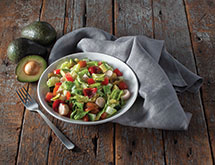 For many supply chain managers, the products they are responsible for do not lose their value in a few days. But for those in the foodservice industry, the freshness of their products is paramount. So working with distribution experts to provide products and ingredients to more than 100 locations throughout the United States, Costa Rica and Dubai needs to be a reliable strategy for Cosí Vice President of Supply Chain Jennifer Silveira.
"The way we manage it is by using a national network of independent restaurant distributors," Silveira explains. "We contract with a company called Distribution Market Advantage (DMA) that oversees all of the independent distributors servicing our restaurants around the country. If we open any Cosí® anywhere, they will assist us in finding the best distribution partner."
Cosí Inc. (NASDAQ: COSI), the fast-casual restaurant company, has 63 company-owned locations and 47 franchised locations, of which three are in Costa Rica and one in Dubai. One distribution company with warehouses in multiple states handles the company-owned and international locations, and two other distributors handle franchises in Texas and California.
Cosí buys small cooking utensils, containers and other back-of- house items called smallware that are used for storage and preparation directly from a smallwares distributor. Packaging is handled by the foodservice distributors. DMA provides reports on the supply chain.
"They have a robust software system that allows us to run all kinds of reports, anywhere from quantities that we purchased to the cost we paid during any timeframe," Silveira says. "We can drill down to invoice prices. They oversee the contracts for us, as well. We give them the information we've negotiated, and they manage all the contracted pricing to ensure that the suppliers and distributors are invoicing us at the right prices."
Individual locations use a software system called NetChef, which is managed at Cosí's headquarters in Boston for their back-of-house inventory. "It allows the restaurants to manage their food and packaging inventory and do ordering online," Silveira says. "All their food costs and their inventory are managed through this system. We are also currently in the process of converting to the software's labor module. So it's an all-inclusive system that allows our restaurants to manage everything within their business."
In October, Cosí rolled out the most recent release of this software. "It allows our area directors and regional managers to have much more functionality in digging into food and labor costs within each of the various restaurants they are responsible for," Silveira says.
Weekly Calls
Cosí is improving its communication with distributors. "We now do weekly calls with all of our distributors to go through any open issues or anything related to supply chain whatsoever," Silveira says. "One thing that has been a challenge is trying to pare down the number of different items we stock. Currently, we have more than 300 items on our order guide, which is large for a company of our size."
Another supply chain project Silveira is working on is finding back-up suppliers for the company's top 25 items. "We need to figure out how we can have backup suppliers so we have a contingency plan in place should a key ingredient suddenly become unavailable, for whatever reason," she says. "That is a big focus for us."
Cosí has a list of changes it is making to some menu items to improve quality, such as reducing the sweetness of the granola used in its yogurt parfait and upgrading the flavor profile of its hummus. "What can we do to quickly change out these ingredients that aren't anything complicated but not meeting standards?" Silveira asks. "That is an ongoing process of going through the punchlist and trying to knock things off every week to keep that going."
Limited Time Offers
Besides keeping regular menu items and ingredients in stock, Cosí's supply chain also obtains ingredients for new menu items – a new sandwich, soup, salad, beverage, dessert or other product – called "limited time offers" that are changed every three months. "We call it healthier-for-you café food with an edge," Silveira says. 
"We've developed a 10-week timeframe from the time our CEO signs off," Silveira says. "We source the ingredients, get the distribution set up, cost it, create marketing materials and put training materials in place. The team has to jump into action. We have to come up with projections and forecasts for what we will sell with these items and not get stuck with tons of extra inventory at the end of the cycle. That all happens within 10 weeks, and by the time we do that, it's time to get to the next one. Our customers love the fact that we're freshening up the menu so frequently. We have a lot of new product development going on all the time."
Cosí is working to keep its ingredients fresh. "Our chef is working on creating salad dressings with items we have in-house, such as extra virgin oil, lemon, cilantro and other fresh herbs," Silveira says. She attributes that emphasis on fresh ingredients to the company's new CEO, R.J. Dourney, who has been a successful franchisee in the Boston market for the past nine years.
"Everybody here is really upbeat and supportive," she says of the company's new management team. "Our mantra is we support the field. Our whole goal is to be there for them, and they're seeing that, and we're building a trust with them. Our guests can feel an energy and excitement in Cosi that wasn't there before. We're definitely seeing positive results in terms of sales numbers."
 For the future, Silveira plans to service a growing franchise base. "My goal is to streamline the way we source items and work with our suppliers so they understand if they service our distributor in Pennsylvania, they also have to be able to service one in Florida, North Carolina or anywhere else in the country, as we grow our franchise system," she says. 
About Così, Inc.
Così® (http://www.getcosi.com) is a national fast casual restaurant chain that has developed featured foods built around a secret, generations-old recipe for crackly crust flatbread. This artisan bread is freshly baked in front of customers throughout the day in open-flame stone-hearth ovens.
Così's warm and urbane atmosphere is geared towards its sophisticated, upscale, urban and suburban guests. There are currently 63 company-owned and 47 franchise restaurants operating in 17 states, the District of Columbia and the United Arab Emirates. The Così® vision is to become America's favorite fast casual restaurant by providing customers with authentic, innovative, savory food.
The Così® menu features Così® sandwiches, freshly-tossed salads, breakfast wraps, melts, soups, Squagels®, flatbread pizzas, S'mores, snacks and other desserts, and a wide range of coffee and coffee-based drinks and other specialty beverages. Così® restaurants are designed to be welcoming and comfortable with an eclectic environment. Così's sights, sounds, and spaces create a tasteful, relaxed ambience that provides a fresh and new dining experience.