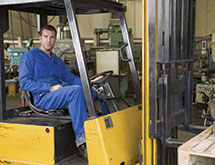 It takes a lot of expertise to successfully design a complicated piece of machinery like a lift truck, and Crown Equipment Corp. knows how important this knowledge is. "Award-winning design does not happen by accident," it declares.
"Crown does thorough research into how operators and businesses use lift trucks, examining every component to assure our forklifts deliver optimal productive use," Crown states. "This process results in an line of IC and electric lift trucks that have earned the reputation for unsurpassed quality, ergonomics and serviceability." 
The company, which has its U.S. headquarters in New Bremen, Ohio, designs, manufactures, distributes and services material-handling products. Crown entered the industry in 1956 and "has distinguished itself from competitors with exceptional product designs and a unique business approach based on vertical integration," it says.
The company asserts that it is not only responsible for the exterior of its machines, but their interiors, as well. "Crown designs and manufactures 85 percent of its lift truck components, including key parts like motors, drive units and electronic modules," it says. 
"From our smallest hand pallet truck to our highest lifting turret truck, our goal is to always provide the user with the safest, most efficient and ergonomic lift truck possible to lower total cost of ownership and increase uptime," the company says.
Areas of Focus
When Crown designs its equipment, it focuses on lift truck operator productivity, safety and the product's lifespan. "With a business approach based on vertical integration, we are able to bring engineers and designers together so that we can shorten development time and accelerate product innovation," the company says.
The design process empowers customers, Crown says. It allows them "to accomplish more every single shift, experience advanced ergonomics and lift capacities, and take advantage of new opportunities today," it says.
"In all stages of product development, [client] safety is an integral part of Crown's forklift design," the company says, noting that its lift trucks have built-in features to help keep operators safe. "We want to help ensure all of [our customers'] employees go home safely at the end of each work day."
Crown also is committed to safety through the use of technology. "[Our] fleet management technology communicates with critical truck systems to gather data that can be used to measure and improve safety," it says.
Its InfoLink system is one example of this, as it provides the client's operators and managers with data that can improve employee safety. "It also provides efficient and consistent safety compliance documentation via its electronic safety checklist function," Crown says.
Sustainable Promise
Unlike others, Crown was ahead of the curve when it came to green initiatives. "[Our] sustainable promise to our employees, customers, communities and the environment began decades ago," it says, noting that sustainability is integrated into its day-to-day processes and global strategy.
"Crown's commitment to our environment is a comprehensive, long-term approach that is both sensible and sustainable," the company says. "As a global leader in the material-handling industry, we have the opportunity to make a difference, and we believe this difference starts with our sustainable promise, processes and products." 
Today, this is represented by its "Crown ecologic" initiative. "Founded on the principles of minimizing waste, managing energy and maximizing lifespan, [it] represents the synthesis of our sustainability efforts, including industry-leading forklift energy efficiency, innovative production and lift truck remanufacturing practices, materials recycling and recovery methods, and the preservation of land and natural resources," the company says.
Ongoing Growth
Crown Equipment has recently been in growth mode, which has included opening a new production facility in Roding, Bavaria, this past July. The location features a new production hall and office premises that cover approximately 129,000 square feet.
The location will allow Crown to grow its European production capacity. "The new Roding plant represents Crown's third major investment in Germany to support the company's ongoing growth in Europe," it said.
At the opening ceremony, Roding Mayor Franz Reichold complimented Crown. "Innovative, flexible, focused on modernization – these are the code words that best describe our business world," Reichold said in a statement.
"And they're also the words that best describe Crown," he continued. "Crown was prepared to both invest in the company and stay loyal to the town of Roding. On behalf of the townspeople, I would like to extend my sincerest thanks."
Crown Vice President of Europe Ken Dufford added the facility represents a milestone in the company's history in Europe. "Not only is the building a triumph of architectural design, embodying state-of-the-art production technology and functionality, it also conveys a powerful sense of high-tech potential, demonstrating that Crown has plans extending far into the future," Dufford stated.