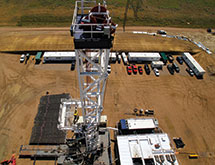 Encana Corp. has roots going back more than 125 years, but the energy company does not remain set in its ways and resistant to change. Instead, "We've been a fairly adaptable company," Director of Materials Management Kevin Smith says.
That attitude drove Encana to complete a major restructuring in the past year, and led the company to earn its status as the first oil and gas operation to take a manufacturing approach in a resource play. "[We] sort of cracked the technical nut," Smith says. "We've seen that repeated across North America."
Based in Calgary, Alberta, Encana is a North American energy producer with a portfolio of plays that produce natural gas, oil and natural gas liquids. With roots stretching back to 1881, the company was formed from the merger of PanCanadian Energy Corp. and Alberta Energy Co. Ltd. in 2002.
In the past, Encana focused on 20 areas in the United States and Canada. But in the past year, the company has narrowed that focus as it restructured and downsized, Smith says. 
Today, it has land positions in the Montney and Duvernay, the top two resource plays in Canada, and the Eagle Ford and the Permian Basin, the top two in the United States. "It went from a very diverse portfolio to a very focused portfolio," he says.
New Strategies
Encana combined its U.S. and Canadian supply chains into one during the restructuring process, Smith says. "We're taking the best that both those countries had to offer and making sure we're more streamlined," he says.
The restructuring has resulted in the appointment of new managers and employees reporting across borders. "It's been a challenge," Smith admits. "[During] the first several months, [we] had to build trust across the organization. That takes time."
Encana also acquired new assets and disposed of some others, which added to the difficulties, Smith says. "But it's been pretty exciting here," he also points out, "because when you've [evolving], you focus on a clear strategy."
A Quick Turnaround
Encana recently acquired its play in the Eagle Ford Basin, located west of San Antonio. "It's an area we've never been in before and we have to adapt to that," Smith says. "We didn't have existing employees that had experience there."
Part of that process included bringing together its engineering team with a key well casing supplier to determine what Encana would need to accelerate operations. The supplier, Smith notes, provided a playbook of casing design that explained the pros and cons of using certain products, allowing its engineers to quickly optimize the design.
"[That gave us] a clear line of sight to the inventory that we needed and how we [could] support growth in that area," he says. "It was great work by the Encana team and on the supplier's part on how quickly that turned around."
Absolutely Essential
Encana has taken steps to improve communications between its plays and its supply management department, Smith says. "We now have a vice president, solely focused on supply management," he says. "On a biweekly basis, [she] reports to the COO." 
In this way, the decisions that the supply management department makes – including its procurement of products and services – should be more transparent to others in the company. "We're procuring services executed remotely in the field that are absolutely essential for success," Smith says. 
Staying Focused
Now is a good time for Encana to be in business, Smith says. "The oil and gas industry has really picked up over the last 24 months," he says. But all of this activity does present some challenges.
Frac crews, well casing and frac sand "are getting tighter and in shorter supply," Smith says. "As a supply chain organization, we have to respond to those situations and make sure we have a decent cost and continued supply."
However, "If you're just looking at price, you're not going to be successful," he warns, noting that the company looks at many ways to deliver goods and services. For instance, when the Supply Management team began consolidating shipments from suppliers, Encana enjoyed savings as well as other benefits. 
Its workers in the field found they could devote more time to drilling better wells. "You have to really stay focused on what's important to the [end-user]," he says.
A Great Place
Smith joined Encana eight years ago and is a longtime veteran of the industry. Previously, "I worked for a global oilfield service company as regional manager of procurement materials and logistics for 10 years, [with] seven in Canada and three in the Middle East," he recalls. As Encana's director of materials management, Smith oversees the sourcing of its camps and logistics, oil country tubular goods, line pipe and rental equipment. 
He appreciates the company's "open door" environment. "You can pretty much call anybody in the organization and ask them how something works," he says. "You'll never get a 'Why do you want to know?'"
The company nurtures a culture of collaboration where people work together, Smith asserts. "You don't get that immediate pushback [reaction of] 'That's my area and stay out of that,'" he says. "It makes Encana a great place to work."
Smith sees a strong future for the company and is confident in its success. "We're focused on the best plays in North America," he says. "When you've got a clear strategy to execute from on a supply management side, you've got some certainty, as opposed to supporting multiple different strategies across a diverse company. It makes the job of the supply management person that much easier."