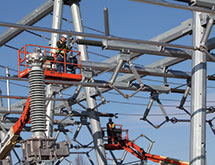 Imagine flipping a light switch and having to wait an hour before the light came on – that's what an inefficient supply chain can feel like. The lights do eventually go on, but in the meantime you're sitting in the dark. If that's the case, odds are there's a problem somewhere in the wiring between the switch and the light, and it needs to be found and fixed before the lights can work the way they're meant to. 
Ohio-based FirstEnergy Corp. knows all about keeping the lights on. As one of the nation's largest investor-owned electrical systems, FirstEnergy serves nearly 6 million customers throughout Ohio, Pennsylvania, New Jersey, West Virginia, Maryland and New York. The company's footprint covers more than 65,000 square miles and includes more than 24,000 miles of transmission lines. A system this massive understandably requires a lot of effort to keep running smoothly, and Vice President of Supply Chain Gary Benz says the company has been hard at work over the past few years streamlining and improving its supply chain operations. 
A veteran of FirstEnergy for more than 25 years, Benz, began leading the company's supply chain operations just over two years ago. In his current position, Benz oversees the procurement for nearly everything the company needs except coal and nuclear fuel. He says a major part of the reason for the supply chain group's success has been the strength of its leadership at all levels. "I think the strength of our supply chain is driven by our leadership team," Benz says.
That strength is evident throughout the supply chain group, and as a result FirstEnergy has a team that works hard for the company from top to bottom. "I think that another one of our strengths is that we've built a lot of credibility within the organization," Benz says. "This is a group that wants to do a good job for the company." 
Streamlining Processes
Although Benz says FirstEnergy's supply chain operations were running well when he began managing the group, he says there are always friction points or areas where improvements can be made. By examining the company's entire supply chain, the group has discovered many areas where streamlining could and does save FirstEnergy time and resources. 
For example, he points out that the company's contracting process wasn't necessarily broken, but the team did identify areas where it could be made more efficient. Through the team's analysis, a decision was made to push much of the process back to the supply chain professionals on staff who were best equipped to handle it, and superfluous steps were removed from the process. What FirstEnergy now has in place is a contract process that is much more manageable and efficient. 
FirstEnergy also recently overhauled its vendor management program, which Benz says wasn't operating at peak efficiency because the program's standards weren't being applied consistently throughout the entire supply chain. "We've improved, revitalized and streamlined the process," Benz says.
That program also has been combined with FirstEnergy's risk analysis process. Benz says the company used to perform risk analysis as a separate process for each key vendor. Now that the process is combined with its vendor management program, FirstEnergy has all the information it needs in one place to make the best possible decision. "One area that we consistently stress is enabling the company to make good sourcing decisions," Benz says. 
One of the primary benefits of the new vendor management system is giving FirstEnergy a more complete picture of its vendors and compiling enough information to help the company make the most informed decision possible about each one. "It's easy to go with the devil you know on a vendor, but if you look at the entire spectrum, are they really doing a good job, or are we going with them because we know them?" Benz says. 
Implementing this new system began in January, and it could take a full year of gathering performance data to truly make an impact. Nevertheless, Benz says, the program is expected to make a major difference for the company, particularly in how it makes its sourcing decisions. 
Reducing Inventory
The other side of the supply chain is the physical goods that move back and forth along it. Benz says FirstEnergy has been working hard to improve efficiency in its inventory. In particular, the company has paid close attention to the typically high levels of inventory that must be kept at its power plants. 
"This is the quintessential 24/7 business. Electric generating units are complicated machines that require thousands of different types of parts," Benz says. "What tends to happen is that inventory levels get high because of the redundancy needed to make sure any outage is minimized."
Complicating matters is that these different parts can have multiple stock codes. This means that duplicate parts may be kept under different stock codes, which can contribute to FirstEnergy having more inventory than it actually needs. Benz says untangling these stock code redundancies is a laborious project, requiring each individual code to be reviewed. "It's tedious work, to be honest with you," Benz says. "There's no silver bullet for fixing inventory problems."
Main Focus
Continuous improvement in the supply chain is going to be a major focus for FirstEnergy going forward, and Benz says the company understands how vital that is for its continued success. "One of the things we talk about is that the supply chain reflects what's going on with the company at any given time," he says. 
For example, one of FirstEnergy's latest initiatives is its $4.2 billion investment in the transmission side of the business. Called "Energizing the Future," it's a major pivot point for the supply chain group and reflects the direction the company is taking. Benz says FirstEnergy continues to focus on putting the right people, processes and partnerships in place to ensure everything is operating at the highest level of efficiency. "We want to make sure we're making good decisions, spending efficiently and protecting the company's assets," Benz says.