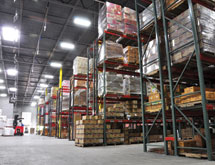 Eastland Food Corp. has not only grown with the increasing demand for Asian food products in the United States. The distributor based in Jessup, Md., also helped revolutionize the way Asian exporters conducted business with their U.S. counterparts.
As Vice President of Marketing Oscar Mekhaya recalls, once upon a time, there was very little loyalty to the foreign manufacturers trying to make it big in the United States. Distributors would tell every manufacturer the same story – that they would be the lone item in their category. Products were often treated like commodities.
Eastland Food changed that. Led by Pricha Mekhaya – Oscar's father, who founded the company in 1981 – Eastland was determined to offer only the best products available and grow sales in a true partnership with the brands they represented.
"Now, we're not only key distributors for our manufacturers, but as their U.S. market grows we also help them with a variety of issues everything – from marketing to legal," Oscar Mekhaya says. "We've also become a source of product innovation for them as we work together to develop the market."
Eastland Food has grown alongside the increasing demand for Asian products. Since it began as a small facility in Maryland delivering Thai food products out of box trucks to Asian grocery stores throughout the Maryland, Virginia and Washington, D.C., Eastland has become one of the East Coast's largest importers and distributors of Asian foods. The company delivers to consumers in 30 states and has since expanded to two additional warehouses in Miami and Los Angeles.
One way Eastland Food distinguishes itself from the competition is by dedicating itself exclusively to specific brands within each category and forming a true partnership with the manufacturer. Mekhaya cites his company's relationship with Maesri Curry Paste as an example of the mutual benefits of this strategy.
Brand-driven
When Eastland Food and Maesri began working together about 25 years ago, Mekhaya says the Thai manufacturer packaged its products only in 4-ounce cans and sold only four SKUs in the United States. Eastland Food suggested Maesri broaden its package sizes for the foodservice industry, as well, to cater to those clients. Eastland also provided ideas for new products and encouraged Maesri to expand its product line.
Maesri now sells close to 80 different SKUs in the United States. "Compared to the early years, we're doing about 10 times more business at the very least," Mekhaya adds.
Demand Continues
Eastland Food primarily serves three markets – traditional Asian grocers, mainstream grocers and, more recently, Latin grocers. On the East and West coasts, Mekhaya says the number of independent Asian and ethnic grocery stores are on the rise. This trend is forcing mainstream grocers to widen their selection of products distributed by Eastland.
Eastland has found that today's busy consumers want to buy all their products from a single source. The rise of the number of international markets proves this trend. They not only carry ethnic products aimed at key demographics, but also carry mainstream staples like orange juice and peanut butter to save their consumers an extra trip to a mainstream grocer. If mainstream grocers want to maintain their competitiveness, they are going to need to learn how to retail ethnic products.
"As the population of the United States grows more diverse, I think that the shelves of mainstream grocery stores need to change to reflect that diversity," Mekhaya says. "The rise of independent national supermarkets – be they Asian, Hispanic or American – proves that point.
"Shoppers just can't find everything they need to fill their pantries at mainstream grocers any more.
"These stores offer tens of thousands of specialty SKUs, but they also stock a variety of mainstream American essentials like bread, peanut butter and orange juice," he adds. "International markets are trying to get rid of the double trips for families, so they are asking what are the SKUs that Asian and Hispanic families would need to buy in the mainstream groceries and stocking them."
Mainstream grocers have woken up and are starting to build authentic ethnic planograms. This trend offers a great deal of potential growth for Eastland Food. Mekhaya says this gives the company more exposure to different demographics of consumers as mainstream grocers rush to stock their aisles with the most popular Asian foods. At the same time, new customers are also exposed to Eastland's wide product lines.
Savvy consumers now are aware of what makes various ethnic foods authentic or not. By only partnering with the top brands in each category of items, Eastland Food has aligned itself with the most authentic Asian products available – and grocers catering to these consumers know where to go for these items.
"With the growth of the new information outlets like food blogs and Food Network, people are gaining an appreciation for genuine cuisine," Mekhaya says. "As Asian food becomes more mainstream, we seek to partner with the brands they will crave."