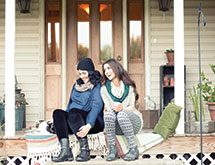 ModCloth turns the fashion industry on its ear by emphasizing what the online consumer wants rather than what designers dictate. With its "Be the Buyer" virtual fashion buyer program, online customers vote for the products they would most like to see on the company's website.
Its "Make the Cut" is a crowd-sourced design program in which more than 5,000 clothing designs have been submitted by consumers and six of them chosen to be produced and sold on its website. The "Style Gallery" shows customers what the outfits they select look like on "real" people, and "Fit for Me" invites customers to submit their measurements to see the top-rated products recommended by people of similar sizes.
With such an emphasis on personalization, ModCloth handles more than 7,500 designs from approximately 1,200 designers. Its exclusively online retail model requires the supply chain to break down large shipments from vendors into individual customer orders.
Helping ModCloth's team of supply chain specialists do this are the recent addition of a warehouse management system (WMS) and an enterprise resource planning (ERP) system. 
"The WMS system that we implemented this summer is the major improvement that we've done this year," Vice President of Service Scott Casciato reports. "Within the last year, ModCloth has implemented a tier-one ERP system. 
Casciato manages the physical supply chain overall, including fulfillment, logistics, managing the freight and coordinating domestic or international shipments with vendors to the Pittsburgh warehouse.
Cross-Training Staff
ModCloth also is broadening its staff training. "We have moved to a production planning model, for which we are utilizing our entire staffing within our facility as one team rather than staffing and managing to an individual department," Casciato says. "It gives us the flexibility to utilize staffing cross-trained in multiple areas and being able to deploy our staffing in different volume-driven periods of the year and different departments."
The warehouse staff ranges in size from 200 to 300 employees. Teams receive products and handle order management, picking and tipping orders. "We have an inventory team that manages the integrity of our physical inventories and then a returns team that manages our returns and recovery," Casciato says. Despite the inability of ModCloth's online customers to try on the clothes they purchase until they receive them, he reports that the company's level of returns is within industry standards.
Private Label
ModCloth does not have manufacturers ship products directly to its online customers. Its unique, private-label fashions such as Bea and Dot by ModCloth and Myrtlewood of California are manufactured in large quantities but not mass-produced. Neither are they tailored by individuals in small shops.
"We have a variety of international vendors that we're dealing with predominantly in the United Kingdom and China, but we source from several other countries on a variety of goods," Casciato explains. "There's a small group of vendors that we're dealing with that we will source one-off or specialty products from, but they are very few and far between."
Apparel and other products arrive from their international destinations at ModCloth's single, 220,000-square-foot warehouse in Pittsburgh in large shipments. 
"We manage and handle all of the products that we list on our website," Casciato emphasizes. "That's within the receiving process. We break down large orders, and we handle a variety of value-added services to take the product that we receive from our vendors and ensure that it is at the spec for our shipment. Additionally, we handle some of the services within our receiving department to package products for our consumers." 
Quick Change
Fashion always has been a rapidly changing, mercurial business. "We tend to move fashions very quickly through based on the seasonality of the products themselves," Casciato says. "We are in one of the largest-growing segments in retail."
This affects the number of times the inventory in the warehouse turns over, which is tricky to calculate. "Our inventory changes are fairly fast, again due to seasonality in the different climates based on the demographics that we serve and also the products that we're carrying, from dresses to outerwear to tops and bottoms," Casciato says. "So we see fairly aggressive turn rates based on the short periods of times and seasonality perspective." 
The same warehouse in Pittsburgh has been handling the company's rapid growth. "We have expanded every 12 to 18 months within the current facility," Casciato says. "We use a variety of automation and mainly a conveyor system that we utilize in both receiving to deliver products to specific receiving lanes and also within our shipping department to deliver products from sortation to the ship stations, and then to the dock for loading onto the trailers."
The Last Mile
ModCloth uses several delivery services to get its products to customers including UPS, FedEx and SmartPost. "SmartPost is a service that FedEx contracts for with the U.S. Post Office," Casciato explains. "FedEx manages the freight until the final region, where the post office delivers it the final mile. The advantages are a very good infrastructure of services, reliable delivery and low cost to both ModCloth and our customer. It costs less than direct FedEx. FedEx manages the service utilizing their system. So we get the benefit of utilizing their automation and their infrastructure to be able to send packages and sort them reliably. They provide us with excellent tracking information."
Among the other systems that ModCloth uses are ones from Agile Network, Endicia, Fox IV and Conveyor Handling Co. Inc. "We use Agile to do our parcel manifest for shipments to FedEx, UPS and Asendia, which is an international broker that manages a quality, low-cost option to ship parcels internationally," Casciato says. "Endicia is involved in the actual billing process for some of the post office shipments. Fox IV supplies automated labeling equipment we use for labeling products during receipt. Conveyor Handling Co. Inc. is the integrator that supplied and installed our Hytrol conveyor system."
For the Future
The company has its corporate office in San Francisco and its purchasing office in Los Angeles. "Supply chain's involvement with the Los Angeles office is coordinating the movement of the goods from the vendors that they are sourcing," Casciato says.
ModCloth uses a variety of different methods to sell its slow-moving inventory, among them a virtual "sale rack" of promotional events. The company also is investigating special online marketing techniques, such as special promotions aimed at specific groups of consumers based on their status or whether they are first-time users of the site.
Casciato has several goals he would like the company to accomplish. "From a future perspective, we're going to continue to optimize our supply chain," he declares. "We're looking at internally and externally working with our vendors and suppliers to increase compliance to purchase order management and to optimize and speed up our upstream process."