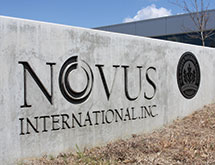 Headquartered in St. Charles, Mo., Novus International Inc. is a global leader in developing animal health and nutrition solutions. The company creates animal feed supplements and additives for livestock, poultry and aquaculture. Novus has corporate offices, research and development laboratories and manufacturing facilities in more than 35 countries, along with smaller offices and field staff in 60 more countries. It serves customers in over 100 countries.
"We don't make feed; we make the feed better," Senior Director of Operations and Global Supply Chain Kevin Mowery says. "We sell the functional ingredients that are critical in making feed complete and providing a functional diet for animals around the world. We are global in terms of our customer base, employees, culture and supply chain." 
The Novus product portfolio includes ALIMET and MHA feed supplements, ACTIVATE nutritional feed acid, ACIDOMIX preservative premixture, CIBENZA enzyme feed additives, MINTREX chelated trace minerals, SANTOQUIN feed preservative, AGRADO feed antioxidant and numerous additional specialty ingredients. 
The Right Network
Mowery's areas of responsibility include manufacturing, supply chain and planning. The Novus corporate supply chain organization handles imports and exports from North America and coordinates all logistics and warehousing worldwide. The company is set up to serve five global regions, with heads of supply chain overseeing local operations in coordination with the global supply chain group. 
"There is a high volume of product movement between the regions, so we need to be very integrated," Mowery says. "We deal with the complexities of a multimodal, global supply chain, making sure that product gets to its destination on time and without damage. We also manage costs worldwide, as we supply the world from multiple plants."
Novus leverages a number of third-party relationships to make sure it has access to the highest level of expertise. In areas like freight forwarding and ocean transport, it works with partners that allow the company to use its resources efficiently. 
"We have gone through extensive request for proposal (RFP) processes in selecting our partners," Mowery says. "For example, we work with one company that handles bulk liquid over-the-road (OTR) transport in North America, and another that handles all other movement in the region. We also have electronic data interchange (EDI) systems with partners that facilitate interchange of information."
As for distribution centers, Novus is careful about selecting the right locations.  The company analyzes the best locations for distribution centers and then executes them in concert with supply chain partners. Network optimization allows the company to make sure its distribution centers are positioned properly in the right countries, and in the right locations within a country.
"We just opened a new distribution center in Indiana for bulk liquids," Mowery says. "We found a suitable third-party location rather than investing in bricks and mortar and building a new facility." 
Crucial Technology
Given the size and scope of Novus's operations, it is no surprise that technology has been a big area of investment. Mowery says Novus has invested heavily in SAP solutions, utilizing the logistics aspects of SAP solutions so its global inventory is transparent.
"That was a goal of our SAP implementation when we went live in 2010," Mowery says. "We've met objectives there and have a global picture of inventory at every one of our more than 100 stocking locations. The next step is introducing and adopting global bar coding for inventory tracking. We're in the early stages of that initiative now."
Other key technology investments for Novus have been its Automated Inventory Management System (AIMS), vendor-managed inventory for bulk liquids and telemetry information systems. "We recently upgraded telemetry and monitoring systems to fully convert to a satellite-based telemetry system," Mowery says.
Ensuring optimal overall cost of delivery will be a major focus for Novus over the next few years. Mowery says the company needs to use the best possible combination of networks and transportation modes. This will allow Novus to provide high-quality delivery service.
Order fulfillment and continued diligence around quality in the supply chain while meeting tighter regulations on imports, exports and feed ingredients will also be critical for Novus. In the U.S., the Food Safety and Modernization Act (FSMA), signed into law on January 4, 2011, is just one example of tightening regulations on the feed supply chain. The details for compliance with FSMA are still being developed by the Food and Drug Administration (FDA).
"We believe that we are at the forefront within the industry, as we've had prior cargo procedures and lists in place that we've followed for years," Mowery says. "We use most every mode of transport in our supply chain from air freight, OTR van trucks, OTR tankers, rail, ocean containers and ISO tanks, along with many different packaging types. Each mode offers different solutions and logistics service providers with unique requirements. We're very proud of what we do given the diversity and complexity of our supply chain and geographic service area. We're always looking for challenges to analyze and solve so we can deliver value to the organization and our customers."