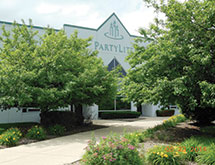 Home party business PartyLite started in the candle business nearly 40 years ago and today is a leader in its market with a business that includes fragrances and home décor categories. It operates in 19 countries with four distribution centers, two candle-manufacturing facilities, more than 2,000 employees and 45,000 independent sales consultants.
Its parent company is Blyth Inc. of Greenwich, Conn. "Blyth is a direct-to-consumer business focused on fragrances, candles and home décor," Treasurer Susan Plotzky says. "PartyLite is the No. 1 party planning company with an extensive array of product including seasonal candles, candle accessories and fragrance product."
The business began in 1976 when entrepreneur Bob Goergen partnered with three colleagues to purchase Valley Candle in Brooklyn, N.Y., and then Candle Corp. of America, based in Chicago. Today, Goergen is executive chairman and his son Rob Goergen is CEO.
PartyLite sells via parties. Independent consultants recruit a hostess for a PartyLite party and most parties incorporate a game or decorating activity to keep the attendees engaged.  
Guests who attend a party may be offered special pricing and deals to attend a show. PartyLite provides a structured incentive program for the hostess and consultant based on total sales at the party. 
Quicker to React
PartyLite manufactures substantially all of its own candles at a 420,000-square-foot facility in Batavia, Ill., and a 90,000-square-foot facility in Cumbria, England. The company also owns a 442,500-square-foot distribution facility in Tilburg, Netherlands and a 100,000-square-foot office in Plymouth, Mass. 
Chris Walker, senior director of the company's worldwide supply chain, says constant communication is critical to PartyLite's success. "The key to the whole process is communication, both internal and external," he says. "We work closely with our customers to understand their needs and translate this into action with our suppliers, developing inventory plans to support each region."
Over the past 24 months, the company has reduced its supplier base by 38 percent to develop closer partnerships with top vendors. The reduction in its overall supplier base also reduces costs and improves shipping profiles.
An overall analysis indicated PartyLite was spreading its purchasing spend dollars across a large network of suppliers. In many cases, several suppliers were providing  products made of the same materials such as metals, ceramics and glassware. However, because its spend was spread out, the ability to leverage volumes or common materials was lost. The opportunity existed to reduce the number of suppliers, increase volumes with key providers across similar materials and simplify as well as streamline its purchasing and order management. 
"We could leverage increased volume through key factories thus reducing costs, improving freight management and building closer ties with fewer suppliers," Walker explains. PartyLite reviewed its product offering and plans for the next three years. From this, it then reviewed the capability and performance of each supplier to determine who was a strategic fit moving forward. It evaluated each supplier in the areas of lead time, manufacturing flexibility, capacity, work force stability, pricing and access to raw materials, research and development capabilities and social compliance. "We then aligned strategically with suppliers we felt were best suited to support the PartyLite business needs worldwide," Walker says.
Top Priorities
Top priorities for the PartyLite supply chain team include continuous improvements in lead-times, product costs and time to market. The company is also improving the agility and flexibility of its supply chain by refining freight movement and consolidation. In addition, it has lowered inventory by 50 percent in recent years. "That has had a major impact on cash flow," Walker says. "We are quicker to react to changes in field demand."
The change in supplier strategy and reduction in the supplier base, has allowed the company to focus its energy and resources, from product development all the way through to order management and freight movements. Its overall supplier lead time has declined by 30 percent over the past two years as it has focused resources and built strong communication, quality systems and improvement in the movement of products to distribution centers. Over the past two years, partnering with the logistics company Expeditors International of Washington on freight consolidation and working with suppliers on factory reductions, its LCL freight has been virtually eliminated and use of 20-foot ocean containers has dropped by 50 percent. At the same time, its cube utilization of 40-foot and larger containers has increased to its highest level in eight years. 
PartyLite has made recent technology investments to further improve the supply chain, such as by implementing Logility Voyager 8.0 to drive forecasting and demand planning. "This further helps us manage inventory and demand planning," Walker explains. Its two factories have installed Microsoft Dynamics to manage inventory and floor control.
Utilization of Logility Voyager has allowed its purchasing team identify options to maximize freight utilization at the point of purchase order creation. The improved system has driven better sharing of demand and purchase data with its suppliers, improvement in demand accuracy, safety stock plans and replenishment plans, thus driving down overall on hand inventory.   
Walker explains that he would "advise anyone working in supply chain to set clear objectives [for their] team so they understand expectations and deliverables." 
He also emphasizes the importance of continuous improvement to the supply chain. At PartyLite, the efforts have saved $3 million to $4 million per year. 
Three years ago, it created the position of continuous improvement manager to introduce the concepts of good project management and continuous improvement philosophies into the supply chain organization.
"We worked with Villanova University to teach supply chain managers and leaders the essential project management guidelines and tools, and had a group of employees attain green belt certification," Walker says. "This led to a number of improvements such as improved candle safety stock and replenishment guidelines, development of a supplier direct ship replenishment program for our Australia [distribution center], creation of a consolidated freight program, reduction in missing shipments, investment in weight check and cube equipment at our distribution centers, all of which have combined delivered efficiency improvements and cost savings in excess of $4 million."