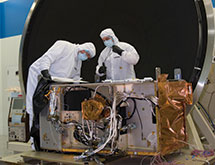 Raytheon Co. is recognized as a worldwide leader in the defense and aerospace industries for its portfolio of innovative technologies that its customers expect to work the first time every time. 
"Quality and reliability are so critical given our customers and end-users – men and women in harm's way on the battlefield – we have to get it right," Vice President of Contracts and Supply Chain David Wilkins says.  
Since the Waltham, Mass.-based company's inception 92 years ago, it has been at the forefront of new defense technologies and their conversion for use in commercial markets. During World War II, Raytheon contributed to the war effort by supplying 80 percent of the magnetron tubes used in United States and British radars and developed parts for the crucial proximity fuse in anti-aircraft shells, among other equipment. 
In the decades that followed, Raytheon employees helped build the company's reputation for being a leader in technology and innovation. Today, the company stands as a global technology leader specializing in defense, homeland security and other government markets. Raytheon offers state-of-the-art electronics, mission systems integration and other capabilities in the areas of command, control, communications and intelligence systems.
"With the mission of protecting our nation and our allies, the stakes are high," Wilkins says. "We have to offer our customers innovative, reliable and affordable technologies – and we rely on strategic supplier partnerships to help us do so." 
Industry Adaptability
The affordability of solutions is essential in today's market and Raytheon is charged with developing solutions that are not only technologically the best but also the best value. The United States Department of Defense (DoD) is the company's primary customer. Wilkins says the DoD looks to defense contractors to find ways to continually drive costs down. "Companies that can figure out how to take cost out while meeting or exceeding the customer's needs are best poised to win new business," he adds.  
Raytheon's supply chain stretches across the globe and includes everything from military hardware to specialized, highly critical components. Two years ago, Raytheon had upwards of 50,000 suppliers. By rationalizing its supply base across its four businesses, the company has reduced costs and improved quality. "Today we have fewer than 50 suppliers that make up close to 75 percent of all the dollars we spend," Wilkins explains. 
Additionally, Raytheon has achieved significant reductions in material costs by transforming its supply chain through a process the company calls Enterprise Sourcing and Performance Excellence (ESPX). ESPX applies a holistic view of how the company works with its suppliers. "We bring suppliers in early to help shape the product and identify breakthrough designs," he says. 
ESPX guides the company's supply chain professionals through everything. "It's that robust tool and the processes around it that optimize every step along the value chain," Wilkins adds. "The program distinguishes us from our peers in a way I haven't seen in the industry."
Moving Forward
Through its supplier rationalization efforts and the introduction of ESPX, Raytheon has embraced commercial best practices and built stronger relationships with its top suppliers. "We'll continue to develop more strategic partnerships built on mutual long-term best interests," Wilkins said. "This gives us greater control over cost, quality and risk."
The company is focused on building its business in the global marketplace. Raytheon sells products and services to customers in 80 nations and its international opportunities and pursuits are growing. "We have the highest percentage of international sales of any of our peers and we're well positioned to meet our international customers' needs in the evolving threat environment," Wilkins says. Today, 39 percent of its backlog is international bookings. 
Supplier quality and risk management become increasingly important as international business means that the company is often contractually required to bolster the local economy of those countries. "That can include establishing specific manufacturing sectors or relationships with new industrial partners or suppliers," Wilkins says.