J.J. Taylor Distributing Co. of Minnesota Inc.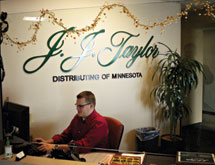 J.J. Taylor Distributing Co. of Minnesota Inc. is just completing its 25th year, which President Mike Bamonti attributes to the efforts of its founder and employees. "It's good guidance from John Taylor – his leadership and the vision that he set for the company," Bamonti emphasizes. "Our core value is to be a first-choice distributor for our employees, our retail partners and our suppliers. Our employees are our most important asset, so we listen to and care for our employees. We really value and appreciate each and every individual who works for us."
Bamonti considers those employees the competitive advantage of J.J. Taylor Distributing. "We have the best people in the industry here – they are second to none," he maintains. "We look to be a trusted beer advisor. Customer service is something that we pride ourselves on. When you look at independent customer satisfaction surveys that we do, we rank higher than any of our other competitors. In 2010, we captained over 85 percent of the cooler resets that were done in the Twin Cities markets."
J.J. Taylor Distributing Co. has software to draw up the configuration of different beer brands in coolers. Because J.J. Taylor does not distribute all the brands of beer in its market, its choice by its customers to do the resets indicates a level of trust that J.J. Taylor will not take advantage of its competitors, who are asked to become involved in the reset by J.J. Taylor and must be notified of it by law.
"They're there to take care of their brands and make sure they're represented," Bamonti says of his competitors. "It's the credibility that our team has in putting our customer first – what's best for their store and customer. Our people know we're not self-serving."
Part of that customer growth is coming from J.J. Taylor's employee training – 75 of its employees in sales and marketing have received two-day training in being Cicerones from Cicerone Certi­fication Program Founder Ray Daniels. This is the equivalent of being a beer sommelier.
Crafty Business
Formerly East Side Beverage – which was founded in 1933 after the repeal of Prohibition – the company was bought by John Taylor III in April 1985. It was renamed J.J. Taylor Distributing Co. of Minnesota Inc. in 2006. J.J. Taylor Distributing Co. also distributes beer in Florida around Tampa, St. Petersburg, Clearwater and Fort Myers.
"Roughly 80 percent of the beer that is sold in Minnesota is sold in our territory," Bamonti explains.
"Our territory goes about 85 miles to the north of us. We go east to the Wisconsin border; west about another 60 miles; and south to the Iowa border."
Despite increases in the prices of ingredients and taxes applied to their products, J.J. Taylor Distributing Co. is seeing substantial growth in craft beers rather than bargain brands. "The craft brands are through the roof for us," Bamonti asserts. Sales of some of these brands have increased 11 percent on a very large base, he says. "Those craft brands are doing extremely well," he continues. "Of the domestic beers, some are doing OK, but none are really setting the world on fire."
Some of that success may be due to the craft beer companies largely absorbing increases in the cost of their ingredients, such as hops. "The craft brewers really did a heck of a job – most of these guys ate it," Bamonti maintains. "They don't buy the tonnage that the mass-produced beers buy, so they're at the mercy of these farmers, and a lot of them absorbed a lot of this cost. They didn't pass on that kind of an increase to their consumers."
Start Wining
The beer and wine cultures are being blended in J.J. Taylor Distributing's new joint venture with Southern Wine and Sprits. "The cultures between wine and spirits and beer are different," Bamonti concedes. Southern Wine and Sprits is providing the sales and marketing of those products for the joint venture. J.J. Taylor Distributing is handling the logistics, back office and distributing out of its 600,000-square-foot warehouse with an automated picking system that was installed in 2009.
"We're working hard to get the cultures in sync, but the communication at the top has been second to none," Bamonti declares.