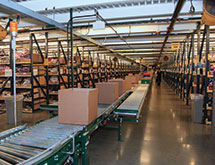 Sears Holdings Corp.'s product delivery operations are unmatched when it comes to size, scale and omnichannel integration. The company, formed in 2005 after the merger of national retailers Sears, Roebuck and Co. with Kmart Holdings Corp., has long specialized in providing products of all sizes to its customers where and when they need them.  
"The ability to effectively deliver products not only into our retail network but into homes is a distinct advantage of our supply chain," Chief Supply Chain Officer and Senior Vice President Bill Hutchinson says. Sears is a home appliance, tools, lawn and garden, apparel, consumer electronics and automotive repair and maintenance leader, known for its Craftsman, Kenmore and DieHard brands. 
The company leverages a network of 45 distribution centers and more than 100 local delivery operations to ensure its nearly 2,000 retail locations remain stocked and that online orders are fulfilled. Home delivery of "big-box" products such as home appliances, mattresses, exercise equipment and flat-screen televisions in particular is a strength of the company. It can fulfill home deliveries for these items to more than 80 percent of its U.S. customers' homes on a next-day basis by shipping from distribution centers to local delivery docks close to the customer's location. 
The company is able to reach 99 percent of the U.S. population on a two-day basis. Sears makes between 4 million to 5 million home deliveries a year."No one has the scale to design and execute a big-box  supply chain the way we can," Hutchinson adds. "That's an advantage we continue to invest in." In addition to the company's large home delivery capability, The company has invested in omni-channel fulfillment leveraging its stores as fulfillment nodes, which it refers to as "Project Cheetah." Project Cheetah involves leveraging its in-store inventory to ship online orders using inexpensive ground shipping. 
Project Cheetah includes a flexible network of Sears and Kmart stores. "Consolidating demand into a small number of strategic geographical locations enables stores to fulfill hundreds of orders per day," the company says. "This focus enables dedicated resources, engineered processes, training, tools and metrics focused on delivering a great member experience."
Enhanced Capabilities
Sears continues to add to the Project Cheetah network and refine and enhance its supply chain and delivery operations. Recent investments have bolstered the company's warehouse management, distributed order management, transportation management, and home delivery routing systems. The company is also deploying a mobile app for its drivers use to map delivery routes and resolve customer issues in real time. Benefits of the new systems include added visibility and transparency across the supply chain operation. 
Sears also recently expanded on its long-standing offering of in-store pickup for orders placed online. Customers can now pick up products ordered online from Kmart at a Sears location, and vice-versa. "We want to provide our members and customers with the utmost flexibility – they can choose how they shop and how they receive their product," Hutchinson says.
Customers also now have the option of having items they ordered online delivered directly to their car when they go to a store for a pickup. Customers can park in a designated parking spot, log into the Sears or Kmart mobile app, and receive their order within five minutes, Hutchinson adds. 
The company's recent technology investments will also enhance the company's ability to offer its distribution and supply chain expertise to other companies. "Our global sourcing team is on par with many of the top sourcing agents in the industry," Hutchinson says. "We provide sourcing not just for ourselves, but have begun to sell that capability to others globally who have similar needs to find and qualify vendors and factories to manufacture both hard and soft line product."
Innovation Recognized
Sears' approach to omnichannel distribution recently earned it recognition from the Council of Supply Chain Management Professionals. The company earned second-place honors in the council's Supply Chain Innovation Award competition awarded during its 2014 global conference.  
The council recognized the faster delivery, improved customer experience and capacity response the company achieved through its store and distribution network. "It is exciting for us to be recognized with this award for leveraging our supply chain to dramatically improve the customer experience," the company says. "We believe that the creation of an 'any-to-any' supply chain that unlocks the capacity of our stores and entire distribution network will be the best-in-class solution for omnichannel retailers."
A Culture of Innovation 
The company's investments in new technology and delivery methods reflect its long-standing commitment to innovation. "I'm proud that we're able to operate on such a tremendous scale and that we have a strong test-and-learn culture," Hutchinson says. "We're focused on being very innovative and entrepreneurial, and that spirit resonates throughout the organization."
The company was among the first in the industry to assemble a flow path optimization team to examine its supply chain configuration. The team looks at the items stocked out of each distribution center and where those centers are located, and finds ways to optimize the path those items take to the store, the company says.
Other strategic planning teams include a network design team, which looks at the company's physical needs including the number and capacity of its distribution centers. "We are creating a culture that can move quickly in partnership with our retail and online businesses to meet the dynamic needs of our customers," Hutchinson adds.