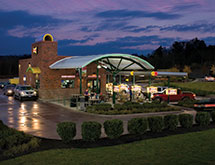 Ordering an ice-cold limeade or a juicy cheeseburger at SONIC couldn't be easier for patrons – all they have to do is push the iconic red button and their order is wheeled out to them in the style of the drive-ins of the 1950s. Behind the scenes, however, getting exactly what it needs when it needs it is a much more complex and sophisticated endeavor for SONIC. Managing a supply chain that consists of more than 3,500 SONIC Drive-In restaurants across the country and hundreds of suppliers means there's no push-button solution to optimizing SONIC's supply chain. 
That's why the company brought on Vice President of Supply Chain Jim Lebs two years ago. A veteran of the specialty retail and quick-serve restaurant (QSR) industries with a background in accounting and finance, SONIC approached Lebs with a unique opportunity – to accelerate improvement in the company's supply chain operations that would bring it closer to being the best in the industry. 
Over the last 24 months, Lebs has led a dramatic overhaul of SONIC's supply chain from top to bottom, implementing new initiatives for everything from vendor relationships to data management. This has been accomplished thanks to the company's strategic partnerships with Hitachi Consulting, Bristlecone, Kalypso and Oracle, Lebs explains. Although the process has been a long and complex one that is never truly finished, the company has come a long way toward becoming one of the quick-serve industry's supply chain leaders. "My dream is to have other QSRs look to us as the gold standard for supply chain," Lebs says. 
Database Redux
Lebs says he started in on his plan to revamp SONIC's supply chain right away, identifying several immediate opportunities for improvement in the company's operations. One of the biggest was the company's master data management program, which cataloged all of the ingredients used in the company's kitchens. Lebs described the company's database at the time of his arrival as fragmented, with the same ingredient sometimes showing up under multiple descriptors. This made it difficult for the company to accurately gauge its inventory and forecast demand. 
"There was an opportunity to centralize data and data management," Lebs says. SONIC accomplished this by implementing a central computerized data management system that incorporates all sourcing events and interactions with suppliers into its main database. Whereas the company was relying on "spreadsheets,intuition and a lot of hard work" before, Lebs says, the new system includes tools that allow SONIC to accurately forecast demand for every single ingredient its restaurants use. 
"Probably the biggest, most exciting aspect of our transformation was our improvement in forecasting demand," Lebs says. 
Playing the Same Tune
Overall, Lebs says, SONIC's supply chain transformation has been centered around a five-node process. "In the simplest terms, it's what are we selling, how much of it do we need, who are we going to get it from, where does it need to be and, of course, when does it need to be there?" he says. 
This has led to SONIC adopting a more formalized sales and operation process, something Lebs says has made a significant difference in how well the company's supply chain operates. He says before the initiative, the company didn't always deal with suppliers in a consistent manner, which led to confusion and sometimes delays. With the supply chain operating off a standardized playbook and new technology, SONIC has ensured that everyone within the company is "playing from the same sheet of music," Lebs says. 
One of the biggest challenges inherent in any major organizational change is the buy-in from employees, and Lebs says convincing everyone within the company that the changes would be worth implementing has been one of his primary goals during this process. He says many times, the temptation is for companies to simply bolt on new software platforms and expect them to do all the grunt work, but a change such as this requires equal parts technology and discipline. "One of the biggest challenges is always around change management," Lebs says. 
Best-in-Class
Looking back over the last two years of organizational transformation at SONIC, Lebs says the company has come a long way, but admits that the job is never done. He says the company and its vendors have both benefited from these new initiatives, and he wants to ensure that things continue to become easier to manage. "The idea is that with the power of the technology and the processes around it you can be more accurate and make it easier for the vendor community to do business with SONIC," Lebs says. 
"You can't ever rest," he continues. "It's about fine-tuning and taking it to the next level. SONIC aspires to have a world-class or best-in-class supply chain."