Vertellus Specialties Inc.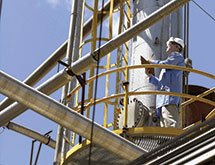 The global supply chain team at Vertellus Specialties Inc. welcomes exceptions. Because, as the team's director, Hugh Mitchell, explains, exceptions are really just areas to improve. 
"When we're looking at reports and dashboards, it helps us to zero in on exceptions, because exceptions equal opportunities for cost savings and reduced expenses," Mitchell says. "Detailed analysis creates a focused objective leading to results. At any one time we have a number of projects going on, whether it's a detailed distribution cost analysis, or recycled inventory improvement, [or] improving our shipping time." 
Because Vertellus is a global company with consistent growth, it is constantly expanding and changing, creating ample opportunity for its supply chain to create efficiencies and drive improvements. The company's roots date back to 1857 when it opened in New Jersey as a castor oil business. More than a century later and following the 2006 merger of Rutherford and Reilly, Vertellus has evolved into a leading provider of specialty chemicals for the agriculture, nutrition, pharmaceutical and medical, personal care, plastics, coatings and industrial markets. It has more than $550 million in revenue, more than 800 employees in 15 locations and 500-plus products. 
Those products are used as ingredients in all types of consumer and industrial end-user products, such as toothpaste, pharmaceuticals, detergents, plastics, adhesives and tires. Vertellus' supply chain network handles the demand planning, supply planning process and global logistics for the company, ensuring the raw materials and finished products are available in the right amounts at the right times and in the right places. It has developed and continues to refine a uniform system to help manage its supply chain network. 
Getting on One Track 
"When Vertellus was formed by the merger of Reilly and Rutherford chemical companies, Reilly was significantly invested in SAP," Mitchell says. "After the formation of Vertellus a significant effort was made to roll out SAP to the new companies." 
Another streamlined efficiency involves Vertellus' relationship with Odyssey Logistics. Following the merger, Vertellus knew it had formed a stronger company and needed to leverage its scale to optimize its distribution. 
"We had multiple plant distributions that were disconnected and difficult to manage," Mitchell explains. "We started looking at 70 third-party logistics providers and eventually signed an agreement with Odyssey." 
Vertellus signed that agreement in 2008 and worked with Odyssey to develop a standard working model implemented across its North American sites. The concept worked so well that Vertellus decided to use the same strategy globally. Again, Odyssey came out on top. 
"In 2011 and 2012, we began looking at what we were currently paying, where the market was and what Odyssey was charging, and we took into account what they did in North American and we expanded that into a global footprint," Mitchell says. "We decided to go with Odyssey and have the company be our global logistics provider. 2013 was our first full year of global implementation. The reason we went third party is to take advantage of the economics larger companies are leveraging and utilize the technology that Odyssey brings to the table."
Another key partnership that will aid in Vertellus' growth is its relationship with Suttons Group. Suttons is a large ISO container and shipping services provider, and ISO container shipping is a growing area of Vertellus' business. It's also a complicated area of its business.  
"ISO bulk shipment has complex requirements for refrigeration and temperature control," Mitchell explains. "They can be held up in ports for clearance, so it's been our focus to improve our container shipping. We started working with them several years ago and we want to grow our ISO business and maximize that relationship."
Looking Inward
As Vertellus works with third-party providers to improve its operation, it also makes internal investments aimed at the same goal. It previously worked with management consulting firm Kepner-Tregoe and has most recently embraced Six Sigma and lean processes. Vertellus is also focused on using technology to gather better data that will allow it to make more informed decisions. For instance, the global supply chain created a graphic detailing the shipping costs of each product. The graphic revealed that one of its products was three times more expensive to ship from one particular site than at its other sites. That exception to the rule gave Vertellus an opportunity to make some changes for the better. 
"We would never have seen that if we didn't invest [in technology]." Mitchell says. "Any time an opportunity arises to achieve cost savings while maintaining high safety and quality standards, we want to seize that." Mitchell says. "