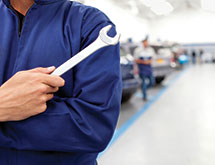 There's no getting around it – Waste Connections Inc. is a large operation and there are a lot of pieces to manage to keep it running smoothly. The company provides solid waste collection, transfer, disposal and recycling services to more than 1 million customers in 30 states. It mainly targets residential and commercial customers in secondary and suburban markets, but through its R360 Environmental Solutions subsidiary, it also is a leading provider of non-hazardous oilfield waste treatment, recovery and disposal services in several of the most active natural resource-producing areas in the United States. Additionally, Waste Connections offers intermodal services for the movement of solid waste and cargo containers in the Pacific Northwest. 
So not only is the company national in its customer base, but it also is diverse and broad in the scope of its services. Waste Connections doesn't have a specific supply chain department, according to Vice President of Maintenance and Equipment Management Greg Thibodeaux, but the logistics of running such a large and diverse operation relies heavily on the upkeep of its fleet. 
"We have approximately 30 national accounts for maintenance with many vendors, such as Castor Oil, Chevron, Michelin, etc.," Thibodeaux says. "We establish the national accounts with high-volume items, and we negotiate deals with them on an annual basis as we need them. We set agreements with these companies to use their products to maintain our trucks, which allows us to continue serving our customers. We have 4,000 trucks running on a daily basis, so this is really important."
Waste Connections works closely with its maintenance partners – it has 165 shop operations – to ensure the ongoing quality of its fleet and to keep the business operating smoothly. Thibodeaux notes that none of the partner programs are mandatory for the shops to use, but the programs help the maintenance shops keep their costs in line. "The accounts system has been very successful in keeping supplies affordable for the shops," he says. "We measure them against the national prices twice a year.
"Our drivers take our trucks into these shops for spot checks on things like lubricants and tires, and to get parts they need," Thibodeaux adds. "It works very well. Our vendors meet with our maintenance group – so that's more than 200 managers – to build relationships and offer training. Additionally, a number of the national accounts are structured with rebates. This helps to ensure participation because the rebates all go back to the field."
Ongoing Training 
The main challenge Waste Connections runs into, however, relates to costs. Thibodeaux explains the company needs to have the appropriate resources in place to ensure the field operations have enough training and all the managers are educated on how best to save money. Waste Connections has more than 650 mechanics in these shops, and it can be difficult to organize training.
"There are more than 650 mechanics, but the shops only have about three to five mechanics each," he says. "For training, we try to get two or three shops together, but the coordination can be a nightmare."
Even so, the company makes it happen to ensure Waste Connections' ongoing success. The company targets its services on secondary and suburban markets where it sees strong demographic growth trends and where competitive barriers to entry can be developed. Its strategy is to find markets where it can provide either non-integrated or integrated solid waste services under exclusive arrangements, or areas where it can provide integrated services and attain high marketshare. As a result, Waste Connections has become a leading provider of solid waste services in most of its markets. The company notes approximately 50 percent of its revenues are derived from market areas where it has franchise or exclusive rights to provide its services. 
Focused on Service
Thibodeaux believes Waste Connections' success is largely the result of the company's strong culture. Waste Connections is the third-largest solid waste disposal operation in the United States, but he stresses that it maintains a small company feel with its attention to customers and dedication to its partners. He believes this level of service is the result of it being a decentralized operation. Local decisions are made at the local level, and district managers run their own sections of the business. The corporate office is there to provide support. 
"We really love serving others, whether it's our customers, suppliers, stakeholders or employees," Thibodeaux says. "The leadership at all levels is very attentive. That includes senior leadership and regional staff. 
"Additionally, we have training year-round for all levels of management at the corporate office to support the culture of the entire organization," he continues. "The training is conducted by our lead trainer, or sometimes by many of the officers of the company. Topics can be on customer relations, public relations, environmental issues, safety and many other areas. We are just really focused on service."