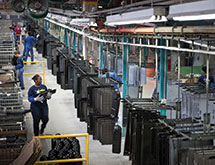 Anyone who has tried to move the refrigerator out to dust behind it knows that appliances are not the easiest items in a home to move. Transporting everything that goes into an appliance as well as the finished product to retailers and even individuals worldwide is the responsibility of Whirlpool Corp.'s supply chain.
Whirlpool has been working to integrate supply chain functions and eliminate redundancies. "About three years ago, we jumped into this with both feet," recalls Jim Keppler, vice president of the integrated supply chain and quality. "Prior to having an integrated supply chain, we had separate leaders over our 13 manufacturing plants and other supply chain functions in North America
"So, we had one leader who had manufacturing and quality responsibility and another leader who had the traditional supply chain functions of inbound and outbound logistics, order intake and order fulfillment, and a central planning function," Keppler explains. "Those were two separate leaders reporting to the president of North America. We decided to combine responsibilities and create this integrated supply chain for a lot of different reasons. There is so much overlap between what we do on a day-to-day basis, and a lot of interaction that goes on between these different functions, and it made perfect sense for us to have them under one leader."
Whirlpool's integrated supply chain has been following a strategic roadmap. "One of the intended outcomes is to help break down some of the traditional silos that were there and work more cross-functionally," Keppler states. "As we've done that, I'm not sure you would say that we've eliminated headcount. We've actually redeployed headcount as we've made improvements into other more productive areas."
Software Transition
During the last three years, Whirlpool has been migrating off of its proprietary MRP system called the Whirlpool Material Control System (WMCS) and onto SAP, an off-the-shelf management resource planning software system. "We're going to have better connectivity and real-time decision-making with this new SAP platform," Keppler promises.
The old WMCS required nightly batch processing to obtain the data with which to make management decisions. Now, "We'll have the ability to make real-time decisions," Keppler says. "We won't have to wait for that night stream to run to be able to make a decision."
Whirlpool's demand plan is created with the help of an outside agency. "We use a proprietary model that looks at trends and what our customers are doing through some point-of-sales information and industry data, in order to create a statistical forecast," Keppler explains. "We take the statistical forecast and enhance it with planned customer promotions to arrive at our final demand plan. "
Those promotional periods include Black Friday and others throughout the year, such as Memorial Day and the Fourth of July. "As part of our sales and operational planning (S&OP) process, we convert our demand plan into a supply plan that we can execute," Keppler continues. That involves much back-and-forth among departments before a final supply plan is finalized. "We've made a lot of enhancements this year to improve the accuracy of our S&OP process," Keppler points out.
Three Outbound Tiers
Whirlpool has three tiers of distribution for its finished appliances. Each of the company's 13 North American factories – most of which produce only one type of appliance – have a factory distribution center at which larger customers, including major retailers, can pick up a full truckload of one product in its own trucks or have the truckload shipped to them by a third-party logistics provider. 
Other customers who want a mix of different appliances in a single truckload receive shipments from one of Whirlpool's nine regional distribution centers throughout North America. Finally, builders and homeowners receive small truckload deliveries from Whirlpool's more than 90 local distribution centers. The local distribution centers and trucks are all operated by a third-party logistics provider. 
As part of Whirlpool's integrated supply chain strategic roadmap, future goals have been clearly identified. The company aims to improve customer service, find efficiencies to reduce cost and inventories, and use its supply chain as a competitive sales advantage. 
Approximately 20 work streams have been created to accomplish the goals, among them improving the S&OP process, parts supply plans, and adding better capacity visibility. The company has recently revamped how it deploys stock into the distribution network to reduce unplanned movements created by forecast inaccuracies. This has resulted in a significant reduction in inventory and lower costs.
Also planned for the future is being able to forecast more accurately a window of time during which a product will become available. "We're really trying to improve our customer delivery performance and the customer experience," Keppler says. "We want the customer to view our supply chain as a competitive advantage. We know we've got great brands and true product leadership. We want to continue to support that with a world-class supply chain, as well. That is the essence of our integrated supply chain strategic roadmap and how we intend to 'Deliver the Promise' to our customers."