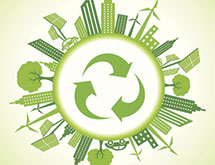 Among the companies investing in sustainability is The Procter & Gamble Company. Proctor & Gamble recently expanded its sustainability goals to continue creating value with consumer-preferred brands and products while conserving resources, protecting the environment and improving social conditions for many.
"We continue to improve the environmental sustainability of our products across all aspects of their lifecycle – from manufacturing, packaging and delivery through consumer use," says Martin Riant, P&G executive sponsor of Sustainability and group president, Global Baby and Feminine and Family Care. "We are reducing the environmental footprint of our products for shoppers, our communities and the company while still delivering the quality and performance people expect from P&G products."
Expanding Efforts
P&G's newly announced goals emphasized water conservation and product packaging. Its expanding commitments included reducing water used in its manufacturing facilities by an added 20 percent per unit of production, with a specific focus on conservation efforts at facilities located in water-stressed regions. It also aims to provide one billion people with access to water-efficient products.
Regarding packaging sustainability, P&G is committing to doubling the use of recycled resin in plastic packaging and ensuring that 90 percent of its product packaging is recyclable or that programs are in place to create the ability to recycle it. In addition, P&G is working across its supply chain to develop the capability by 2020 to replace top petroleum-derived raw materials with renewable materials, as cost and scale permit.
Water conservation and packaging sustainability were already priorities at P&G, as it reduced water use at its manufacturing plants by more than 70 percent per unit of production between 2002 and 2012. It was also already on course to reduce packaging by 20 percent per unit of production by 2020. These new initiatives represent expanded commitments.
"We're committed to grow P&G's business responsibly," Riant says. 
"We want to create industry-leading value for consumers and shareholders while conserving resources, protecting the environment and improving quality of life for those who need it most," Riant adds. "P&G's growth objectives and sustainability goals are mutually interdependent."
PG's long-term vision includes 100 percent renewable energy use, 100 percent renewable or recycled materials for all products and packaging, and zero consumer and manufacturing waste going to landfills. Since establishing its goals in 2010, P&G's achievements include 70 zero-waste manufacturing sites; reductions in energy consumption, water use, C02 emissions and truck transportation; and increases in the use of renewable energy and the number of virgin-materials certifications. 
Monitoring Progress
DyStar is another company that has been focusing on sustainability in its supply chain. A provider of colorants, auxiliaries and services for the textile and leather industries, DyStar recently released its fourth annual Sustainability Report, providing updates on its sustainability progress.
When the company published its first Sustainability Report in 2010, it established goals for 20 percent reduction of operational impact in four key areas by 2020: energy consumption, greenhouse gas emissions, water consumption and waste generation. According to its most recent report, DyStar was able to reduce emissions intensity in both dyestuff and chemical manufacture in 2013.
"Anticipating the demand for sustainable production practices in the textile industry, we were amongst the first to recognize sustainable actions as a business imperative," CEO Harry Dobrowolski says. 
"We will continue to motivate our employees to be innovative and help us face the challenges of the changes in the textile market," Vice President of Global Manufacturing and Supply Chain Gerald Talhoff adds.